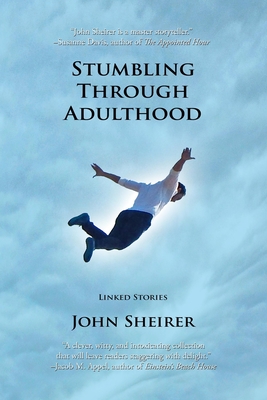 Stumbling Through Adulthood
Linked Stories
Paperback

* Individual store prices may vary.
Description
The stories in award-winning author John Sheirer's Stumbling Through Adulthood show the connections between intimate, personal experiences and the broader culture of America during recent years. These stand-alone stories feature a range of characters who reappear in multiple tales like surprise visits from long-lost friends. Some protagonists grow through different life stages, adding depth and texture as they age, change, and adapt. Sheirer's beautiful writing combines realism, struggles, failures, triumphs, relationships, family, work, humor, ethical conundrums, politics, and even a few otherworldly visitors. Through it all, empathy and hope bind these characters together as they stumble through adulthood, strive to catch each other when they fall, and step toward a better future. "John Sheirer's Stumbling Through Adulthood is a clever, witty, and intoxicating collection that will leave readers staggering with delight. As deft as he is original, Sheirer entertains with his distinctive oblique vision and a cast of characters both memorable and lovable. These are first-rate stories by a veteran master of the genre." -Jacob M. Appel, author of Einstein's Beach House. "John Sheirer is a master storyteller-and a generous one, too. His characters are decent, funny, and relevant to the way we live. You won't want to put this book down once you start reading." -Susanne Davis, author of The Appointed Hour "In precise, spare, accessible prose, John Sheirer creates intense and masterful portraits of his widely varied characters' deeply personal worlds by conveying subtle but rich internal conflict and point of view. The characters who populate Stumbling Through Adulthood stay with you, like the friend with whom you have had a particularly intimate conversation." -Sherri VandenAkker, writer, director, producer of My Name Was Bette: The Life and Death of an Alcoholic
Janice Beetle Books, 9780578935522, 234pp.
Publication Date: July 12, 2021