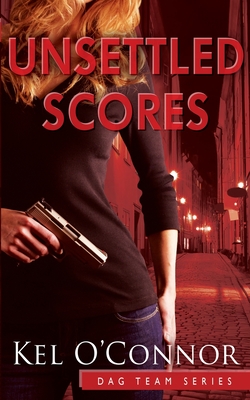 Unsettled Scores
Paperback

* Individual store prices may vary.
Description
A Black Ops agent seeking vengeance...
And the secretive man who loves her.

For three years, Amy Stuart has blamed herself for the death of her sister, and it's caused an estrangement with her family. She vows to get revenge on the vicious drug lord. The Data Acquisition Group's newest mission will put her right in the crosshairs of her nemesis. Hired by Hugh Bainbridge IV to discover how drugs are being smuggled into his mother's charity, Amy vows to not only gather intelligence, but to kill the drug dealer who so brutally destroyed her family.

Yet when she starts investigating, it's Hugh who holds her captivated, not her quest for justice. A lawyer who wears sweats instead of suits, Hugh has carved out a new life for himself outside of the expectations of his father. Amy is just his type: smart, feisty, and lethally gorgeous. But can she handle all his secrets?

As Amy gets closer to the cold-blooded murderer from her past, she'll have to choose between revenge and love—for time is running out.
Praise For Unsettled Scores…
A kick-butt agent, with skills that put Bourne and Bond to shame. She can blend like a chameleon and she always gets the jo done. But Amy is haunted by grief. She holds herself accountable for the death of her sister at the hands of a drug dealer and she is out for revenge. She not only lost her sister but visitation with her niece. Not that stopped her from lurking in the shadows of her niece's life.

Her latest assignment puts her one step closer to finding the man responsible. She is sent undercover in the charity overseen by Hugh Bainbridge IV and his family. They are being used to smuggle drugs around the country and they want it stopped. Now Amy has to navigate her need for revenge with her growing feelings for this inquisitive, intelligent, and easy-on-the-eyes lawyer!

Hugh is no rich playboy. Sure he comes from wealth but his clients are those that would have fallen between the cracks of the justice system - his office is no uptown skyrise, think strip-mall office! Hugh and Amy were a great match. he may be a killer in the courtroom but he's no slouch when bullets are flying either. Amy is gorgeous, lethal, intelligent, and pushes all of Hugh's buttons. Their chemistry is totally wild.

Misplaced guilt, remorse, revenge, and family entanglements all merge into a great story. Truly enjoyed it and would love to read more! -Nikki's Book Nook
Kel O'Connor, 9780578953540, 334pp.
Publication Date: August 31, 2021
About the Author
A finalist for The Book Buyers Best Award, The Maggie Award for Excellence and The Carolyn Reader's Choice Award, Kel lives with her family in the mountains of North Carolina. In addition to reading and writing, she loves coffee, loud rock music, subversive humor and the smell of old books. You can find her online on Twitter, Facebook and at keloconnor.com.