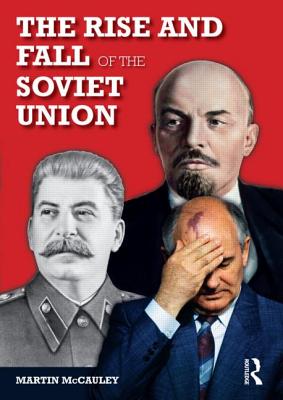 The Rise and Fall of the Soviet Union (Longman History of Russia) (Paperback)
Routledge, 9780582784659, 522pp.
Publication Date: June 1, 2007
Other Editions of This Title:
Hardcover (12/1/2014)
* Individual store prices may vary.
Description
'An expert in probing mafia-type relationships in present-day Russia, Martin McCauley here offers a vigorously written scrutiny of Soviet politics and society since the days of Lenin and Stalin.'
John Keep, Professor Emeritus, University of Toronto.
The birth of the Soviet Union surprised many; its demise amazed the whole world. How did imperial Russia give way to the Soviet Union in 1917, and why did the USSR collapse so quickly in 1991?
Marxism promised paradise on earth, but the Communist Party never had true power, instead allowing Lenin and Stalin to become dictators who ruled in its name. The failure of the planned economy to live up to expectations led to a boom in the unplanned economy, in particular the black market. In turn, this led to the growth of organised crime and corruption within the government.
The Rise and Fall of the Soviet Union examines the strengths, weaknesses, and contradictions of the first Marxist state, and reassesses the role of power, authority and legitimacy in Soviet politics. Including first-person accounts, anecdotes, illustrations and diagrams to illustrate key concepts, McCauley provides a seminal history of twentieth-century Russia.
About the Author
Martin McCauley is former Senior Lecturer in Politics at the School of Slavonicand East European Studies, University College, University of London. His previous publications include Stalin and Stalinism (2003), Bandits, Gangsters and the Mafia: Russia , the Baltic States and the CIS Since 1991 (2001) and Gorbachev (2000).
or
Not Currently Available for Direct Purchase