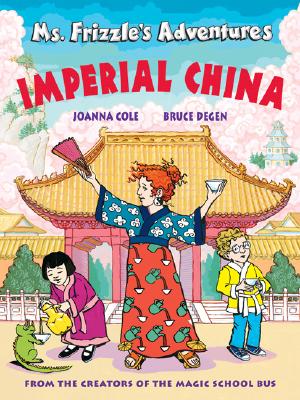 Msb: Ms. Frizzle's Adventures: Imperial China: Ms. Frizzle's Adventures: Imperial China (Hardcover)
Ms. Frizzle's Adventures: Imperial China: Ms. Frizzle's Adventures: Imperial China
Scholastic Press, 9780590108225, 48pp.
Publication Date: July 1, 2005
* Individual store prices may vary.
or
Not Currently Available for Direct Purchase
Description
Is it magic? Ms. Frizzle, Wanda, and Arnold simply duck under the dragon at the local Chinese New Year's parade, and they are mysteriously whisked back in time to ancient China! They arrive in a village where the farmers are in trouble. The Friz and friends vow to go to the capital to get the emperor's help. As they journey, they learn how silk is made, travel on the Grand Canal, and see the Great Wall under construction, but will they fulfill their mission to help the farmers?Cole and Degen relay a bounty of facts with charm and humor as they bring the majesty of imperial China to life.
About the Author
Joanna Cole and Bruce Degen, the author and illustrator of the Magic School Bus books, have collaborated for twenty years, bringing humor and true kidlike curiosity to science and learning. Booklist heralded Ms. Frizzle as "the wackiest, wisest teacher in picture books." Two MSB titles have been named School Library Journal Best Books of the Year, and they have won countless state book awards, from New York to Nebraska.
Praise For Msb: Ms. Frizzle's Adventures: Imperial China: Ms. Frizzle's Adventures: Imperial China…
Booklist 6/1/05 Gr. 1-3. In this. newest installment in the social studies-themed Ms. Frizzle's Adventures, the creators of the Magic School Bus books send Frizzle and friends to eleventh-century China. The point of departure is Chinatown, and the magical conveyance is not a bus but a giant, "cavorting paper dragon," whose dancers convey Frizzle, Wanda, Wanda's older'brother, and Arnie (whom they intercept en route to ung fu class) across time and space to "the land of [Wanda's] ancestors." The plot, which involves a quest to relieve peasants of their tax burden, is less noteworthy than the sheer density of material in the graphic-novel-inspired spreads. Readers will savor sidebars touting Chinese contributions to society, pore over Degen's delightfully cluttered compositions and lovely chinoiserie embellishments, and smile at the endnote, styled as uptight caveats ("time travel is impossible") from a panel of "Very Smart" critics. A celebration of culture as bountiful as the feast that Frizzle and Arnie share with Wanda's large Chinese American family at book's end. -Jennifer Mattson
Kirkus (Kirkus Reviews, June 15, 2005 (Vol. 73, No. 12))
Ducking beneath a parade dragon in Chinatown, Ms. Frizzle and three youngsters emerge a thousand years ago and halfway around the world. For her third excursion into the past, she takes advantage of this tailor-made teachable moment to squire her charges from rice fields to the Imperial Palace in Beijing. They hardly pause along the way for looks at silk- and tea-making, Chinese poetry and writing, inventions, the Great Wall (errantly declared to be 30,000 miles long-off by a factor of about 10, depending on what's measured) and even how to hold chopsticks. Impoverished rice farmers are clean and smiling in Degen's brightly colored, crisply drawn illustrations, but there are at least hints that not everyone's a happy camper, and the pictures do add further cultural and historical detail with running panels along the bottom of each spread. Having persuaded the Emperor to lift the taxes on poor farmers, the quartet returns to our time, just in time for a Chinese New Year's dinner-each dish labeled with its symbolic significance. The learning never stops, nor does the pace
SLJ 8/05 COLE, Joanna. Ms. Frizzle's Adventures: Imperial China. illus. by Bruce Degen. unpaged. Scholastic. 2005. RTE $16.95. ISBN 0-590-10822-0. LC number unavailable.
Gr 2-5–Ms. Frizzle is off to Imperial China in this spin-off series in which she travels through time to bygone cultures. During a Chinese New Year's celebration, the teacher; a Chinese-American student, Wanda; Wanda's older brother Henry; and the ever-reluctant Arnold travel back in time 1000 years and arrive in a farmers' village. While there, they learn to grow rice, eat with chopsticks, and make silk. Ms. Frizzle is as curious and irrepressible as ever as she and her students travel north by barge, cart, and foot to the Great Wall and finally to the capital city. The endnotes explain which aspects of the story are historically accurate and where the author and illustrator have taken small liberties. The cartoon illustrations, done in a mix of pen and ink, watercolor, and colored pencil and gouache, continue the frenetic, zany humor of the "Magic School Bus" series. Small panels on each page highlight facts about Imperial China, such as items first invented in China, how to bow, and the basics of writing. Like previous books featuring Ms. Frizzle, this one is destined to find an avid audience and may spark interest in Chinese culture.–Suzanne Myers Harold, Multnomah County Library System, Portland, OR

HB 9/05
Joanna Cole Ms. Frizzle's Adventures: Imperial China; illus. by Bruce Degen
48 pp. Scholastic 7/05 ISBN 0-590-10822-0 $16.95 g
(Primary)
Ms. Frizzle, ever the intrepid instructor, has traded her Magic School Bus for a watch that functions as a time machine. After educational excursions to ancient Egypt (Ms. Frizzle's Adventures: Ancient Egypt, rev. 11/01) and a medieval castle, she now leads three youngsters back a thousand years into China's past. Ms. Frizzle recounts her adventures in the first person, while dialogue bubbles, labels, and sly visual jokes extend the narrative. A band of detailed drawings runs across the lower third of most pages, conveying relevant facts about Chinese customs, scientific discoveries, and inventions. Launching her journey from Chinatown, Ms. Frizzle and her fellow time travelers land in a farming village, where they learn that a poor rice harvest has left the farmers unable to pay their taxes. Ms. Frizzle decides to lead her companions north to plead their case before the emperor himself. This journey, by barge and on foot, provides a lively introduction to China's geography, principal products, and famous sit es. Degen opens himself to the influence of Chinese art, portraying ancient China with lighthearted but generally accurate illustrations. This is not intended to be a coherent, organized introduction to ancient China; instead, like the luscious banquet in the final spread, Cole and Degan's book offers a spicy, intriguing taste that may tempt readers to ask for more. MARGARET A. CHANG
Advertisement