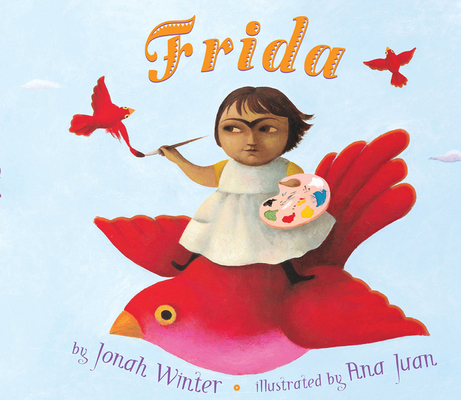 Frida (Hardcover)
Arthur A. Levine Books, 9780590203203, 32pp.
Publication Date: February 1, 2002
Other Editions of This Title:
Paperback, Spanish (2/1/2002)
* Individual store prices may vary.
Description
When her mother was worn out from caring for her five sisters, her father gave her lessons in brushwork and color. When polio kept her bedridden for nine months, drawing saved her from boredom. When a bus accident left her in unimaginable agony, her paintings expressed her pain and depression - and eventually, her joys and her loves. Over and over again, Frida Kahlo turned the challenges of her life into art. Now Jonah Winter and Ana Juan have drawn on both the art and the life to create a playful, insightful tribute to one of the twentieth century's most influential artists. Viva Frida!
About the Author
Jonah Winter has written many exciting picture book biographies for children, with subjects that include Frida Kahlo, Diego Rivera, Barack Obama, and Dizzy Gillespie. He lives in Pittsburgh, PA.

Ana Juan illustrated Frida, Jonah Winter's picture book biography of Frida Kahlo, which was an ALA Notable Book and received an Americas Honor Award. She also received the Ezra Jack Keats award for The Night Eater, her first book as author-illustrator. She lives in Madrid, Spain.
Praise For Frida…
Praise for DIEGO (1991):

"An accessible picture book about the life and work of Diego Rivera sounds like an oxymoron, but Winter . . . succeed[s] beyond belief. . . . The last pictures show him as a young man, perched on his scaffolding, brushes in hand, beckoning viewers on with his ardent glance. Readers will wish they could follow." -- School Library Journal

"An excellent beginning biography." -- Kirkus

* One of The Ruminator Review's 100 Best Children's Books of the Twentieth Century

* A Reading Rainbow Review book

* A 1991 Parents' Choice Award Honor winner

Praise for FAIR BALL! (1997):

"Certain to be a hit with kids who take baseball history seriously, Winter's . . . handsome volume devotes a spread each to 14 stars of the Negro Leagues. Balancing stats with engaging trivia and anecdotes, the author will open readers' eyes to the injustices of segregated baseball. . . . This picture book [will] help set some records straight." -- Publishers Weekly

"A good, highly accessible introduction to a group of athletes who deserve to be as well known as their white counterparts." -- School Library Journal

Praise for FRIDA

"Winter, who brought the Mexican muralist vividly to life in Diego, focuses on Diego Rivera's bride, Frida Kahlo--an accomplished artist in her own right--in this striking picture book-biography. With a spare narrative more akin to poetry than prose, the author touches on important events in his subject's childhood--Frida's loneliness and the polio that kept her bedridden for months, as well as a bus accident, at age 18, that nearly killed her. He then shows how, each time, art helped her to transcend her injuries ("She turns her pain into something beautiful") and to unleash her magically surreal vision of the world in paintings ("In museums, people still look at them and weep and sigh and smile"). Juan, a Spanish fine artist and New Yorker cover artist making her children's book debut, creates artwork bursting with saturated color and infused with Mexican folk art motifs that also influenced Frida's own style. Floating figures, fantastical creatures and celestial bodies with human features cavort across the pages. Ana transforms Frida herself from a solemn, moon-faced child with uncompromising eyebrows (her well-known physical trait) to a woman whose gaunt features hint at both strength and inner struggle. One particularly breathtaking image shows the artist floating against a night sky, eyes closed and arms crossed on her chest in a death pose, held in the grip of a tree's thorny, gnarled branches ("Her body will hurt, always"). An outstanding introduction to an influential artist." -- Publishers Weekly, starred review

"A picture-homage to the Mexican painter Frida Kahlo, whose indomitable spirit has become a reverend icon for struggling women artists. The truncated text outlines her life in a simplistic style, relating her childhood illness and the almost-fatal school bus accident that left her in constant physical pain. It was her painting that saved her, becoming her imaginary friend. Instead of crying, she painted pictures of herself crying. The account ends with a description of her paintings as "exvotos"; "magical scenes with words at the bottom, scenes of accidents with angels coming to the rescue. They are prayers for people who are sick." Neither her marriage to Diego Rivera nor her death is included. Like Kahlo's art, the illustrations are strikingly stylized. Done in acrylics and wax, they convey a surrealistic sensibility, using six traditional Mexican characters as a motif (e.g., skeleton, devil, jaguar) and portraying them as Kahlo's companions. The artwork lends an air of theatricality (her infamous eyebrows are depicted as the wings of a black bird) with the text scripting that effect: "She paints what she sees in her head--on top of what she sees with her eyes." The enticing cover depicts Kahlo as a child riding on a red bird while she is painting red birds in the sky. Explanatory notes from both author and illustrator provide context and import, citing biographical details and an artistic style that is a tribute to her. Her popularity has increased significantly in recent time--but whos is the audience for this book? Certainly, the picture-book format can serve as an introduction to this excotic artist for young children, and kids may be intrigued by the unusual figures and inherent drama. But is more likely that older readers may develop an artistic curiosity for this woman's provocative work." -- Kirkus Reviews

"Our adult impulse to introduce increasingly younger children to historical personages is not always a wise one, since adult achievements are often too abstract to compress understandably into a thirty-two-page text for an audience that lacks a good deal of the relevant context. Some books have attempted to evade the context problem by focusing on the subject's childhood and by employing a less literally biographical approach. Unfortunately, the result too often is a book about someone who apparently hasn't done anything interesting enough to merit being a book's subject, it's like reading a biography of the kid across the street. Fortunately, Jonah Winter's Frida an imaginative treatment of the life of Frida Kahlo, avoids these pitfalls. It's clearly not your ordinary biography, providing names and dates to be quoted in reports: it leaves mention of Kahlo's marriage and, for that matter, her last name to the author's note at the end. Instead this is a quietly lyrical encounter with a particular artistic spirit, emphasizing not the traditional measures of achievement but the more personal experiences and impulses that could also drive any reader of the book. Winter (who also chronicled Diego Rivera's life, in Diego, BCCB 1 1/91) writes sparely yet evocatively in the present tense, describing Kahlo's youth ('Enter, stage left: Frida's imaginary friend. Her name is also Frida"), her constant struggle with pain and disability ("Instead of crying, she paints pictures of herself crying'), and her poignant, individual art. Kahlo's dramatic life makes the narrative compelling even to an audience that knows nothing of her artistic significance: the determined young girl leads a life of suffering that only sharpens her hunger to see and to paint. Since painting was Kahlo's real language, the visuals here are all-important, fortunately, they rise to the challenge. The text, in delicate, spidery type, appropriately adapts itself to the illustrations, settling onto the backs of photographs, fluttering across curtains, tucking itself into a corner behind Frida's nightstand, hovering through the pages as part design, part information. Juan's note explains that she was inspired by Mexican folk art as well as Kahlo's work in creating her acrylic illustrations, and they've got a slightly softened, wide-eyed air that gives them their own mood rather than being merely imitative of Kahlo. The child Frida has a round yet austere face, her expression distant and her eyes downcast as she focuses on the world of her visions rather than the real world. The rotundity and modeling give her the solidity of a clay figure while the smudgy imagined critters possess a matter-of-fact corporeality. The wise-eyed jaguar, portly demon, and rotund skeleton and their ilk seem like credible and comforting companions on a reality footing equal to the microscope through which Frida looks or the fruit on her table; but then, the fruit on the table includes a beatifically smiling tomato and grinning skull-like grapes. Despite the memento mori and the unreality, these visions am amiable com any, a sharp contrast to the double-spread view of Frida, post-accide