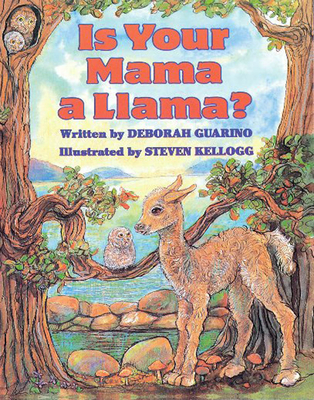 Is Your Mama a Llama?
Board book

* Individual store prices may vary.
Other Editions of This Title:
Paperback (6/1/2004)
Prebound (6/1/2004)
Mixed media product (6/1/2006)
Hardcover (3/27/2018)
Mixed media product (3/15/2006)
Paperback (3/1/1991)
Description
"Is your mama a llama?" I asked my friend Dave."No, she is not," is the answer Dave gave."She hangs by her feet, and she lives in a cave.I do not think that is how llamas behave.""Oh," I said. "You are right about that.I think that your mama sounds more like a......BAT!"Riddle rhymes and six lovable baby animals help Lloyd the llama discover just what kind of animal his mama really is.Deborah Guarino's whimsical verse and Steven Kellogg's endearing illustrations will charm and amuse every child who loves riddles, animals, and good fun!
Scholastic Press, 9780590259385, 14pp.
Publication Date: August 1, 1997
About the Author
Steven Kellogg has illustrated more than a hundred books, including IS YOUR MAMA A LLAMA? and THE DAY JIMMY'S BOA ATE THE WASH. He has also retold and illustrated the adventures of tall-tale heroes such as Paul Bunyan, Mike Fink, and Johnny Appleseed. He lives in Essex, New York.
Deborah Guarino, is the author of the children"s classic, Is Your Mama a Llama? Selling more than a million copies, her playful book"s popularity spans two generations and is currently available in five different editions, including an animated DVD narrated by actress Amy Madigan and a lively musical version by composer Andy Mayo. It was also included in Oprah"s Book Club for Kids, quoted in an episode of the prime-time series Medium, and endorsed by actress Jennifer Garner in People magazine, who recently became a literacy advocate on behalf of the Save the Children organization. The title of her book was even used, in 2010, as the answer to a $2000 question on the iconic game show, Jeopardy! Most recently Deborah was honored by Denver"s Preschool Program in Colorado, which chose her book as its 2011 choice for the "One Book, One Denver" event, during which 1500 copies of Is Your Mama a Llama? were donated by corporate sponsors McDonald"s and Kaplan Early Learning Centers to preschool and Head Start programs throughout Denver. During this event Deborah did tandem readings of her book with Denver"s Mayor and Colorado"s state representative, who read the Spanish translation of the title while Deborah read the original version. During her public appearances at Denver"s famous Convention Hall and at its largest public library, Deborah was delighted to be accompanied by two live local llamas, both of whom seemed to enjoy all the activities as much as she did! Born and raised in New Jersey, Deborah later lived in New York and London, where two of her original works were produced and broadcast by the BBC"s Radio 4. In addition to writing for children, she"s an artist and actor who also works as a freelance advertising copywriter, editor, playwright, actor, director, and professional speaker who frequently visits schools, libraries and literacy events across the U.S., giving fun, interactive presentations on writing and the creative process for children and adults alike. These presentations include a reading of her book and the story behind its creation, a question and answer period, fun activities like a narrated, improvisational skit, interactive nonsense songs, and lively performances of works in progress. Deborah"s also the proud single mother of two whose oldest son, Josh, currently performs stand-up comedy in New York while Dan, a high school senior, hopes to pursue a career in art and special effects. Deborah Guarino can be reached via her website at www.deborahguarino.com.