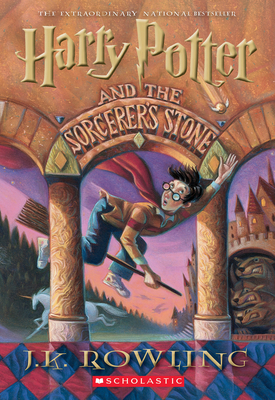 Harry Potter and the Sorcerer's Stone (Mass Market)
Scholastic Paperbacks, 9780590353427, 320pp.
Publication Date: October 1, 1999
Other Editions of This Title:
Hardcover (10/6/2015)
Paperback (6/26/2018)
Hardcover (9/1/1998)
CD-Audio (6/21/2016)
Hardcover (10/1/2008)
Library Binding, Large Print (11/12/1999)
Paperback, Large Print (9/1/2003)
Prebound (10/1/1999)
Prebound (10/1/1999)
Hardcover (11/1/2003)
Paperback, Korean (1/1/2000)
Prebound (6/26/2018)
Hardcover (10/20/2020)
CD-Audio (12/1/1999)
Hardcover (11/12/2015)
Paperback, Japanese (3/1/2014)
Paperback (8/27/2013)
* Individual store prices may vary.
Description
Harry Potter has never been the star of a Quidditch team, scoring points while riding a broom far above the ground. He knows no spells, has never helped to hatch a dragon, and has never worn a cloak of invisibility.
All he knows is a miserable life with the Dursleys, his horrible aunt and uncle, and their abominable son, Dudley - a great big swollen spoiled bully. Harry's room is a tiny closet at the foot of the stairs, and he hasn't had a birthday party in eleven years.
But all that is about to change when a mysterious letter arrives by owl messenger: a letter with an invitation to an incredible place that Harry - and anyone who reads about him - will find unforgettable.
For it's there that he finds not only friends, aerial sports, and magic in everything from classes to meals, but a great destiny that's been waiting for him... if Harry can survive the encounter.
Praise For Harry Potter and the Sorcerer's Stone…
* "Readers are in for a delightful romp with this award-winning debut from a British author who dances in the footsteps of P.L. Travers and Roald Dahl."
*Publishers Weekly, starred review

* "Rowling's wonderful ability to put a fantastic spin on sports, student rivalry, and eccentric faculty contributes to the humor, charm, and, well, delight of her utterly captivating story."
*Booklist, starred review

* "Harry himself is the perfect confused and unassuming hero, whom trouble follows like a wizard's familiar. After reading this entrancing fantasy, readers will be convinced that they, too, could take the train to Hogwarts School, if only they could find Platform Nine and Three Quarters at the King's Cross Station."
*School Library Journal, starred review