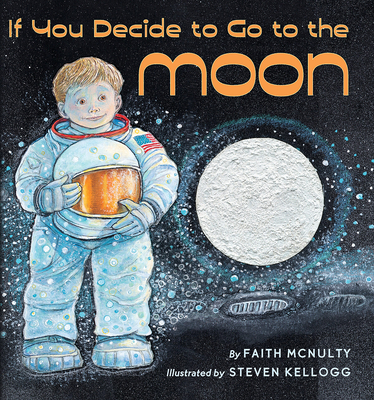 If You Decide To Go To The Moon (Hardcover)
Scholastic Press, 9780590483599, 48pp.
Publication Date: October 1, 2005
* Individual store prices may vary.
Description
Two artists at the height of their powers have created a beautiful book with an unforgettable message about the moon and an even more important message about the earth. A publishing event!

"If you decide to go to the moon," writes Faith McNulty, "read this book first. It will tellyou how to get there and what to do after youland. The most important part tells you how to get home.
Written in the second person, the text allows the reader to participate in every aspect of the journey, from packing ("don't forget your diary and plenty of food") to liftoff (at first you'll feel heavy; don't worry") to traveling thorugh space (where "the moon glows like a pearl in the black, black sky"). The reader lands at the Sea of Tranquility, the site of the first lunar landing


About the Author
Faith McNulty was born in New York City. She attended private schools, and left college after two years to work for The New York Daily News. Because she has a deep interest in animals and their behavior, she wrote about animals for The New Yorker for twenty years. Many of her experiences as an animal writer are the basis for her current writings for children. Faith also worked as a children's book reviewer for The New Yorker magazine from 1979 to 1991. Currently she lives at her farm in Rhode Island and writes children's books.



Steven Kellogg has illustrated more than a hundred books, including IS YOUR MAMA A LLAMA? and THE DAY JIMMY'S BOA ATE THE WASH. He has also retold and illustrated the adventures of tall-tale heroes such as Paul Bunyan, Mike Fink, and Johnny Appleseed. He lives in Essex, New York.
Praise For If You Decide To Go To The Moon…

Hornbook 9/05
Faith McNulty If You Decide to Go to the Moon; illus. by Steven Kellogg
48 pp. Scholastic 10/05 ISBN 0-590-48359-5 $16.99 g
(Primary)
"If you decide to go to the moon..." instructs the opening lines, "read this book before you start." While this may not yet be part of official NASA training, the second-person address takes readers from blastoff to touchdown and back again. McNulty's text is a lovely union of science and lyricism, evoking both the emotions and experiences of the solitary reader-astronaut and the hard facts of space: "When you are thirsty, don't try to pour orange juice into a glass. With no gravity, it would fly into a million drops and become orange juice fog." Kellogg's illustrations feature a cheery blond boy whose sturdy frame bobs optimistically through the journey. Where they shine brightest, however, is with the space- and moonscapes, the watercolors making the most of the stark grays and whites of space, a tiny rocket or the grand curve of the moon emphasizing the vastness and lifelessness of the universe beyond our atmosphere. Despite a sudden left-turn from science to a finger-wagging lesson at the end, as the text exhorts the returning reader-astronaut always to protect life on earth (this accompanied by a two-page gatefold celebrating the variety and richness of that life), this stands as an appropriately thrilling introduction to space travel for young readers. V.


Kirkus 9/1/05 *STARRED*
Many dream of exploring outer space, but this wonderfully engaging guide to space travel walks young readers through the adventure, starting with what to pack on the rocket ship: "Peanut butter, apples, and cake will taste good in space." Gentle warnings issued about meteors ("a collision is unlikely"); the loneliness of space ("Don't look back at the earth"); not pouring juice ("it would fly into a million drops"); and the difficulty of the first step on the Moon ("You will rise in the air and leap forward like a kangaroo") will only encourage and inspire budding astronauts. Indeed, McNulty, elegantly fusing the scientific realities and the dreamy wonders of space travel, finds the perfect partner in Kellogg who accomplishes the same thing visually. Eerily beautiful, cleverly textured moonscapes of ghostly grays and inky blacks contrast dramatically with cheerful full-color spreads (including a spectacular double gatefold) that reflect the beauty and abundance of life on Earth with sunny yellows, grassy greens and sky blues. A powerful, playful tribute to the minutiae and magnificence of space exploration. (Picture book. 7-10)

SLJ 10/1/05 STARRED
*MCNULTY, Faith. If You Decide to Go to the Moon. illus. by Steven Kellogg. unpaged. CIP. Scholastic. Oct. 2005. RTE $16.99. ISBN 0-590-48359-5. LC 2004027755.
K-Gr 3–In this lavish picture book, readers accompany a boy on a fascinating excursion to the moon. The lyrical text provides tips on what to pack and describes the distance to be covered. After blastoff, facts about space travel are mingled with descriptions of what the journey might be like: the loneliness, the lack of gravity, and how you might pass the time. After landing, the text warns: "Your first step will be difficult. You will rise in the air and leap forward like a kangaroo, but once you learn how, walking will be fun." It also suggests that the moon's lack of sound and color may make it seem like a dream. After viewing the flag left behind by astronauts, it's time to depart. As Earth looms closer, a four-page foldout in a glorious burst of color marks our planet's contrast to the moon's black-and-white shades. These pages depict a variety of wonders: all sorts of animals and landscapes as well as people from different historical periods and locales. The narrative notes, "Air and water are Earth's special blessings. We must guard them well." The final pages show the boy returning h