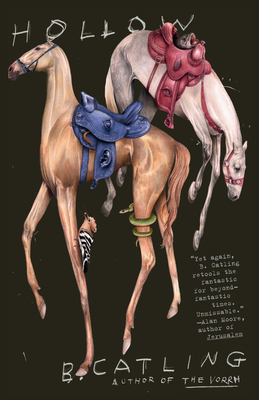 Hollow
Paperback

* Individual store prices may vary.
Description
From the acclaimed author of the Vorrh Trilogy comes an epic odyssey following a group of mercenaries hired to escort a divine oracle on a long journey amidst a war between the living and the dead.

Sheltering beneath Das Kagel, the cloud-scraping structure rumored to be the Tower of Babel, the sacred Monastery of the Eastern Gate descends into bedlam. Their ancient oracle, Quite Testiyont--whose prophesies helped protect the church--has died, leaving the monks vulnerable to the war raging between the living and the dead. Tasked by the High Church to deliver a new oracle, Barry Follett and his group of hired mercenaries are forced to confront wicked giants and dangerous sirens on their mission, keeping the divine creature alive by feeding it marrow and confessing their darkest sins.

But as Follett and his men carve their way through the treacherous landscape, the world around them spirals deeper into chaos. Dominic, a young monk who has mysteriously lost his voice, makes a pilgrimage to see surreal paintings, believing they reveal the empire's fate; a local woman called Mad Meg hopes to free and vindicate her jailed son and becomes the leader of the most unexpected revolution; and the abbott of the monastery, influential as he is, seeks to gain even more power in this world and the next.

Rich with action and fantastic creatures, Hollow ushers the reader through a world of ruin where holy secrets are unearthed, art mirrors life through a glass darkly, and death looms over everything. It is B. Catling's most accomplished and gripping tale yet.

A VINTAGE ORIGINAL
Praise For Hollow…
"Peckinpah riders on a Breugel trail, things walled-up or things in reliquaries, and language as close to the splintering bone as it can get. In Hollow, yet again, B. Catlin retools the fantastic for beyond-fantastic times. Unmissable."
—Alan Moore, author of Jerusalem

"[Hollow] achieves an ungainly beauty and a crooked wisdom . . . Each chapter offers the stunned reader a new marvel. But Hollow also offers reflections on the relationship between art and life, and, perhaps more pressingly, between death and art. It's a tribute to long-dead geniuses that will also thrill readers entirely ignorant of European painting . . . Hollow is the strangest, most original, and most satisfying fantasy I've read in ages."
—Matthew Keely, Tor

"A sheer, shuddering delight . . . The whole novel is not just fun, but very clever fun . . . Catling is a rare kind of writer."
—Stuart Kelly, The Scotsman

"Fascinating . . . With lush, erudite prose and a large cast of darkly eccentric humans and monsters, this spellbinding slipstream novel from Catling feels like stepping into one of Hieronymus Bosch's playfully macabre paintings."
—Publishers Weekly
Vintage, 9780593081150, 272pp.
Publication Date: June 1, 2021
About the Author
BRIAN CATLING is a poet, sculptor, painter, and performance artist. The author of the Vorrh Trilogy, he makes installations and paints portraits of imagined cyclops in egg tempera. Catling has had solo shows at the Serpentine Gallery, London; the Arnolfini in Bristol, England; the Ludwig Museum in Aachen, Germany; Hordaland Kunstsenter in Bergen, Norway; Project Gallery in Leipzig, Germany; and the Museum of Modern Art in Oxford, England.