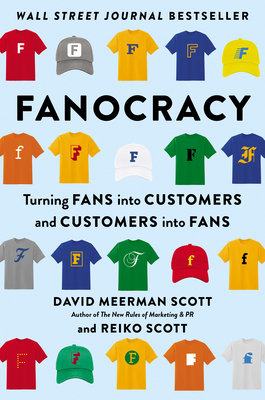 Fanocracy (Hardcover)
Turning Fans into Customers and Customers into Fans
Portfolio, 9780593084007, 304pp.
Publication Date: January 7, 2020
* Individual store prices may vary.
Description
Fandom isn't just for actors, athletes, musicians, and authors anymore. It can be rocket fuel for any business or nonprofit that chooses to focus on inspiring and nurturing true fans.

The most powerful marketing force in the world isn't social media, email blasts, search ads, or even those 15 second commercials before a YouTube video. It's fandom.

David Meerman Scott and his daughter Reiko are very different - one is a baby boomer business strategist, the other a millennial medical student. But both noticed that the kind of enthusiasm they once reserved for pleasures like the Grateful Dead (David) and Harry Potter (Reiko) now extends to all sorts of companies and organizations. So they teamed up to explore a big question: Why do some brands, even in supposedly boring categories like car insurance and enterprise software, attract not just customers but raving fans?

The key is creating what they call a "fanocracy" - an organization that puts the needs and wishes of fans ahead of every other priority. It can be scary, at first, to focus on intangibles like community, generosity, and fun, rather than squeezing every penny from each interaction. But those who apply the strategies in Fanocracy are more likely to dominate their categories. And beyond the financial benefits, fanocracies spread more joy and inspiration to the world at large.

Fanocracy features a wide range of examples, including...
* The surfboard maker that invites customers into its workshop, where it reveals its proprietary processes.

* The underwear startup that's "empowering people to live a life of boldness." (Yes, underwear.)

* The teenager who turned eggs (the ultimate commodity) into a unique and delightful brand.

* The nonprofit that works closely with musicians to encourage their fans to register and vote.

* The battery company that wins loyalty by giving away its products during natural disasters.<
About the Author
David Meerman Scott is an internationally acclaimed business strategist, entrepreneur, advisor to emerging companies, and public speaker. He is the author of ten previous books, including The New Rules of Marketing & PR (now in its 6th edition and in 29 languages) and Marketing Lessons from the Grateful Dead. In his spare time he surfs and travels around the world for great live music. Reiko Scott earned a neuroscience degree from Columbia University and is now a medical student at Boston University. In her spare time she writes and publishes fanfiction based on her favorite fantasy worlds and loves to cosplay at Comic Con.
Praise For Fanocracy: Turning Fans into Customers and Customers into Fans…
"Reiko and David have captured the essence of how organizations, small and large, can organize and amplify the passions of their best customers. It's not difficult, but it's not common either: by building personal relationships and thus doing better work. A breakthrough in clarity and simplicity."
- Seth Godin, author of Tribes and This is Marketing

"Fanocracy is a deep dive into strategies to build a powerful culture that drives business success. It also explores the thinking of a new generation—one that values community, sharing, and justice. David and Reiko share surprising ideas you can implement immediately, such as letting go of your work and allowing people to make it their own, seeing the world as a gift and giving gifts in return, celebrating your customers' stories, and the power of compassion."
- Tony Robbins (from the foreword)
 
"Our customers are no ordinary customers; they are die-hard fans who bleed for us. They love calling themselves Spartans - they bear Spartan tattoos and share their experiences with family and friends, bringing hundreds of thousands of new Spartans to the brand each year. Fanocracy will teach you how to do the same for your business."
- Joe De Sena, founder & CEO of Spartan
 
"In our three decades advising tens of thousands of CEOs and executives, I've learned that most spend too much time internally. A focus on the customer is THE essential component for scaling up to build an industry-dominating organization. In Fanocracy, David and Reiko offer surprising insights into how to put the needs of people ahead of all else, so that your customers become passionate fans of all you do."
- Verne Harnish, founder of Entrepreneurs' Organization and author of Scaling Up

"David and Reiko make the idea of fan culture real, accessible, and actionable for all business—big, small, nonprofit, for-profit, b2b... and yes, even yours! Most of all, they shine a light on the joy of growing a business when you're surrounded by customers who positively LOVE what you do."
- Ann Handley, author of Everybody Writes and Content Rules

"The single most important force in my business is the relationship that I have with my fans. Yes, singing ability, songs, and industry support help tremendously, but the direct fan to artist friendship is the most coveted tool in the equation. Fanocracy truly emphasizes the importance and how-to's that are necessary to maximize that all important friendship. I just read it, it's FANTASTIC."
 - Ronnie Dunn, of Brooks & Dunn

"The world is not changed by people who sort of care. Or companies who sort of care. The world is changed by those who passionately, relentlessly care because your customers will too, and your brand becomes impossible to resist. Fanocracy shows how to change customers into fans, so your brand can change the world." 
- Sally Hogshead, New York Times bestselling author and CEO of Fascinate®