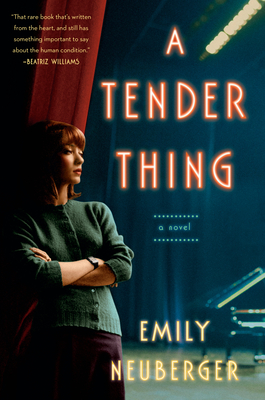 A Tender Thing
Hardcover

* Individual store prices may vary.
Other Editions of This Title:
Paperback (4/6/2021)
Description
An exhilarating debut novel set under the dazzling lights of late 1950s Broadway, where a controversial new musical pushes the boundaries of love, legacy, and art.

Growing up in rural Wisconsin, Eleanor O'Hanlon always felt different. In love with musical theater from a young age, she memorized every show album she could get her hands on. So when she discovers an open call for one of her favorite productions, she leaves behind everything she knows to run off to New York City and audition. Raw and untrained, she catches the eye of famed composer Don Mannheim, who catapults her into the leading role of his new work, "A Tender Thing," a provocative love story between a white woman and black man, one never before seen on a Broadway stage.

As word of the production gets out, an outpouring of protest whips into a fury. Between the intensity of rehearsals, her growing friendship with her co-star Charles, and her increasingly muddled creative--and personal--relationship with Don, Eleanor begins to question her own naïve beliefs about the world. When explosive secrets threaten to shatter the delicate balance of the company, and the possibility of the show itself, Eleanor must face a new reality and ultimately decide what it is she truly wants.

Pulsing with the vitality and drive of 1950s New York, Emily Neuberger's enthralling debut immerses readers right into the heart of Broadway's Golden Age, a time in which the music soared and the world was on the brink of change.
Praise For A Tender Thing…
One of Playbill's 11 Books for Theatre Lovers to Read in Spring 2020
One of Hello Giggles's 10 Best New Books to Take Your Mind Off Things 
BookRiot's April 2020 Horoscope Pick for Aries 

"If you need a break from the present, hop back in time to the bright lights of Broadway in the 1950s….Fans of The Marvelous Mrs. Maisel will love it." –Hello Giggles
 
"A Tender Thing drops at just the right time: if fans can't go to the theater right now, at least they can read about it." –Variety

"Set in the '50s, this backstage novel follows aspiring star Eleanor O'Hanlon as she runs off to New York City to audition for one of her favorite musicals. Once in the Big Apple, romance and gigs quickly follow—but protests, intense rehearsals, and rumors get in the way." —Playbill 

"Debut author Neuberger...clearly knows the world she's depicting; she brings to life with nice historical detail the rehearsal milieu....Smart, savvy, atmospheric work from a promising new talent." —Kirkus Reviews 

"This period piece evokes the golden age of Broadway, from an author whose own performing background shines through. Historical details are well placed, and the characters are engaging….Readers of Elizabeth Gilbert's City of Girls or Fiona Davis's The Chelsea Girls will enjoy." –Library Journal

"Neuberger's thoughtful tale succeeds at showing how art can both reflect and change how people see the world." –Publishers Weekly

"The pull of Broadway and the real-life consequences of challenging social norms—alongside a slight nod to romance—keeps the story moving." —Booklist

"Emily Neuberger makes a smashing debut with this ode to 1950s Broadway, in which the fabled farm girl with big dreams finds herself in an altogether new story, rich with moral complication and unexpected twists. Neuberger portrays the midcentury theater world with conviction and authenticity, and creates a nuanced, unpredictable cast of characters that live on in the reader's imagination long after the final page. A Tender Thing is that rare book that's written from the heart, and still has something important to say about the human condition." —Beatriz Williams, author of The Golden Hour and The Summer Wives

"A standing ovation for A Tender Thing. I was swept away by this riveting novel about friendship, love, womanhood, race, privilege, and what it means to make art. This book will make your heart sing." —Lara Prescott, author of The Secrets We Kept 

"Emily Neuberger's A Tender Thing effortlessly weaves together many ambitious ideas—feminism, race, and sexuality, to name a few—like the best of our great musicals. The result is an engrossing read that stays with you long after the final act." —Garrard Conley, author of Boy Erased

"Emily Neuberger has penned a Broadway melody with great depth and humanity. She captures 1950s New York with characters who are heartfelt and provocative. A Tender Thing is a perfect choice for book clubs any and everywhere." —David Gillham, author of City of Women and Annelies

"Everyone loves a good story about a plucky young woman trying to make her dreams come true in New York -- and with A Tender Thing, Emily Neuberger delivers a spectacular one! No superficial tale, Neuberger's ingenue must grapple with the complexities of love, race, and sexuality as she tries to make it big on the 1950s Broadway stage. A perfect book club read, as you'll want to discuss these characters with friends after you've devoured the novel." —Suzanne Rindell, author of The Other Typist

"An ode to New York, and to Broadway, and to an era long gone, A Tender Thing is a wonderful confection of a book. It's a stirring and assured debut." –Joshua Henkin, author of Morningside Heights and The World Without You

"A delightful trip to 1950's New York with a climax that thrills and surprises. Bold, bright Eleanor O'Hanlon is a joy to follow from the farm to the Great White Way."—Lauren Kate, author of The Orphan's Song
G.P. Putnam's Sons, 9780593084878, 320pp.
Publication Date: April 7, 2020
About the Author
Emily Neuberger is an MFA graduate and grant recipient at Brooklyn College's fiction program, and previously worked as an editorial assistant at Viking Books. She has a music degree from NYU, where she studied musical theater and writing. A performer for fifteen years, she performed at Carnegie Hall in Stephen Schwartz's birthday celebration and sang for Stephen Sondheim at the Music Institute of Chicago. She lives in Brooklyn, New York. A Tender Thing is her debut novel.