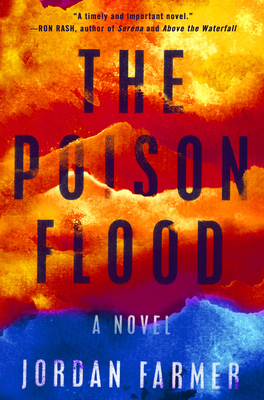 The Poison Flood
Hardcover

* Individual store prices may vary.
Other Editions of This Title:
Digital Audiobook (5/4/2020)
Description
"A near-Shakespearean snarl, a mad, seven-day action crucible set in the West Virginia wild...The Poison Flood is an ambitious saga, cockamamie and passionate. Through Hollis, Farmer produces a pocket Hillbilly manifesto."--Atlanta Journal Constitution

A captivating, gritty, and tender story of a reclusive musician and the local disaster that threatens his small town and changes his life forever.

Hollis Bragg lives on the fringes. The hunchbacked son of a West Virginia hill preacher, he now resides in rural isolation next to the burned-out husk of his father's church, and earns his living ghostwriting songs for a popular band that left the poverty and corruption of Appalachia and never looked back. It's the life he prefers, free from the harsh glare of the spotlight and attachments that lead only to heartbreak.

Then, much to his consternation, he's discovered by Russell Watson, a local musician and fan who also happens to be the rebellious son of the local chemical company magnate. When a devastating toxic spill at the Watson chemical plant poisons the local water, it sets off an unpredictable series of events as Hollis witnesses a murder, faces a shocking betrayal, and begins to come to terms with his body and his past. Soon Hollis will find that in losing his anonymity and reclaiming his music, he can transform his future; and in opening himself up to the world, he might find redemption.
Praise For The Poison Flood…
"A near-Shakespearean snarl, a mad, seven-day action crucible set in the West Virginia wild...The Poison Flood is an ambitious saga, cockamamie and passionate. Through Hollis, Farmer produces a pocket Hillbilly manifesto."—Atlanta Journal Constitution

"Hollis himself is vivid…When the novel focuses on a musician's creative struggles, it sings"—Kirkus Reviews 

"Affecting . . . combines an unconventional lead with a sobering portrayal of an environmental disaster's impact on a small community.  Readers who like their fiction to have a social conscience will want to take a look."—Publishers Weekly

"[A] bizarre and fascinating read that proves that anything is possible in the capable hands of author Jordan Farmer. The novel is immediately engrossing, its characters uniquely memorable, its prose both heartfelt and stunning. The novel takes a number of unexpected and thrilling turns ... [and is] rich in compassion and empathy."—BookPage

"Darkly brilliant and beautifully written...[Farmer's] similes, metaphors and turns of phrase are worth underlining and rereading over and over. They are equaled, if not exceeded, by his sharply drawn characters, who you will remember long after you finish this book."—BookReporter

"[The Poison Flood] had one of the most satisfying endings I've read in a while, capping what was overall one of the best novels I've ever read of modern-day rural America."—Criminal Element

"In his narrator, Hollis Bragg, Jordan Farmer has created a compelling character whose personal story and damaged body becomes emblematic of a whole region devastated by environmental destruction. The Poison Flood is a timely and important novel."—Ron Rash, PEN/Faulkner Finalist and New York Times bestselling author of Serena 

"The Poison Flood is thrilling, poignant, and full of music, a forceful counterpunch to the usual expectations about poverty, trauma, and physical difference."—James A. McLaughlin, author of Bearskin

"Jordan Farmer's novel is both a gripping page-turner and a stunning meditation on body and place. The Poison Flood will punch you right in the throat with its honesty and its heart. Farmer is a singular talent, with a voice I won't soon forget."—Nick White, author of Sweet & Low

"Once again, Jordan Farmer has written a darkly urgent book. The Poison Flood is not only a story about the redemptive power of art— it is itself a redeeming and beautiful work."—Smith Henderson, author of Fourth of July Creek

"Jordan Farmer's immense talent shines with the creation of Hollis Bragg, an indelible character at the heart of this perfect ballad to rural West Virginia."—Devin Murphy, author of The Boat Runner and Tiny Americans

"Once in a great while, a book appears that gives voice to multitudes living just beyond our everyday scope. The Poison Flood establishes Jordan Farmer as a writer whose lyricism and unflinching search for truth places him among those artists who carry our deepest concerns and very best possibilities across time. This is a profoundly good book."—Jonis Agee, author of The Bones of Paradise

"A fascinating exploration of character, with a story that captivates with suspense and heart;The Poison Flood is a book about the influence of music, the power of art, and the complexities of luck. Irresistible and original."—Timothy Schaffert, author of The Swan Gondola


G.P. Putnam's Sons, 9780593085073, 288pp.
Publication Date: May 5, 2020
About the Author
Jordan Farmer was born and raised in a small West Virginia town, population approximately two thousand. He earned his MA from Marshall University and his Ph.D. at the University of Nebraska-Lincoln.