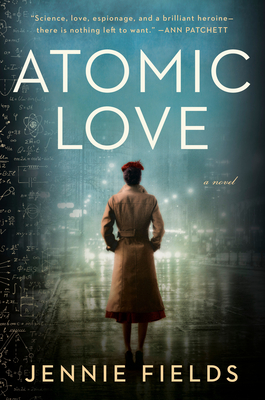 Atomic Love
Hardcover

* Individual store prices may vary.
Other Editions of This Title:
Digital Audiobook (8/17/2020)
Paperback (11/30/2021)
Paperback, Large Print (9/1/2020)
Description
"A novel of science, love, espionage, beautiful writing, and a heroine who carves a strong path in the world of men. As far as I'm concerned there is nothing left to want."--Ann Patchett, author The Dutch House

"A highly-charged love story that reveals the dangerous energy at the heart of every real connection...Riveting."--Delia Owens, author of Where the Crawdads Sing

Love. Desire. Betrayal. Her choice could save a nation.

Chicago, 1950. Rosalind Porter has always defied expectations--in her work as a physicist on the Manhattan Project and in her passionate love affair with colleague Thomas Weaver. Five years after the end of both, her guilt over the bomb and her heartbreak over Weaver are intertwined. She desperately misses her work in the lab, yet has almost resigned herself to a more conventional life.

Then Weaver gets back in touch--and so does the FBI. Special Agent Charlie Szydlo wants Roz to spy on Weaver, whom the FBI suspects of passing nuclear secrets to the enemy. Roz helped to develop these secrets and knows better than anyone the devastating power such knowledge holds. But can she spy on a man she still loves, despite her better instincts? At the same time, something about Charlie draws her in. He's a former prisoner of war haunted by his past, just as her past haunts her.

As Rosalind's feelings for each man deepen, so too does the danger she finds herself in. She will have to choose: the man who taught her how to love . . . or the man her love might save?
Praise For Atomic Love…
One of PopSugar's Best Books of August 
One of Bookish's "2020 Novels Taking Readers on a Journey to the Past

"A highly-charged love story that reveals the dangerous energy at the heart of every real connection. The power of separation and loss propels Atomic Love into unexpected orbits of intrigue and conspiracy as riveting as the science they study."—Delia Owens, author of Where the Crawdads Sing

"This book has everything you could want in historical fiction: espionage, romance and female empowerment." —Parade.com

"Atomic Love is a novel of science, love, espionage, beautiful writing, and a heroine who carves a strong path in the world of men. As far as I'm concerned there is nothing left to want."—Ann Patchett, New York Times bestselling author of Bel Canto and Commonwealth
 
"Brimming with espionage and passion, Atomic Love shines a light on the private lives of scientists involved with the Manhattan Project and the growing threat of nuclear Russia. Taut, atmospheric, and wholly immersive, Atomic Love is a thrilling read for historical fiction lovers." —Chanel Cleeton, New York Times bestselling author of Next Year in Havana

"Atomic Love is so propulsive that "page turner" doesn't do it justice…At the heart of it all is a brilliant, damaged woman determined to save herself and the whole human race. The world could not be in better hands." —Margaret Renkl, author of Late Migrations

"Atomic Love by Jennie Fields is the kind of sumptuous historical fiction that you can lose yourself in." —PopSugar

"What do you get when you combine a female scientist, the early 1950s, a handsome male FBI agent, and a potential Soviet Union spy? You guessed it...this novel. The main character, Rosalind Porter, goes through professional and romantic ups and downs as she navigates her love of country, science, and two very different men. If you like historical fiction with plenty of romance, this one's for you." —TheSkimm

"Atomic Love had me in its thrall from page one. How rewarding to follow these sympathetic, brilliantly drawn characters through their affairs of state and heart. Thank you, Jennie Fields, for this terrific, atmospheric, suspenseful and wholly gratifying read."—Elinor Lipman, author of Then She Found Me and Good Riddance
 
"A page-turning thriller that's also an exploration of the competing pressures on women that still resonates today. This one goes to the top of your pile." —B.A. Shapiro, author of The Art Forger

"Fields's immersive love story is thoroughly engaging. Fans of Beatriz Williams or Paula McLain will take great pleasure in the rich historical detail, suspenseful intrigue, and the emotionally charged romance." —Library Journal

"Set in Chicago during the Red Scare of the early 1950s, Fields combines a paean to feminist empowerment with old-fashioned romance, both centered on a female scientist...A professional and romantic ending for Roz that is every woman's wish fulfillment. Atmospheric, historically interesting escapism." —Kirkus Reviews

"Fields creates authentic female characters teetering on the verge of the women's movement, struggling to claim their place in the world. Inspired by history, Fields' fifth novel is a love story filled with passion, betrayal, mystery, and liberation." —Booklist

"Romance fans will delight in the smoldering affection between Roz and Charlie…As escapist fare, Fields's steamy adventure gets the job done." —Publishers Weekly

"Atomic Love scrupulously captures both the minute (you might say "atomic") and panoramic elements of the early Cold War...In Rosalind, Fields has created an anxious yet gutsy heroine who carries her Shakespearean name with aplomb...Inspired by such female scientists as physicist Leona Woods and the author's own mother, Atomic Love is as much about undercover work as it is about women's passions." —BookPage

"Atomic Love is a twisty, compelling story of science, passion and conflicting loyalties." —Shelf Awareness

"Jennie Fields has crafted a page-turning romantic mystery set in a time and place both familiar and foreign, a story of scientific marvels, wartime atrocities, and secret agents fighting the Cold War...Fields brings to vivid life a fascinating period in American history by depicting flawed human characters seeking healing, redemption, love, and hope in a world made bleak by the horrors of man's inhumanity to man…and woman." —Chapter16.org

"Quite romantic, sexy, but smart and also beautifully written, a historical romance with espionage. And scientists, convincingly brainy and complicated. A romance for our times, set in an earlier time but alert to women's frustrations in the world, then as much as now." —Shawangunk Journal

"Full of intrigue and good old fashioned espionage, Fields has created a flawed and ferocious heroine in the intelligent Rosalind Porter. A captivating must-read with a cast of crafty characters so engaging I was sad to see it come to its glorious end." —Noelle Salazar, author of The Flight Girls

"The smart, warmhearted, and haunted heroine at the center of Atomic Love is just one of the complex characters that enrich this imaginative page-turner. Field's sharp eye for detail never slows the action, but sensuously immerses the reader in time and place." —Laura Moriarty, author of The Chaperone

"Atomic Love lives up to its name—explosive and passionate, this is a story that you will not want to put down, and that will resonate long after it has ended. Fields has an unerring gift for recreating the past, and making it live and breathe like the present."—Kitty Zeldis, Not Our Kind

"A beautifully rendered love story entwined in a page-turning espionage thriller. Fields packs the pages of this wonderful novel with fascinating facts about the Cold War and characters that are complex and compelling. A must read!"— Anita Abriel, author of The Light After War

G.P. Putnam's Sons, 9780593085332, 368pp.
Publication Date: August 18, 2020
About the Author
Jennie Fields received an MFA from the Iowa Writers' Workshop and is the author of the novels Lily Beach, Crossing Brooklyn Ferry,The Middle Ages, and The Age of Desire. A Chicago native, Fields was inspired by her own mother's work as a University of Chicago-trained biochemist in the 1950s. Fields now lives with her husband in Nashville, Tennessee.
or
Not Currently Available for Direct Purchase