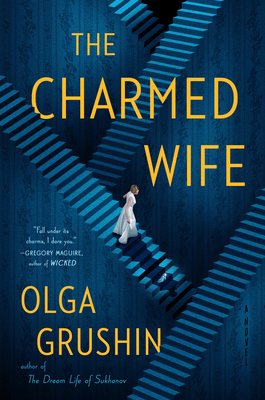 The Charmed Wife
Hardcover

* Individual store prices may vary.
Description
Cinderella wants her Prince Charming dead in this sophisticated fairy-tale for the twenty-first century.

Cinderella married the man of her dreams--the perfect ending she deserved after diligently following all the fairy-tale rules. Yet now, thirteen and a half years later, things have gone badly wrong and her life is far from perfect. One night, fed up and exhausted, she sneaks out of the palace to get help from the Witch who, for a price, offers love potions to disgruntled housewives. But as the old hag flings the last ingredients into the cauldron, Cinderella doesn't ask for a love spell to win back her Prince Charming.

Instead, she wants him dead.

Endlessly surprising, wildly inventive, and decidedly modern, The Charmed Wife weaves together time and place, fantasy and reality, to conjure a world unlike any other. Nothing in it is quite what it seems--the twists and turns of its magical, dark, and swiftly shifting paths take us deep into the heart of what makes us unique, of romance and marriage, and of the very nature of storytelling.
Praise For The Charmed Wife…
One of:
O, the Oprah Magazine's Most Anticipated Books of 2021
CNN's Best Books of January 
Lit Hub's Most Anticipated Books of 2021
Time Out's Best Books of January
Frolic's Top 10 Books of January
CrimeReads's Most Anticipated Books of 2021
Palm Beach Daily News's 2021 Book Recommendations
Hello!'s Most Anticipated Books of 2021

"Genre-bending and darkly comic, Grushin's fourth novel is a weird and wonderful triumph." –O, the Oprah Magazine 

"The Charmed Wife is a modern take on the story of Cinderella, marriage, divorce and love that's surprising, darkly comedic and enchanting." –CNN

"This pretty dark comedy is as inventive and creative as it gets." –Time Out

"An absorbing study of marriage, divorce, self, and responsibility, threaded with numerous retold fairytales and rendered in prescient, gorgeous language. Highly recommended." –Library Journal (starred review) 

"[A] richly imagined, genre-bending retelling of, at its heart, a tale-as-old-as-time." –Booklist (starred review) 

"A dizzying retelling of 'Cinderella,' one in which nothing is as it seems and fairy tale marriages do not end happily ever after…Clever." –Publishers Weekly

"The comedy is devastating in this autopsy of a marriage that dies of 'happily ever after' syndrome. Seldom has such emotional realism been spied in the precincts of wild magic. This alumna of the Cinderella marriage is overwhelmed, overenchanted, and so over it. Fall under its charms, I dare you." –Gregory Maguire, author of Wicked

"With the publication of her first novel, Grushin instantly became one of my favorite writers. She touches the borders of myth and fairytale in everything she does, but never so explicitly as here, in this dark and dreamy retelling of Cinderella. Inside the plot, magic comes and goes. But inside the reader, it's all magic, all of us happily caught in Grushin's hypnotic spell." –Karen Joy Fowler, author of We Are All Completely Beside Ourselves

"In The Charmed Wife, Olga Grushin turns the fairy-tale romance on its head, and then just keeps turning it, playfully, subversively, brilliantly: a feat of fierce imagination." –Jess Walter, author of The Cold Millions and Beautiful Ruins

"The Charmed Wife is a thought-provoking, wickedly clever, and beautifully written fairy-tale character study that enchants at every turn. Olga Grushin dissects fairy tales, marriage, and the messy human heart with a pen as sharp as any scalpel." –Melissa Bashardoust, author of Girl, Serpent, Thorn

"Lush and powerful, The Charmed Wife is brimful of magic and the seething darkness that lies beneath the glittering surface of every good fairy tale." –Leife Shallcross, author of The Beast's Heart 
G.P. Putnam's Sons, 9780593085509, 288pp.
Publication Date: January 12, 2021
About the Author
Olga Grushin was born in Moscow and moved to the United States at eighteen. She is the author of three previous novels, Forty Rooms, The Line and The Dream Life of Sukhanov. Her debut, The Dream Life of Sukhanov, won the New York Public Library Young Lions Fiction Award, earned her a place on Granta's once-a-decade Best Young American Novelists list, and was one of The New York Times' Notable Books of the Year. Both it and The Line were among The Washington Post's Ten Best Books of the Year, and Forty Rooms was named a Kirkus Reviews Best Fiction of the Year. Grushin writes in English, and her work has been translated into sixteen languages. She lives outside Washington, DC, with her two children.