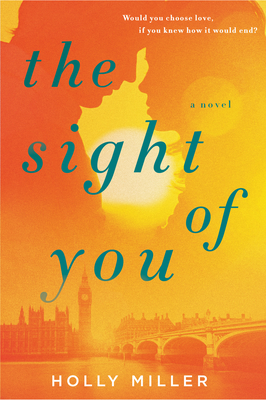 The Sight of You
Hardcover

* Individual store prices may vary.
Other Editions of This Title:
Digital Audiobook (6/8/2020)
Paperback (6/8/2021)
Paperback, Korean (11/13/2020)
Description
The Light We Lost meets How to Walk Away in this romantic and page-turning debut that poses a heartbreaking question: Would you choose love, if you knew how it would end?

"Unique and breathtaking and painful and broken and perfect . . . just like love. I'm still crying, yet all I want to do is settle down and read it again." --Jodi Picoult

Joel has sworn off falling in love. But when he meets Callie, he can't help being drawn to her. In Callie, he sees a second chance at life. And in Joel, Callie discovers the kind of love she'd always hoped was real. They challenge each other to take chances, to laugh, and to trust that no matter how hard each falls, the other will be there to catch them.

But Joel has a secret. He dreams about the people he loves, and these dreams always come true. One night, Joel has the dream of Callie he's feared the most, and each must decide: Can Callie stay, knowing her fate? And if her days must be numbered, is there a life she is meant to live?

Told in Joel and Callie's voices, The Sight of You is a sweeping, romantic, and unforgettable American debut, about the bravery it takes to love, especially when we think we know how the story will end.
Praise For The Sight of You…
"Some books rip you apart, even as you are marveling at how beautifully put together they are — The Sight of You is one of these.  Holly Miller — with her startling metaphors and finely-etched portrait of a star-crossed relationship — has created a novel that is unique and breathtaking and painful and broken and perfect…just like love. I'm still crying, yet all I want to do is settle down and read it again."
—Jodi Picoult, author of A Spark of Light and Small Great Things

"This book had me in tears. I can't stop thinking about Callie and Joel and what my choices would be in their circumstances. Beautiful and heartbreaking."
—Jill Santopolo, New York Times bestselling author of The Light We Lost and More Than Words

"With stunningly evocative prose, Holly Miller crafts an enthralling tale that picks up speed as it churns toward its inevitable conclusion. I'm not usually an emotional reader, but this book proved me wrong. The ending is simply perfect. Readers are going to love it."
—Tracey Garvis Graves, New York Times bestselling author of The Girl He Used to Know 

"A stunning and gracefully written tearjerker about destiny, dreams, and selfless love…Heart-breaking and life-affirming. Readers should be prepared to cry." —Publishers Weekly (starred review)
 
"Fans of The Light We Lost and The Time Traveler's Wife will fall hard for this heart-breaking but ultimately life-affirming novel." —Booklist
 
"The perfect book to kick off your summer reading, The Sight of You by Holly Miller, is full of love and heartbreak, and will have you thinking about your relationships and what you would do if you were to know how they would end." —Booktrib

"I've just finished it and I'm in BITS. There are literally tears still dripping from my chin. What an extraordinary book. It's exquisitely written, incredibly moving and impossible to put down. It made me want to go and give everyone I love a very, very big hug. Who could fail to fall in love with Callie and Joel?"
—Beth O'Leary, author of The Flatshare

"A wonderful high-concept love story. I adored it."  
—Richard Roper, author of How Not to Die Alone

"This book stole my heart. It reminds me of how I felt when I first read The Time Traveler's Wife. Special, inventive, heart breaking and empathetic, it's a book about whether it's better to have loved and lost, or never to have loved at all. Women's fiction as its finest."
—Gillian McAllister, author of The Good Sister

"Heartbreaking, hopeful, and completely original - The Sight of You is a love story that stays with you long after the final page."
—Dani Atkins, author of The Story of Us

"Heartbreaking and compulsive in equal measure, I read The Sight of You in a single day."
—Kate Riordan, author of Fiercombe Manor

"The Sight of You is one of those rare books that stays in your heart long after the final page and I'm utterly bereft now it's finished. Beautiful, lyrical and yet packs an emotional punch that will leave you reeling." —Penny Parkes, author of Out of Practice

"What an astonishing book. I just loved it. One of those rare books that is beautifully written and utterly life affirming." —Kate Thompson, author of Secrets of the Homefront Girls

"Amazing concept, a beautiful love story." —Eva Woods, author of Something Like Happy

"I. Am. Broken. It's exquisite, beautiful and tender and has left me utterly bereft!" —Emma Cooper, author of The First Time I Saw You

G.P. Putnam's Sons, 9780593085585, 384pp.
Publication Date: June 9, 2020
About the Author
Holly Miller works as a copywriter and lives in Norfolk, England. The Sight of You is her American debut.
or
Not Currently Available for Direct Purchase