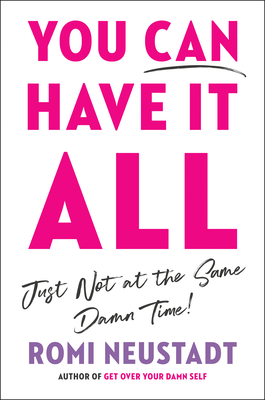 You Can Have It All, Just Not at the Same Damn Time
Hardcover

* Individual store prices may vary.
Other Editions of This Title:
Digital Audiobook (1/13/2020)
Description
Bestselling author, entrepreneur, speaker, and life and business coach Romi Neustadt has a message for women: You CAN have it all--just not at the same damn time.

Romi Neustadt is a mom of two, a wife, a daughter, bestselling author, speaker, entrepreneur, and coach. What's more, she's achieved these things without a staff of 10, the ability to sleep two hours a night or driving herself batsh*t crazy. She's figured out the key to having it all: Priorities, babe.

In her second book, Romi provides a no-BS blueprint for women to figure out what to focus on and what not to. She explains why saying YES to everything and everyone really means saying NO to the things that matter -- to your goals, your dreams, and your true self.

The key to achieving your wildest dreams isn't to downsize them. It's to embrace them more fully, and discard everything that isn't serving them. This book will teach you how to:



Zone in on what really matters to you, so you can ditch everything that isn't serving your dreams.
Recognize and embrace your true worth as a provider, partner, and all-around kickass human.
Say no to the millionth request from your kid's school for home-baked goods--without experiencing mom guilt.
Establish boundaries that stick with coworkers, friends, and family.
Ditch toxic relationships and the soul-sucking drama that accompanies them.
Stop feeling like an imposter in your own life.
Create habits that protect your time and energy.
Kick fear (of not being lovable, pretty, or good enough) to the curb once and for all.

Written in the same down-to-earth, accessible style that made her first book, Get Over Your Damn Self, a beloved bestseller, this book is for every woman who wants to live a fulfilled, authentic life without feeling stressed and exhausted. Romi is living proof that it's possible, and you will be too.
Praise For You Can Have It All, Just Not at the Same Damn Time…
"The answer to having it all is to say no to doing it all--and to stay focused on the things you most deeply care about. Romi Neustadt's tried and true system for linking your goals to your priorities will help you do just that. Read her book now for the full but focused life you deserve."
--Leah Weiss, Ph.D., Stanford Business Lecturer, author of How We Work
 

"Romi wants us all to love ourselves more and make choices based on our truest desires. With this engaging, funny and insightful book, she gives us the blueprint on how to go after the life each of us has always wanted." 
--Kristen Hadeed, Founder & CEO, Student Maid, author of Permission to Screw Up
 

"Romi has done it again! In this book she gives women permission (and a loving kick in the ass) to say NO to what drains them so they can say YES to what matters most - their own goals and dreams."
--Cara Alwill Leyba, author of Girl Code and host of the Style Your Mind podcast
 

"A brilliant combination of #RealTalk and valuable tools that will help you connect with your self-worth, silence the guilt, shut down fear, and fight for the life of your dreams."
--Rachel Cannon, Actress, Writer, Producer, Entrepreneur, Wife, and Mom
Portfolio, 9780593085950, 224pp.
Publication Date: January 14, 2020
About the Author
Romi Neustadt is a former corporate chick (first a lawyer, then a PR executive) who traded in the billable hour to become an entrepreneur. She's figured out how to juggle being a wife, a mom, a professional success, and a healthy human without losing her mind. And she's on a mission to help other women Have It All too. Romi's first book, Get Over Your Damn Self: The No-BS Blueprint to Building a Life-Changing Business, received a Gold Award from the Nonfiction Authors Association. This is her second book. Romi lives in San Diego with her husband, John, and their two kids, Nate and Bebe.