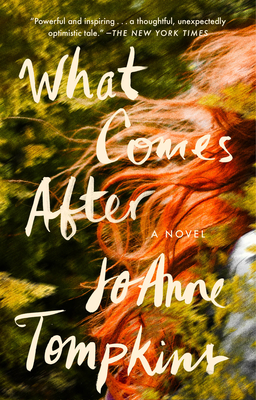 What Comes After
A Novel
Paperback

* Individual store prices may vary.
Other Editions of This Title:
Digital Audiobook (4/12/2021)
Hardcover (4/13/2021)
Paperback, Large Print (4/27/2021)
April 2021 Indie Next List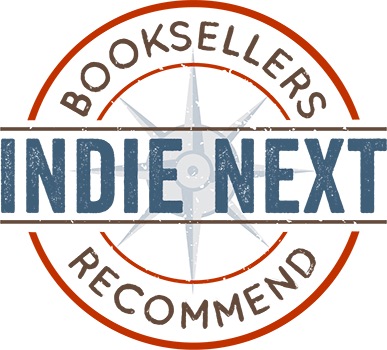 "Abandoned and homeless, a pregnant 16-year-old finds shelter in the home of a man who has recently lost his son and his faith. Achingly poignant,
What Comes After
by JoAnne Tompkins brims with raw emotions and conflicting feelings. A redemptive story of loss and love. Keep tissues nearby."
— Jane Simons, The Dog Eared Book, Palmyra, NY
View the List
Description
Named a top beach read of summer by Oprah Daily, Good Housekeeping, The Wall Street Journal, and more

"Nail-biting wallop of a debut . . . a thoughtful, unexpectedly optimistic tale." —The New York Times

"If you enjoyed The Searcher by Tana French, read What Comes After by JoAnne Tompkins. . . . a mystery—and a gritty meditation on loss and redemption, drenched in stillness and grief." —The Washington Post

After the shocking death of two teenage boys tears apart a community in the Pacific Northwest, a mysterious pregnant girl emerges out of the woods and into the lives of those same boys' families—a moving and hopeful novel about forgiveness and human connection.

In misty, coastal Washington State, Isaac lives alone with his dog, grieving the recent death of his teenage son, Daniel. Next door, Lorrie, a working single mother, struggles with a heinous act committed by her own teenage son. Separated by only a silvery stretch of trees, the two parents are emotionally stranded, isolated by their great losses—until an unfamiliar sixteen-year-old girl shows up, bridges the gap, and changes everything.

Evangeline's arrival at first feels like a blessing, but she is also clearly hiding something. When Isaac, who has retreated into his Quaker faith, isn't equipped to handle her alone, Lorrie forges her own relationship with the girl. Soon all three characters are forced to examine what really happened in their overlapping pasts, and what it all possibly means for a shared future.

With a propulsive mystery at its core, What Comes After offers an unforgettable story of loss and anger, but also of kindness and hope, courage and forgiveness. It is a deeply moving account of strangers and friends not only helping each other forward after tragedy but inspiring a new kind of family.
Praise For What Comes After: A Novel…
Praise for What Comes After:

Named a Best New Book of the Spring by Parade, Good Housekeeping, Bustle, and more!

"Gripping . . . What Comes After juxtaposes the often brutal natural world, with its crepuscular woods, twisty paths, and wild creatures, and the "civilized" world, with its own dark places and feral inhabitants. Ms. Tompkins's understanding of both is palpable. So is her compassion." —The Wall Street Journal

"If you enjoyed The Searcher by Tana French, read What Comes After by JoAnne Tompkins. . . . a mystery—and a gritty meditation on loss and redemption, drenched in stillness and grief." —The Washington Post

"Nail-biting wallop of a debut novel . . . Tompkins delivers a thoughtful, unexpectedly optimistic tale." —The New York Times

"Rich in characters, atmosphere, and storytelling, this book has it all. . . . If you are looking for something deeply emotional, full of memorable characters, this is it." —San Francisco Book Review

"This debut vibrates with mystery. Why would a teen kill his friend, then himself? Why does the victim's dad take in a pregnant stranger? As the dots slowly connect, the characters reveal their complex humanity and help us touch our own." —People

"What Comes After is equal parts thrilling mystery and aching examination of grief and guilt." —Time

"[A] story about forgiving the unforgivable, gaining new family, and hope." —Shondaland.com

"What Comes After is a poignant and suspenseful debut novel about the tensions of love, anger, courage, forgiveness, and everything in between. . . . unforgettable . . . an impressive debut by an author who is clearly here to stay." —Bookreporter

"This novel of individual reflection and anguish ultimately resurrects the prospect of hope." —Pittsburgh Post-Gazette

"Atmospheric, propulsive . . . a grieving community grapples with two slain teenaged boys and the young pregnant girl who may hold the key to the their tragic fates. An American Tana French, Tompkins is a writer to watch." —O, The Oprah Magazine

"Like Anne Tyler and Marilynne Robinson, who explore similar territories of the heart, Tompkins sensitively portrays her characters' pain, isolation, and hard path to redemption. A graceful debut." —Kirkus Reviews

"In JoAnne Tompkins's debut novel, faith is simply part of life, a reality that is rarely so sensitively portrayed in fiction." —BookPage (starred review)

"Deftly handled . . . readers coming to know [the characters] almost better than they know themselves. . . . exceptional literary thriller." —Booklist (starred review)

"While there's mystery at the heart of this book, Tompkins creates a relatable thrill with reflections on suffering, loss, anger, and the powerful effects of forgiveness." —Parade

"At once a mystery and a meditation on how to move forward in the wake of a tragedy, What Comes After by Joanne Tompkins is a moving tale of two parents grappling after the sudden deaths of their teenage sons." —POPSUGAR

"[A] moving portrait of resilience." —Oprah Daily

"[A] reflective tale of grief and redemption." —E! Online

"What I loved most about What Comes After is the way the characters—in the wake of a great tragedy—quietly, kindly reach out to one another. The loss of two teenage boys forces the characters to face truths about the boys, and therefore themselves. JoAnne Tompkins writes about the people in this small town with wisdom and grace, and I'm grateful to have read this novel." —Ann Napolitano, New York Times bestselling author of Dear Edward

"What Comes After is a tender, wise debut, both grave and hopeful. In telling the story of the violent act that rocks a small community—and what emerges from the ashes—JoAnne Tompkins explores responsibility and forgiveness, connection and loss, the families we're born into and the ones we create. What Comes After asks whether we are inevitably shaped by the wounds we inherit—and the ones we give ourselves—or whether transformation, and redemption, are possible." —Chloe Benjamin, New York Times bestselling author of The Immortalists

"Though What Comes After begins with the quick jaggedness of sorrow, it soon becomes an intricate journey across the soft, tender landscape of solace. It offers faith without dogma, love without melodrama, and healing that leaves well-earned scars. I found it a beautifully satisfying portrait of people who are terribly wrong about themselves, who discover astonishing relief when they accept their heartbreaking truths." —Cara Wall, author of The Dearly Beloved

"A moving, life-affirming page-turner. JoAnne Tompkins has a deep appreciation for the power of human connection and the magic that can happen when people reach across biological relationships to create the makeshift family or community that they need. This novel is a reminder that family goes beyond blood, held in love, and we are not alone." —Whitney Otto, New York Times bestselling author of How to Make an American Quilt

"This is a book for the ages. A powerful, compassionate page-turner, What Comes After dives deep into the best and worst of humanity and comes out singing. This is a story of families failed and made, of lives lost and found and taken, and of anger and forgiveness—elusive, precious, and overwhelming. Joanne Tompkins is a clear-eyed reader of souls, and she gives them to us in all their complicated and terrible beauty." —Erica Bauermeister, New York Times bestselling author of the Reese's Book Club Pick The Scent Keeper
Riverhead Books, 9780593086001, 432pp.
Publication Date: April 5, 2022
About the Author
JoAnne Tompkins was inspired to become a writer by the human resiliency she observed in her first career as a mediator and judicial officer. She lives in Port Townsend, Washington.