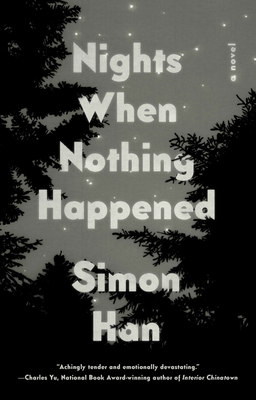 Nights When Nothing Happened
A Novel
Paperback

* Individual store prices may vary.
Other Editions of This Title:
Digital Audiobook (11/16/2020)
Hardcover (11/17/2020)
December 2020 Indie Next List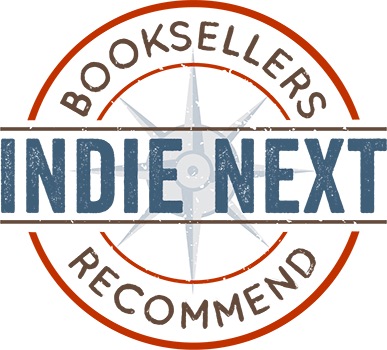 "Most anyone who grows up in a suburb knows these neighborhoods are not always what they purport to be. Simon Han, in his dazzling debut, blows the curtains wide open on the actual lives a onetime model home might conceal. Deftly shifting time frames and points of view, he gives a piercing, often funny, and deeply moving account of a Chinese family's struggle to settle into the lives they think they should be living. It's a coming of age for all of them, each in their own way and time. Far from nothing happening, so much does."
— Rick Simonson, The Elliott Bay Book Company, Seattle, WA
View the List
Description
Named a Best Book of the Year by Time, The Washington Post, and Harper's Bazaar

"A tender, spiky family saga about love in all its mysterious incarnations." —Lorrie Moore, author of A Gate at the Stairs and Birds of America

"Absolutely luminous . . . Weaves the transience of suburbia between the highs and lows of a family saga . . . Shocks, awes, and delights." —Bryan Washington, author of Memorial

From the outside, the Chengs seem like so-called model immigrants. Once Patty landed a tech job near Dallas, she and Liang grew secure enough to have a second child, and to send for their first from his grandparents back in China. Isn't this what they sacrificed so much for? But then little Annabel begins to sleepwalk at night, putting into motion a string of misunderstandings that not only threaten to set their community against them but force to the surface the secrets that have made them fear one another. How can a man make peace with the terrors of his past? How can a child regain trust in unconditional love? How can a family stop burying its history and forge a way through it, to a more honest intimacy?

Nights When Nothing Happened is gripping storytelling immersed in the crosscurrents that have reshaped the American landscape, from a prodigious new literary talent.
Praise For Nights When Nothing Happened: A Novel…
Praise for Nights When Nothing Happened:

"A deeply affecting portrait of one family's immigrant experience—and the toll that the American Dream takes on those who chase it." —Harper's Bazaar

"How does a family find its footing after it leaves home for good?. . . . Rendered in a series of quick brush strokes, as if in a Raymond Carver story. . . . [and] seen from the shifting perspectives of mother, father, daughter and son—each fully, empathetically rendered. . . . this novel reminds us what it's like navigating a foreign country. . . . Much to admire." —The New York Times Book Review

"Entirely worth the investment . . . . Han's expansive sympathy and twilight lyricism make Nights When Nothing Happened a poignant study of the immigrant experience. This is an author who understands on a profound level the way past trauma interacts with the pressures of assimilation to disrupt a good night's sleep, even a life." —The Washington Post

"Searing . . . .Han asks a timeless yet urgent question: Is it possible to feel truly safe in a place that wasn't made for you?" —Time

"[A] dazzling debut . . . . In this subtle but deeply felt story, Han elegantly takes aim at suburban racism, generational trauma, and the secrets we keep from one another in order to stay afloat." —Esquire

"Nights When Nothing Happened is very much about the private, shadowy parts of ordinary lives, but Han's evocative writing is anything but ordinary. . . . a brief novel best read slowly, so one can savor the resonance and originality Han wrings from the quotidian. . . . Han's gift at zeroing in on matters of the conflicted heart is its own reward." —NPR 

"Han writes with sublime suspense. . . . [he] has a keen ability to write of not only the subtleties of the disappointments and loneliness that can be found within families, but also of how the specific and often unsubtle threats of American oppression, especially against perceived outsiders, can seep into the immigrant's most intimate familial relationships." —San Francisco Chronicle

"Elegant, elegiac. . . . Han's creation of the Chengs is remarkable for his refusal to make them into heroic figures. He is bold enough to portray them, with great understanding and tenderness, as no one other than the striving, anxious, imperfect humans that they are." —The Dallas Morning News

"Han excels at depicting bright, bland Plano, a suburb of 'sprinkler-fed grass,' 'vanilla-scented pine cones,' and 'oven mitts and motion sensors.' Even in carefully planned, hermetically sealed Plano, there's no controlling the cascade of events that ensue when a wild child is unleashed in a community that does not understand her family."  —Star Tribune

"Outstanding. . . the suspense building is masterful. . . . It is not a happy family story, but it is nonetheless a satisfying one, full of introspection, the fragility created by self-doubt realistically depicted." – Southern Review of Books

"Brings texture, nuance, and subtlety to the reductionist condescension of the 'model minority' trope." —The Millions

"Han displays incredible range as a novelist, oscillating between honest, almost tangibly real scenes, opaque dreams and refractive memories. . . . . [his] prose is vivid yet restrained, and his characters are multidimensional and alive. Emotionally resonant and packed with nuance, this is an exemplary debut novel." —BookPage (starred review)

"Han expertly shifts the ground under the narrative, constantly shaking the snow globe to nudge the reader's perspective away from the familiar. . . . . [the] characters are authentic, vulnerable, and utterly convincing, delivering one dynamite novel. An astutely realized portrait of the collateral damage wrought by the pursuit of the American dream." —Kirkus Reviews (starred)

"In this exemplary debut, Han explores childhood trauma and the impact words and silence can have on both building and harming relationships. He writes with sensitivity and tenderness, allowing his fully fleshed-out characters to take on lives of their own and tell their heartbreaking perspectives directly to readers. Readers will be gripped by this beautiful debut." —Booklist

"A tender, spiky family saga about love in all its mysterious incarnations. Simon Han is a wonderfully adventurous and sensitive writer." —Lorrie Moore, author of A Gate at the Stairs and Birds of America

"In this beautiful, unsettling novel, Simon Han captures the state of being awake and yet asleep, of belonging and yet not, of waiting for the moment when the world opens up. He reveals how fragile we are, and what it takes to survive. An unbelievable debut." —Kevin Wilson, author of Nothing to See Here
 
"Simon Han explores the desire to belong—to a marriage, a family, a community, a country. Nights When Nothing Happened is about how we use words and silences to connect and to wound, and how we make sacrifices for those we love. It broke my heart and gave me hope, all at the same time." —Angie Kim, author of Miracle Creek

"Absolutely luminous. Han weaves the transience of suburbia between the highs and lows of a family saga, illustrating what a parent owes a child, what a child owes their parents, and what simply cannot be repaid. His novel shocks, awes, and delights." —Bryan Washington, author of Memorial

"Achingly tender and emotionally devastating. A stunning debut that will stay with me." —Charles Yu, author of Interior Chinatown

"In his beautifully written debut novel, Simon Han takes a keen look at immigration, family and love. Insightful and poignant." —Jean Kwok, author of Searching for Sylvie Lee 

"Simon Han's suburban Dallas is every bit as haunting, and haunted, as John Cheever's Westchester County, illuminating the liminal spaces between American Dream and American nightmare. At the end of every quiet cul-de-sac lie equal parts beauty and madness." —Tony Earley, author of Jim the Boy and Mr. Tall

 
Riverhead Books, 9780593086063, 272pp.
Publication Date: November 16, 2021
About the Author
Simon Han was born in Tianjin, China, and raised in various cities in Texas. His stories and essays have appeared in The Atlantic, The Texas Observer, Guernica, The Iowa Review, Electric Literature, and Lit Hub. The recipient of several fiction awards and arts fellowships, he lives in Carrollton, Texas.