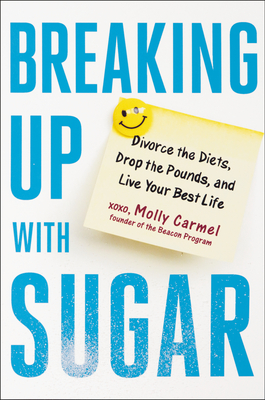 Breaking Up With Sugar
Divorce the Diets, Drop the Pounds, and Live Your Best Life
Hardcover

* Individual store prices may vary.
Other Editions of This Title:
Digital Audiobook (12/30/2019)
Description
A proven plan to break free from your unhealthy relationship with Sugar - and reclaim your health and your life for good.

The solution to your food and weight problems isn't willpower or the next fad diet - it's breaking up with Sugar. Molly Carmel, an eating disorder therapist with a thriving clinic in New York City, discovered the devastating role Sugar played in her own 20-year struggle with disordered eating. After reaching a peak weight of 325 pounds and trying every diet imaginable, Molly was finally able to dramatically transform her life--and find her happy weight-by breaking up with Sugar. Molly has since helped thousands of people overcome compulsive overeating, repetitive dieting, and Sugar addiction to reinvent their lives. Here, she shares her empowering 66-day blueprint for kicking Sugar to the curb - once and for all.

Molly explains how Sugar is not only bad for your health, it's also a substance with highly addictive potential - one that creates physical, neurological, and hormonal changes that often make moderation impossible. This is the first book to address the emotional, spiritual, chemical, and physical components of this toxic relationship and help guide you through the steps to create a new and lasting relationship with food...and with yourself.

Breaking Up with Sugar includes step-by-step meal plans to take the guesswork out of going Sugar-free, as well as seven key self-affirming vows you can rely on to help end the overeating and dieting cycle and release unhealthy weight. With empathy, honesty, and humor as your trusted coach and friend, Molly gives you essential tools to navigate this new way of eating when life gets "life-y" or times get tough. Her sustainable roadmap will put you on the path to true freedom.
Praise For Breaking Up With Sugar: Divorce the Diets, Drop the Pounds, and Live Your Best Life…
"The secret about sugar is that even small amounts can be harmful to our health because our bodies learn to want more.  And that makes moderation impossible. Molly explains the science behind a problem so many struggle with, and helps readers untangle the emotions that can get in their way. If you struggle with weight issues and haven't found solutions elsewhere, this book has the answers you've been looking for."
—Mark Hyman, MD


"It's exciting to see Molly Carmel present a deeply researched, battle-tested, realistic way of changing our culturally skewed relationship with sugar. The information and ideas in Breaking Up with Sugarcan prevent disease, save lives, and make those lives much healthier and more joyful. If you suspect that your relationship with sugar is unhealthy (and if it is, at some level you know it) do something kind for yourself and read this book!" —Martha Beck
 
All my patients know what I think about sugar—that it is poison, and people are addicted to it. I want to get sugar, in all its forms, out of their diets, but that, as they say, is easier said than done. InBreaking Up with Sugar, Molly Carmel tells us exactly how to do it. I would recommend this to every one of my patients and anyone who wants to be healthier." —Frank Lipman, MD, coauthor of The New Health Rules

"Compelling, well researched and accessible. Molly shares the truth of her story, combined with fascinating and irrefutable facts in a journey that can lead anyone to freedom from a sugar addiction. One of the most well-hidden yet destructive addictions of all." —Annie Grace, author and founder of This Naked Mind
Avery, 9780593086162, 288pp.
Publication Date: December 31, 2019
About the Author
Molly Carmel has made it her life's mission to help people find a sustainable solution to the battle of obesity and related eating disorders. After battling her own eating disorder for over 20 years and finding no solution in available treatment, she created The Beacon, where she helps clients recover from similar addictions. Carmel received her Bachelor's in Social Work from Cornell University and her Master's from Columbia University's School of Social Work. She has extensive training in Dialectical Behavioral Therapy, addiction, and nutrition.