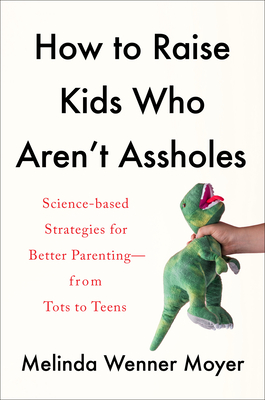 How to Raise Kids Who Aren't Assholes
Science-Based Strategies for Better Parenting--from Tots to Teens
Hardcover

* Individual store prices may vary.
Other Editions of This Title:
Digital Audiobook (7/19/2021)
Paperback (6/21/2022)
Description
How to Raise Kids Who Aren't Assholes is a clear, actionable, sometimes humorous (but always science-based) guide for parents on how to shape their kids into honest, kind, generous, confident, independent, and resilient people...who just might save the world one day.

As an award-winning science journalist, Melinda Wenner Moyer was regularly asked to investigate and address all kinds of parenting questions: how to potty train, when and whether to get vaccines, and how to help kids sleep through the night. But as Melinda's children grew, she found that one huge area was ignored in the realm of parenting advice: how do we make sure our kids don't grow up to be assholes?

On social media, in the news, and from the highest levels of government, kids are increasingly getting the message that being selfish, obnoxious and cruel is okay. Hate crimes among children and teens are rising, while compassion among teens has been dropping. We know, of course, that young people have the capacity for great empathy, resilience, and action, and we all want to bring up kids who will help build a better tomorrow. But how do we actually do this? How do we raise children who are kind, considerate, and ethical inside and outside the home, who will grow into adults committed to making the world a better place?

How to Raise Kids Who Aren't Assholes is a deeply researched, evidence-based primer that provides a fresh, often surprising perspective on parenting issues, from toddlerhood through the teenage years. First, Melinda outlines the traits we want our children to possess—including honesty, generosity, and antiracism—and then she provides scientifically-based strategies that will help parents instill those characteristics in their kids. Learn how to raise the kind of kids you actually want to hang out with—and who just might save the world.
Praise For How to Raise Kids Who Aren't Assholes: Science-Based Strategies for Better Parenting--from Tots to Teens…
Advance Praise for How to Raise Kids Who Aren't Assholes

"This science-based, funny, easy-to-use guidebook with specific strategies to help parents raise great kids should be on everyone's list." –Zibby Owens, Good Morning America

"It's one thing to say you don't want your kid to be an asshole. This book gives you data-driven, research-based tools to actually achieve it." –Emily Oster, Ph.D., author of Cribsheet and Expecting Better
 
"In her new book How to Raise Kids Who Aren't A**holes: Science-Based Strategies for Better Parenting--from Tots to Teens, science journalist Melinda Wenner Moyer…looks at research on gunplay, screen time, shyness, resilience and more, helping parents effectively send the message that kindness matters." –CNN.com

"Most parents say we want our children to be kind, compassionate people. Yet everything in the culture urges us to teach something else . . . Melinda Wenner Moyer weaves cutting edge science with accessible stories and actionable tips to help us rebalance those crucial scales, to be the parents we know we can be." –Peggy Orenstein, author of Girls & Sex and Boys & Sex

"Blending an upbeat, humorous tone with straightforward advice, Wenner Moyer crafts a winning guide for parents who wish to build a "better, fairer, stronger world." This delightful mix of strategy and humor shouldn't be missed." –Publishers Weekly, starred

"[Moyer] gives practical, research-based suggestions for teaching selflessness, honesty, and healthy self-esteem…[she] shows readers how to grow alongside their child and effect positive change." –Library Journal

"If the title alone doesn't make you fall in love with the book, I'm not sure what to tell you. Wenner Moyer is a science journalist who realized that despite books that tell us how to do nearly everything in parenting, there wasn't a book that helped you to raise kids who weren't, well…assholes. This is an interesting, fact-based look at how to do just that. (Also, I suspect that if you bring this to the playground, it will attract like-minded mom friends!)" --Book Riot

"How can parents raise kids who believe in themselves and in building a better, more compassionate future? This book provides the roadmap. Filled with actionable, sometimes surprising, always data-driven ideas, Melinda Wenner Moyer has given us an invaluable resource." –Madeline Levine, Ph.D., author of The Price of Privilege and Ready or Not

"I can't think of a more important life lesson than 'don't be an asshole.' Unfortunately, many kids don't learn it—because many parents fail to teach it. Thanks to this book, they no longer have an excuse. It's a smart, engaging, honest, and surprisingly useful read about how to nurture decency and generosity." –Adam Grant, #1 New York Times bestselling author of THINK AGAIN
 
"If you are a parent who wants to know that your parenting energies are tried and true, tested and trusted, this book is the place where you can plant your flag." –Mark McConville, author of Failure to Launch

"Crucial, timely, and wise. This is the parenting handbook for raising the next generation." –Carla Naumburg, PhD, author of How to Stop Losing Your Sh*t With Your Kids
G.P. Putnam's Sons, 9780593086933, 352pp.
Publication Date: July 20, 2021
About the Author
Melinda Wenner Moyer is an award-winning contributing editor at Scientific American, a weekly contributor to The New York Times, and a faculty member at NYU's Arthur L. Carter Journalism Institute. How to Raise Kids Who Aren't Assholes is her first book. She also writes the popular Substack newsletter Is My Kid the Asshole?