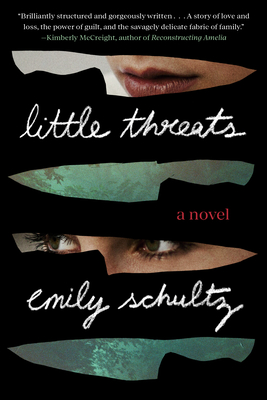 Little Threats
Paperback

* Individual store prices may vary.
Other Editions of This Title:
Digital Audiobook (11/9/2020)
Description
Both a taut whodunit and a haunting snapshot of the effects of a violent crime, Little Threats tells the story of a woman who served fifteen years in prison for murder...and now it's time to find out if she's guilty.

In the summer of 1993, twin sisters Kennedy and Carter Wynn are embracing the grunge era and testing every limit in their privileged Richmond suburb. But Kennedy's teenage rebellion goes too far when, after a night of partying in the woods, her best friend, Haley, is murdered, and suspicion quickly falls upon Kennedy. She can't remember anything about the night in question, and this, along with the damning testimony from a college boy who both Kennedy and Haley loved, is enough to force Kennedy to enter a guilty plea.

In 2008, Kennedy is released into a world that has moved on without her. Carter has grown distant as she questions Kennedy's innocence, and begins a relationship with someone who could drive the sisters apart forever. The twins' father, Gerry, is eager to protect the family's secrets and fragile bonds. But Kennedy's return brings the tragedy back to the surface, along with a whole new wave of media. When a crime show host comes to town asking questions, believing the murder wasn't as simple as it seemed, murky memories of Haley's death come to light. As new suspects emerge and the suburban woods finally give up their secrets, two families may be destroyed again.
Praise For Little Threats…
One of Bustle's Most Anticipated Books of November 2020
One of CrimeReads' Most Anticipated Crime Books of Fall 2020

"A taut thriller."--PopSugar

"A perceptive thriller....Schultz delivers an energetic plot fueled by incisive character studies."--Shelf Awareness

"Fans of Tana French, Kimberly Belle, and Orange is the New Black will fall under this book's spell....Terse and tense, Little Threats investigates righteous anger, teenage angst, and the enormity of setting the record straight."--Booklist

"A masterful slow-boil, with a pal­pa­ble sense of menace suf­fus­ing nearly ev­ery scene, it is also a stark and re­al­is­tic de­pic­tion of the trau­matic legacy of vi­o­lent crime and tragedy."--The Toronto Star 

"[A] taut psychological thriller...Schultz knows how to keep the reader engrossed."--Publishers Weekly 
 
"[A] gripping character study of an accused girl making sense of her reality."--Kirkus Reviews

"Schultz brings her level gaze and compassionate prose to all these fallible people as they finally unravel the truth, evoking the eras she writes of with intimate knowledge and a cultural depth that will resound with anyone else who lived through them too."--Criminal Element

"Brilliantly structured and gorgeously written, Little Threats is a captivating mystery about a young woman accused of a brutal murder--one she isn't sure she's committed. It's a story of love and loss, the power of guilt and the savagely delicate fabric of family." --Kimberly McCreight, bestselling author of Reconstructing Amelia and A Good Marriage  

"Schultz unfolds her story with masterful precision and restraint, delivering a novel that is pure emotional dynamite." --Wendy Walker, bestselling author of The Night Before

"Emily Schultz's Little Threats is a complex, powerful, emotionally wrenching thriller with a deceptively simple premise: what if you agreed to serve 15 years in prison for a murder you have no memory of committing? Intense, twisty, and compelling—once you begin reading, you won't be able to stop!" – Karen Dionne, author of the #1 internationally bestselling The Marsh King's Daughter

"Emily Schultz's Little Threats is an exquisitely written and thrilling novel about growing up and breaking apart, about the past refusing to loosen its grip on us, and about the impossibility of going back and righting the wrongs that send us spiraling out of control. And, of course, it's a whale of a whodunnit. This is a riveting and powerful novel about friendship and fate, youth and time, and the toll these things take on all of us. Don't miss it!"--David Bell, bestselling author of The Request

"Little Threats hooked me from the first line. A gripping, haunting story about family, memory, and most of all, grief—this book is difficult to put down, and more difficult to stop thinking about." —Rob Hart, author of The Warehouse

"At its heart, Little Threats is a devastating and elegiac novel about teenage friendships, sexuality, drug use, and ultimately betrayal. Emily Schultz is unflinching in revealing the way prison isn't merely a place, but a feeling that can haunt a girl who grew into a woman behind bars. Freedom isn't absolution, and the answers are as painful as the questions in this heart-stopping, powerful story."--Bryn Greenwood, author of All the Ugly and Wonderful Things and The Reckless Oath We Made
 
"Emily Schultz gives us fierce, if damaged, Kennedy Wynn, a young woman returning home from prison, haunted by a crime for which she maintains her innocence and plagued by a legacy of pain and loss. Schultz has the reader eagerly flipping pages as secrets are revealed, while also pausing to consider Kennedy's poignant observations about trust and love.  It's a pulsating mystery and a deftly rendered portrait of a family in crisis, where small details, like little threats, enlighten and illuminate."--Lori Lansens


G.P. Putnam's Sons, 9780593086995, 384pp.
Publication Date: November 10, 2020
About the Author
Emily Schultz is the cofounder of the influential Joyland magazine and author of, most recently, The Blondes. It was named a Best Book of 2015 by NPR, BookPage, and Kirkus Reviews. Schultz's writing has appeared in Elle, Slate, Evergreen Review, Vice, Hazlitt, and Prairie Schooner. She is is currently a producer at indie media company Heroic Collective and lives in Brooklyn with her husband and son.