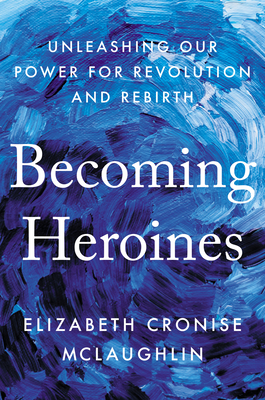 Becoming Heroines
Unleashing Our Power for Revolution and Rebirth
Hardcover

* Individual store prices may vary.
Other Editions of This Title:
Digital Audiobook (7/19/2021)
Description
"A profound roadmap for how whole systems of oppression can die if we choose to do the work."—LaTosha Brown, cofounder of Black Voters Matter

"An inspiring, empowering clarion call and guide to become the heroines we were meant to be."—Debra Messing, actor and activist

Within every woman lies a powerful healer. She is an ageless and resilient force for good, in her own life and in the broader world.

This is how you find her.

You were born with massive reservoirs of strength, confidence, and creativity. But oppressive structures that keep you "in your place" have disconnected you from your natural gifts. The decision to recover and reclaim your latent ability follows a path forged by myth and legend: the heroine's journey. Becoming Heroines is your guide to inner rebirth, opening the closed doors in your heart, shining a light on dark places, and ultimately, unleashing your full power.

For decades, Elizabeth Cronise McLaughlin has been the go-to mentor for women who've wasted years playing by traditional rules and are ready to break away. Now she'll lead you on a journey of radical personal transformation, starting by healing the painful memories that hold you back from living to your fullest capacity. You'll ditch the individualist values that pit women against one another and confront any internalized bias contributing to systems of oppression. And joining with the growing revolution, you'll lend your voice to those repairing the wounds of history and building a future of freedom and justice for all.

More than your average leadership manual, Becoming Heroines is an invitation to claim your rightful role as the heroine of your own journey. For any woman ready to live out her values more radically, rise from the ashes of trauma and grief, and lead us all to a better world, the journey begins.
Praise For Becoming Heroines: Unleashing Our Power for Revolution and Rebirth…
"Becoming Heroines creates a deeply important new lens through which to view the arc of a woman's life. Private lives are public issues and Elizabeth Cronise McLaughlin does a beautiful job shining a light on the individual journey and how taking agency in your own life is connected to a broader political movement of radical transformation."—Eve Rodsky, author of Fair Play

"Becoming Heroines stokes the burning flame within women that these times are different. In this book, Elizabeth Cronise McLaughlin pours fuel on nascent fire, ready to redefine our culture in ways we all yearn for but can't manifest. Until now. Thank you, Elizabeth, for setting forth the organizing principles needed to make the most of unprecedented times. You are the voice we need to guide us."—Amanda Steinberg, founder of DailyWorth and HigherU, author of Worth It

"I'm buying this book in bulk and giving it to all the people I love. An inspiring, empowering clarion call and guide to become the heroines we are meant to be. A book that meets this moment in our history, [it] illuminates the power of our gaze as we witness destruction and our collective power to birth a more free and equitable world."—Debra Messing, actor and activist
 
"The Lean In era of mass market women's empowerment books always felt more than a little empty, which is why it's immensely refreshing to read the substantive and honest Becoming Heroines. In this reframing of the monomyth, Elizabeth McLaughlin calls on all of us to sit at the intersection of unapologetic ambition and proactive empathy. More than anything, this is a recognition and appreciation of our imperfections in a world that responds to flaws by rewarding men and punishing women. Elizabeth has written something for every woman who wants to live her life to the fullest while empowering those around her along the way."—Charlotte Clymer, writer and LGBTQ advocate
 
"An excellent read for women who want a comprehensive guide to the heroine's journey, social activism, and healing all woven into one tapestry."—Bari Tessler, author of The Art of Money
 
"Becoming Heroines has been a game changer for me both professionally and personally. Elizabeth's deep dive into how systemic oppression and inequality inform the way we show up in our activism, our work, and at home has opened up for me a deeper understanding of how and why I so often get in my own way. With examples, exercises, and personal revelations, she guides the reader to a place of deep understanding about what steps we need to take to align our true values with our actions. I'm grateful for this book and highly recommend it whether you identify as a leader, an activist, or just someone who wants to claim their own personal journey."—Samantha Brody, PhD, author of Overcoming Overwhelm

"In Becoming Heroines, Elizabeth reminds us that we all have a voice, we just have to decide how we want to use it. And if we are all using our collective voice then no one can stop or silence our revolution!"—Minda Harts, author of The Memo and CEO of The Memo LLC

"In Becoming Heroines, Elizabeth McLaughlin weaves vital expertise and profound life wisdom in her electrifying call for revolution. With potent tips grounded in her numerous years of being a successful executive coach, CEO, Wall Street lawyer, and activist, McLaughlin sagely guides and inspires women to raise their voices, become changemakers in their communities, transmute their trauma, and channel their pain into power. McLaughlin's words flow like magic as she helps her readers set fire to old paradigms and limiting beliefs and give water to burgeoning tools that enable them to navigate both personal adversity as well as the oppressive sociopolitical structures entrenched in systemic sexism and racism. This book not only jolts the reader toward personal transformation and rebirth, it offers a much-needed intersectional lens on how to disrupt systems of privilege and intuitively reclaim one's gifts for the greater good. It equips women with the ability to rise from the ashes of individual trauma, contribute to the collective, and critically examine their own internalized biases. I highly recommend this book for any woman who wants to embody their full power and leadership potential."—Shahida Arabi, MA, author of The Highly Sensitive Person's Guide to Dealing with Toxic People and Becoming the Narcissist's Nightmare
 
"Becoming Heroines is an important book for exploding the dominance of the hero's journey and thus for exploding the white supremacist patriarchy. Elizabeth Cronise McLaughlin shows us how the matriarchy is rising. She provides readers with the wisdom, steps, and tools to discover and excavate their inherent gifts so that they can fully live into their goddess-given purpose. She uses her voice to help others reclaim their voices and break through the oppression of silence."—Tanya Selvaratnam, author of Assume Nothing and The Big Lie
 
"Since February 14, 2018, when my daughter Jaime was murdered, I have become connected to some amazing people. However, in many cases, we have not actually met. That is true of me and Elizabeth McLaughlin. We have been drawn to each other's activism and pursuit of justice for all. I always imagine what my daughter Jaime would have been like as an adult. After reading Becoming Heroines, I can honestly say I think I know. Jaime is bringing the rain. There is no doubt for me that Jaime was and is a heroine. Believing in your power and understanding how to activate it is such an important lesson. Thank you, Elizabeth, for writing this book. While Jaime is not able to use her power in life for change and for good, her power is shining every day through me. In fact, it brought me to you."—Fred Guttenberg, gun safety activist and author of Find the Helpers
Portfolio, 9780593087671, 288pp.
Publication Date: July 20, 2021
About the Author
Elizabeth Cronise McLaughlin is the CEO of Gaia Project Consulting, LLC, a worldwide executive coaching and consulting firm, as well as the Founder of The Gaia Project for Women's Leadership. She has been featured in major media such as CNN, Forbes.com, The Huffington Post, and The New York Times. She has taught courses to thousands of executives worldwide, including at Columbia Law School and on behalf of Emerging Women Live. She speaks routinely in corporate and non-profit environments. This is her first book.