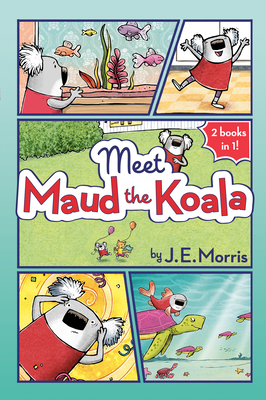 Meet Maud the Koala
Paperback

* Individual store prices may vary.
Description
Meet Maud: the adorable--and often anxious--young koala just trying to cope with a sometimes-overwhelming world!

J. E. Morris's charming illustrations and comic-like panels make this a unique format with a narrative style perfect for storytime or young graphic novel fans.

Maud is a typical young koala--she likes to have fun at the playground, go to dance class, and practice tae kwon do. But sometimes she feels anxious, and she isn't sure how to handle it! By using her imagination and getting a little help from her friends, Maud discovers ways to face some of the things that at first seem so scary.

In Fish Are Not Afraid of Doctors, Maud gets nervous waiting at the doctor's office for a checkup, so she looks to the fish tank in the waiting room for comfort. When she has to get a shot, she shuts her eyes and pretends she's a fish! In Much Too Much Birthday, Maud is having a birthday party with all her friends. But when the guests arrive and the party gets packed, she isn't so sure it was such a good idea after all. What will happen if Maud can't bear her own birthday?
Penguin Workshop, 9780593094365, 64pp.
Publication Date: January 21, 2020
About the Author
J. E. Morris is an author and illustrator of numerous books for children, such as Flubby Is Not a Good Pet! and Flubby Will Not Play with That. Her works also include May I Please Have a Cookie? and Please Write Back! featuring Alfie the Alligator, as well as the Steve and Wessley Scholastic Reader series.