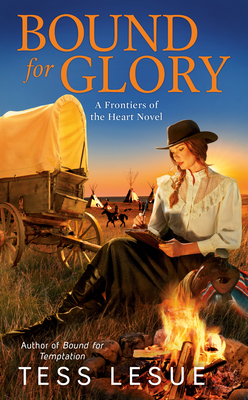 Bound for Glory (A Frontiers of the Heart novel #4) (Mass Market)
Berkley, 9780593098288, 384pp.
Publication Date: December 3, 2019
* Individual store prices may vary.
Description
An unwilling legend and the woman who made him into one finally meet in a sizzling encounter.  

Nathaniel has many names. They call him Deathrider, White Wolf, the Plague of the West. He's the ice-eyed killer of the plains; the ghost of the trail; the restless spirit who haunts the frontier from California to Missouri, leaving a trail of bodies in his wake. They say he moves silently through the night and changes form to run with the wolves. Or so the rumors go.…  

Ava Archer wouldn't know. She's never seen him. But that doesn't stop her from writing about him. After more than a dozen dime novels about the Plague of the West, she thinks she probably knows him better than he knows himself—even if she wouldn't recognize him on the street.  

Nathaniel is ready to put the rumors about him to bed by confronting A. A. Archer. But he never could have predicted that she wouldn't be at all what he expected, but rather a sexy redheaded woman with sloe-dark eyes who could slay a man at fifty paces. And she's not looking to play fair.
About the Author
Tess LeSue writes sexy and adventurous romances set against sweeping historical backdrops. Her current love affair is with the wild landscapes and even wilder men of the Wild West. She is the author of Bound for Eden, Bound for Sin, and Bound for Temptation. Tess also writes literary fiction under the name Amy T. Matthews and teaches creative writing and literature at Flinders University in Australia.
Praise For Bound for Glory (A Frontiers of the Heart novel #4)…
Praise for the Frontiers of the Heart series:

"The playful banter and the comical happenings balance the sensuality between Tom and Emma in this witty, memorable story."—Publishers Weekly

"Western aficionados will welcome a refreshing new voice in the sub-genre."—RT Book Review

"This will appeal to those looking for not just a happy-ever-after romance for two deserving characters, but a credible account of challenging conditions during the settlement of the American West in 1849."—Historical Novel Society

"Bound for Sin was a sweet fun historical western that was exciting, romantic  and humorous, with a great couple."—The Reading Cafe
 
"I adored Tess LeSue's Bound for Eden! Her voice is brilliant, funny, and immediately draws you into the book." –Jessica Clare, New York Times bestselling author

"I was blown away by the sparkling brilliance of [Tess's] writing. She has a real gift for historical atmosphere, compelling characters, sexual tension and witty dialogue."—Anna Campbell

"[Tess's] writing is lively and taut and generates emotion. Her characters spring to life and her stories move at a fast pace."—Anne Gracie

"An accomplished mix of comedy and suspense, I found myself cheering with the heroine as she boldly navigates the journey to Oregon and eventually, her freedom. I absolutely loved it."—Victoria Purman