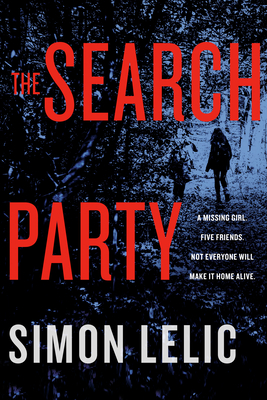 The Search Party
Paperback

* Individual store prices may vary.
Description
A twisty, electrifying new thriller from the author of The New Neighbors and The Liar's Room...
 
The entire town thinks sixteen-year-old Sadie Saunders is dead. Missing now for a week, they say she was murdered. And they think they know who did it.

Sadie's five best friends aren't so sure, and they vow to find out the truth. So they pack their bags and head into the woods where Sadie was last seen.

But they're not just friends, they're suspects. And each of them has a secret.
 
As the landscape opens up, and the darkness closes in, the reality of their situation becomes clear…

This was never really a search party.
    
It's a witch hunt.

And not everyone will make it home alive.
Praise For The Search Party…
"Clever and atmospheric, with shades of Stand By Me."—Mark Edwards, author of Here To Stay

"A brilliantly tense tale of teenage frustration, lost souls, and sibling love, with an atmosphere as tense as the end of summer storm that threatens throughout the book. Plus a whirlwind of an ending that's like riding a rollercoaster."—Araminta Hall, author of Our Kind of Cruelty

"I've spent every free moment of the last few days feasting on The Search Party...a bloody good read and the very definition of unpredictable. Twisty, creepy, brilliantly paced, and with a denouement I never saw coming."—John Marrs, author of The One

"A chillingly complex, well-crafted web. The voices cry out from Simon Lelic's pages as if they are standing right next to you."—Jane Corry, author of I Looked Away

PRAISE FOR THE NEW NEIGHBORS BY SIMON LELIC...

"An intricate, powerful, and deeply unsettling thriller about the profound ways in which cruelty can change its survivors, and the creeping fear that nothing—not your home, not love, not even your own mind—is as rock-solid and impregnable as we all want to believe."—Tana French, New York Times bestselling author of The Trespasser
 
"This terrifying thriller sent shivers through me!"—Jane Corry, author of My Husband's Wife
 
"A raw, tightly wound thrill ride, a nightmare scenario about a home purchase that goes horribly wrong. And then some. This is a fast-paced, intense, and creepy novel that you won't be able to put down until you reach the end."—David Bell, bestselling author of Bring Her Home

"A masterpiece of duplicity, a psychological thriller of the highest order, in which the characters not only lie to each other and to everyone around them, they lie to themselves. With two highly unreliable narrators digging themselves deeper in every chapter, fans of he said/she said suspense will love this tense and gripping story. Highly recommended!"—Karen Dionne, author The Marsh King's Daughter
Berkley, 9780593098332, 352pp.
Publication Date: August 18, 2020
About the Author
Simon Lelic is the award-winning author of numerous crime novels, including A Thousand Cuts, The New Neighbors, and The Liar's Room, as well a highly-acclaimed series of books for young adults. His writing is inspired by a lifelong love of both Alfred Hitchcock and Stephen King. Simon lives with his wife and three children.