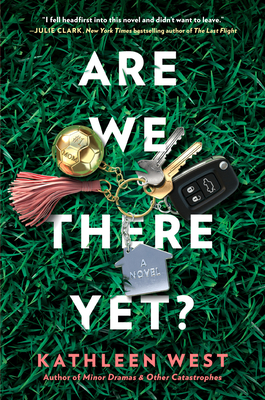 Are We There Yet?
Hardcover

* Individual store prices may vary.
Other Editions of This Title:
Digital Audiobook (3/15/2021)
Paperback (2/8/2022)
Description
"A breezy yet affecting read filled with struggle and hope."—People
A Good Day LA Pick

Among fake Instagram pages, long-buried family secrets, and the horrors of middle school, one suburban mom searches to find herself.
 
Alice Sullivan feels like she's finally found her groove in middle age, but it only takes one moment for her perfectly curated life to unravel. On the same day she learns her daughter is struggling in second grade, a call from her son's school accusing him of bullying throws Alice into a tailspin.  

When it comes to light that the incident is part of a new behavior pattern for her son, one complete with fake social media profiles with a lot of questionable content, Alice's social standing is quickly eroded to one of "those moms" who can't control her kids. Soon she's facing the very judgement she was all too happy to dole out when she thought no one was looking (or when she thought her house wasn't made of glass).
 
Then her mother unloads a family secret she's kept for more than thirty years, and Alice's entire perception of herself is shattered.  
 
As her son's new reputation polarizes her friendships and her family buzzes with the ramification of her mother's choices, Alice realizes that she's been too focused on measuring her success and happiness by everyone else's standards. Now, with all her shortcomings laid bare, she'll have to figure out to whom to turn for help and decide who she really wants to be.
 
Praise For Are We There Yet?…
"Filled with witty charm, humor and family secrets."—Woman's World

"Fans of Liane Moriarty of Big Little Lies fame will love Are We There Yet?, a heartfelt and thought-provoking drama about the trials and tribulations of modern suburban motherhood."—Working Mother

"Kathleen West's latest novel, Are We There Yet?, tackles the struggles of parenting with unflinching honesty...Alice's picture-perfect life seems to disappear overnight, leaving her with no choice but to embrace the mess."—Pop Sugar

"Are We There Yet perfectly captures the friendships we form when our children are little, and the often painful ways they shift and change as our kids grow up and into their own identities. I fell head-first into this novel and I didn't want to leave."—Julie Clark, New York Times bestselling author of The Last Flight

"A sparkling, page-turning take on modern motherhood that reminds us, in the most entertaining way possible, that the illusion of control can be blinding. A family drama full of surprises and plenty of heart, Are We There Yet will give you all the feels. I loved it."—Jamie Brenner, author of The Forever Summer and Blush

"With crisp prose, a compelling cast of characters, and a storyline that will immediately strike a chord with parents (as well as anyone who's spent time around tweens and teens), Are We There Yet hits all the right notes. Kathleen West's latest is at once a clear-eyed portrait of the challenges of our fast-paced, technology-obsessed society and a heartfelt and empathetic examination of motherhood. Highly recommended."—Camille Pagán, bestselling author of This Won't End Well

"An astute and witty look at the ties that bind us and the events that can undo them. Are We There Yet is a nuanced take on contemporary parenting bursting with warmth and heart."—Julia Whelan, author of My Oxford Year

"A timely, engaging story about modern parenthood and familial angst told with graceful insight, witty humor, and more than a few deliciously page-turning twists. Kathleen West has delivered a novel full of heart and soul."—Lisa Duffy, author of My Kind of People

"Are We There Yet is a sharp-eyed but generous novel, filled with a vivid cast of characters. Despite their flaws, you can't help but root for them as they grapple with their competitive urges, family secrets, and some very lewd graffiti. I laughed out loud, and got real nervous about someday having tweens of my own."—Laura Hankin, author of Happy and You Know It

"With a wide cast of perfectly drawn characters, Are We There Yet? is a sharp social commentary wrapped in an engrossing family drama. West brings her trademark wit to a romp through the savage hallways and phones of junior high students. Where are the (well-meaning but neurotic) adults, you ask? Behaving just as badly as their tweens. I could feel my hair graying with each new blunder—to anyone raising a teenager in the age of social media, I salute you."—Stephanie Wrobel, USA Today bestselling author of Darling Rose Gold


Praise for Minor Dramas & Other Catastrophes

"A wry, engaging debut."--People magazine

"Just as good as Liane Moriarty's Big Little Lies."--Kirkus (starred review)

"Fans of Where'd You Go Bernadette will flip for this clever, drama filled debut novel."--Woman's World

"A smart and delightful story of entitlement, friendship, and overparenting, with page-turning twists galore. West writes across lines of class and generation with grace and ease. A big-hearted debut."--Bruce Holsinger, author of The Gifted School

"As intriguing as it is timely. West provides a funny and shocking glimpse into American parenting through the lens of an out-of-control stage mother who has lost all sense of boundaries."--Amy Poeppel, author of Limelight

"A cutting and witty examination of modern parenting that excels in suburban relatability, West's debut novel will pique the curiosity of fans of Maria Semple's Where'd You Go, Bernadette."--Booklist

"Helicopter parenting and high school politics at their worst--and funniest. A smart, fast-paced, and deliciously entertaining debut!"--Meg Donohue, USA Today bestselling author of You, Me, and The Sea
Berkley, 9780593098431, 352pp.
Publication Date: March 16, 2021
About the Author
Kathleen West is a veteran school teacher. She graduated with a degree in English from Macalester College and holds a master's degree in literacy education from the University of Minnesota. She lives in Minneapolis with her A+ human family and two B- dogs.
or
Not Currently Available for Direct Purchase