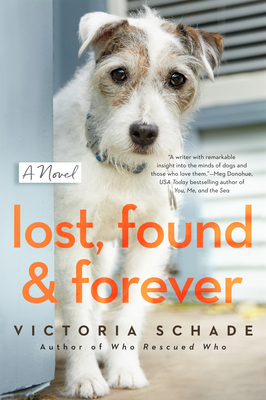 Lost, Found, and Forever
Paperback

* Individual store prices may vary.
Other Editions of This Title:
Digital Audiobook (3/29/2021)
Description
What do you do when you discover your four-legged best friend might belong to someone else? From the acclaimed author of Who Rescued Who comes the charming story of a custody battle between two pet parents who would do anything for the dog they both adore.

Justine Becker could not be more in love with her rescue dog, Spencer. He's her best friend and "colleague" at her dog supply store, Tricks & Biscuits, in upstate New York. When she discovers a heartbreaking social media post trying to locate a dog that looks suspiciously like Spencer, Justine realizes that her beloved pup might actually belong to someone else.

Her worst fears are realized when she and Spencer meet up with Brooklyn-based Griffin McCabe, and he wants Spencer back. He claims he is the dog's rightful owner, and has the paperwork to prove it. But Justine refuses to roll over and let him take Spencer without a fight.

It's not easy juggling Spencer's burgeoning new career as a dog actor, along with the demands of her life upstate, all while constantly trying to prove she's a better pet parent than Griffin. Their not-so-friendly competition teeters on the edge of flat-out hate, so when romantic feelings for Griffin catch Justine off guard, she needs to determine if it's all part of his plot to win the pup back, or if the guy who was good enough for Spencer might also be good enough for her.
Praise For Lost, Found, and Forever…
"A perfect romance—charming characters, amazing chemistry, and a rescue dog that steals your heart!"
—Jennifer Probst, New York Times bestselling author of Our Italian Summer

"Like the proverbial dog with a bone, I devoured this book in almost one go. It's the adorable tale of a movie star dog at the heart of a rescue doggie custody battle...which is actually a love match rescue. Pure delight!"
—Julia London, New York Times bestselling author of You Lucky Dog

"The most charming love triangle of the season. It's a good thing one of them has dog sense. I especially loved the inside peek at movie-making with the cutest canine ever. Spencer will steal your heart."
—Shelley Noble, New York Times bestselling author of Imagine Summer

"Victoria Schade continues to dazzle with Lost, Found, and Forever. Fetch this adorable book for lighthearted romance and one of the best doggos, Spencer."
—Tif Marcelo, USA Today Bestselling Author of The Key to Happily Ever After

"For everyone who has loved a dog—or a human—this warm and fetching story is an absolute delight. With a charming and intimate small-town setting alongside Hollywood glamour, a winning romance, and one precocious pup, all wrapped up in a bighearted tale of a woman's journey toward passion and purpose, Lost, Found, and Forever is a real treat."
—Phoebe Fox, author of A Little Bit of Grace

Praise for Who Rescued Who

"Chock full of heart and humor, anyone who has ever been redeemed by the love of a dog will treasure this uplifting, big-hearted novel."
—Lori Nelson Spielman, New York Times bestselling author of The Star-Crossed Sisters of Tuscany

"Who Rescued Who is the perfect feel-good book with charismatic characters, swoony romance, family secrets, and snuggly puppies. Grab your furry friend and start reading now."
—Amy E. Reichert, author of The Kindred Spirits Supper Club

A funny, emotional story about finding yourself, finding family, and eventually, finding love. Who Rescued Who is one of my top reads for this year—a funny, emotional, swoon-worthy romance! This one had ALL the feels!"
—Jennifer Probst, New York Times bestselling author of Our Italian Summer

"Pet lovers will rejoice over this too-cute 'tail' about Elizabeth Barnes, who travels to her late father's family homestead in the English countryside."
—Woman's World

"A delightful romp through the English countryside...resplendent with sheep, dogs, cats, and lovely people. Beyond her irresistible story, Schade writes with beautiful descriptions. Readers will laugh, cry, and love this charmer."
—Booklist (starred review)

"You don't have to be a dog person to love this heartfelt book, but you will be by the time you finish it. Victoria Schade has written a timely, heartwarming story for everyone who longs to break free of the rose-colored filter of our Instagram age and rediscover the messy perfection of life, love, and the people—and pets—who shape us."
—Lyssa Kay Adams, author of The Bromance Book Club

"I loved it so, so much. It made me cry, but mostly it made me want to throw away my phone, buy some sheep and move to the English countryside to rescue dogs and live in a rom-com."
—Teri Wilson, Author of The Accidental Beauty Queen

"A charming, fish-out-of-water story about finding your heart and home in the place you least expect. After reading this book, I wanted to adopt a puppy and relocate to rural England. I absolutely adored it."
—Sarah Smith, Author of Faker

"As satisfying as a basket of fresh scones and as heartwarming as puppy kisses, I didn't want this book to end."
—Lindsay Emory, author of The Royal Runaway

"Once again, Schade comes at us with her trademark smarts and humor (or should I say, humour?) to deliver a story with everything to love...[T]he author uses her long career as a professional trainer to help us all understand our pets, and our bonds with them, as no one else can. A winner."
—Kristine Gasbarre, #1 New York Times bestselling author of How to Love an American Man: A True Story

"The engrossing, evocative prose whisked me away to an utterly charming British chocolate box village, where I would have loved to stay. Who Rescued Who is certainly a special treat for dog lovers, but also for anyone who enjoys a multi-layered story about finally finding a family in every sense."
—Evie Dunmore, Author of Bringing Down the Duke

"Victoria Schade knows how to tell a sweet story of finding love in the most unexpected places and discovering your dreams. You don't have to be a dog lover to enjoy…Well done, Victoria Schade. Who Rescued Who hit it out of the park!"
—Fresh Fiction

Praise for Life on the Leash

"Charming and heartfelt, Life on the Leash will delight readers. The perfect book for dog lovers!"
—Chanel Cleeton, New York Times bestselling author of The Last Train to Key West

"Even cat lovers will get wrapped up in this delightful story of girl, girl's best friend, girl's best girlfriends and a couple of guys. Cora's canines in training will steal your heart. I couldn't wait to see what happened next!"
—Shelley Noble, New York Times bestselling author of Lighthouse Beach

"Life on the Leash is the novel you've been waiting for all year—a strong, funny, big-hearted heroine to cheer for in life and in love, plenty of 'I've-been-there' dating moments, and adorable, endearing, sometimes mischievous dogs to love on every page."
—Nicolle Wallace, dog lover, author and MSNBC host

"A bighearted and witty debut from a writer with remarkable insight into the minds of dogs and those who love them. The winsome cast of characters will have you hooked on Life on the Leash from the first page."
—Meg Donohue, USA Today bestselling author of Dog Crazy
Berkley, 9780593098851, 352pp.
Publication Date: March 30, 2021
About the Author
Victoria Schade is a dog trainer and speaker who serves as a dog resource for the media, and has worked both in front of and behind the camera on Animal Planet, as a co-host on the program Faithful Friends and as a trainer and wrangler on the channel's popular Puppy Bowl specials. She lives in Pennsylvania with her husband, her dogs Millie and Olive, and the occasional foster pup.
or
Not Currently Available for Direct Purchase