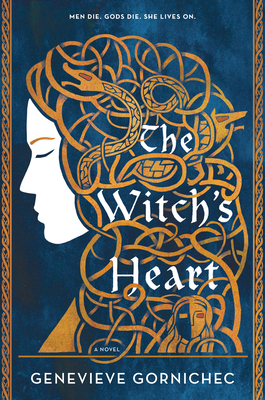 The Witch's Heart
Hardcover

* Individual store prices may vary.
Other Editions of This Title:
Digital Audiobook (2/8/2021)
Paperback (11/30/2021)
Description
When a banished witch falls in love with the legendary trickster Loki, she risks the wrath of the gods in this moving, subversive national bestselling debut novel that reimagines Norse mythology.
 
Angrboda's story begins where most witches' tales end: with a burning. A punishment from Odin for refusing to provide him with knowledge of the future, the fire leaves Angrboda injured and powerless, and she flees into the farthest reaches of a remote forest. There she is found by a man who reveals himself to be Loki, and her initial distrust of him transforms into a deep and abiding love.
 
Their union produces three unusual children, each with a secret destiny, who Angrboda is keen to raise at the edge of the world, safely hidden from Odin's all-seeing eye. But as Angrboda slowly recovers her prophetic powers, she learns that her blissful life—and possibly all of existence—is in danger.
 
With help from the fierce huntress Skadi, with whom she shares a growing bond, Angrboda must choose whether she'll accept the fate that she's foreseen for her beloved family...or rise to remake their future. From the most ancient of tales this novel forges a story of love, loss, and hope for the modern age.
 
Praise For The Witch's Heart…
"A deep journey into the mists of the ancient Norse world of gods, monsters and humans, who shape shift from one to another.  But the heart of the story is a witch's passage over many lifetimes and the ultimate sacrifice she makes for those she loves. A timeless tale of great power and artistry."--Margaret George, New York Times bestselling author of The Splendor Before the Dark

"A beautiful and fleshed-out story for the jötunn Angrboða.. Genevieve Gornichec both acknowledges her erasure and resolves it, giving Angrboða a life beyond her relationship with Loki, even as she explores their love story in detail. We see Angrboða as a powerful witch and seer, a devoted mother, a lover and friend, and most importantly, as a woman at the heart of her own story at last. I'm very grateful for books like this one."—Samantha Shannon, New York Times bestselling author of The Mask Falling

"Ms. Gornichec subverts the mythology from inside, knowledgeably and provokingly. Whatever the Elder Edda may say, the heroines of The Witch's Heart will not be a delight to "wicked women" alone." —Tom Shippey, The Wall Street Journal

"Genevieve Gornichec's beautiful, delicately executed debut shifts the focus of Norse mythology to one of Loki's lovers, the witch Angrboda, with stunning and heartbreaking results." -BookPage

"The Witch's Heart is a unique novel that transforms the faceless names of an epic tale into living, breathing, sympathetic characters. With a witty and spirited protagonist, this book will surprise and delight from beginning to end."—Louisa Morgan, author of A Secret History of Witches and The Age of Witches

"Gornichec proves that Angrboda's experiences with motherhood and reclaiming her own power is every bit as powerful as the gods' adventures that typically dominate the world of Norse mythology." - Vulture

"As epic as it is engrossing, The Witch's Heart is a testament to the ferocity of one mother's love and the lengths she'll go to protect those she loves. Utterly unforgettable." —Alexis Henderson, author of The Year of the Witching 

"This fascinating novel approaches Norse mythology from a brand new perspective; here old villains are now heroes, and the motivations of gods, giants, and witches are rarely what they seem... Gornichec plumbs the depths of what we will endure for family, belonging, and meaning, and traces the limits of love, friendship, and vengeance."--Linnea Hartsuyker, author of The Half-Drowned King

"Angroboda's story is a delightfully nuanced, queer, and powerful reminder of love and survival on your own terms. Read this book when the world is ending; read this book when you are looking for the world that comes next--I'm so very glad I did." - A.J. Hackwith, author of The Library of the Unwritten

"Intense and magical...The sense of place and real physical needs of the characters created a grounded, beautiful world, which made the more fantastical elements of the story feel all the more realistic. The prose was stunning and the protagonist someone I wanted to spend all my time with...I will enjoy re-reading this book for years to come." --Smart Bitches, Trashy Books

"A retelling of the Norse legend from the viewpoint of a woman often left in the margins, this book deserves to be a classic. For readers of Madeline Miller's Circe and the Marvel version of Loki." – Library Journal (starred review)
 
"A feminist reimagining of the Norse myths surrounding Ragnarök…melding together the wide range of Nordic legends, this is a story of tenderness and betrayal, friendship and loyalty, family and monsters, beginnings and endings. Offer this beautiful reimagining to fans of Neil Gaiman's Norse Mythology (2017) and Joanne M. Harris' Loki novels."–Booklist (starred review)

"Gornichec's spellbinding story breathes life into a minor character from Norse myth, delving into the complexities of Angrboda's familial relationships and the lengths to which she'll go for both love and vengeance. This powerful fantasy is sure to win Gornichec many fans." – Publishers Weekly (starred review)

"Rich and artfully woven, The Witch's Heart takes the familiar tales of Norse Mythology and tells them from a fresh, honest perspective… Angrboda is an unforgettable heroine, and The Witch's Heart a debut to be reckoned with."—Hannah Long, author of Hall of Smoke
Ace, 9780593099940, 368pp.
Publication Date: February 9, 2021
About the Author
Genevieve Gornichec earned her degree in history from The Ohio State University, but she got as close to majoring in Vikings as she possibly could, and her study of the Norse myths and Icelandic sagas became her writing inspiration. She lives in Cleveland, Ohio. The Witch's Heart is her debut novel.