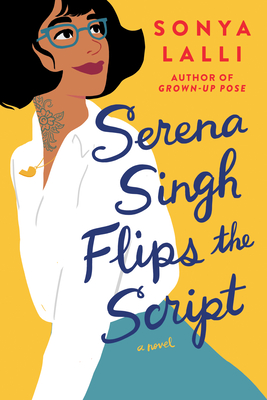 Serena Singh Flips the Script
Paperback

* Individual store prices may vary.
Other Editions of This Title:
Digital Audiobook (2/15/2021)
Description
"Sonya Lalli's savvy novel puts relationships in all of their forms--family, friends, and romance--on even footing as a young woman works to find happiness."--Shelf Awareness

Serena Singh is tired of everyone telling her what she should want--and she is ready to prove to her mother, her sister, and the aunties in her community that a woman does not need domestic bliss to have a happy life.

Things are going according to plan for Serena. She's smart, confident, and just got a kick-ass new job at a top advertising firm in Washington, D.C. Even before her younger sister gets married in a big, traditional wedding, Serena knows her own dreams don't include marriage or children. But with her mother constantly encouraging her to be more like her sister, Serena can't understand why her parents refuse to recognize that she and her sister want completely different experiences out of life.

A new friendship with her co-worker, Ainsley, comes as a breath of fresh air, challenging Serena's long-held beliefs about the importance of self-reliance. She's been so focused on career success that she's let all of her hobbies and close friendships fall by the wayside. As Serena reconnects with her family and friends--including her ex-boyfriend--she learns letting people in can make her happier than standing all on her own.
Praise For Serena Singh Flips the Script…
Praise for Serena Singh Flips the Script

"Sonya Lalli's charming novel explores how our relationships define us. Through honesty, humor, and vulnerability, Serena Singh reminds us that new, fulfilling connections are possible at any age. This equal parts relatable and entertaining story is a delight from start to finish!"—Saumya Dave, author of Well-Behaved Indian Women 

"Heartfelt and forthright, Lalli's culturally rich work of women's fiction is exceptional."—Booklist (starred)
 
Praise for Sonya Lalli

"From yoga studios to finding oneself in trips abroad to online dating, Lalli gives readers a wonderful novel about love and belonging and meaning of happiness and home."--Soniah Kamal, award-winning author of Unmarriageable: Pride and Prejudice in Pakistan

"Anu's struggle to find herself is wrought with obstacles and sometimes frustrating, but the resolution of her story is both satisfying and realistic. A moving look at one woman's journey between her family and her desire for independence."--Kirkus

"Sonya Lalli offers up a tale of familial pressures, cultural traditions, and self-discovery, that is equal turns heartbreaking and hilarious...Lalli tears down stereotypes with humor and warmth."-- Entertainment Weekly

"An engaging love story that delivers on the promise of true love forever...The Matchmaker's List comes through in spades (and hearts)."--NPR

"Lalli's sharp-eyed tale of cross-cultural dating, family heartbreak, the strictures of culture, and the exuberance of love is both universal and timeless."--Publishers Weekly (starred review)

"Bright and vivid, and fresh and funny--I was utterly charmed by this insight into Raina's struggle to be the perfect Indian daughter. A delightful debut."--Veronica Henry, author of How to Find Love in a Bookshop

"A riotous odyssey into the pressures of cross-cultural modern dating that will chime with every 20-something singleton"--ELLE (UK)

"A funny and moving exploration of modern love."--Balli Kaur Jaswal, author of Erotic Stories for Punjabi Widows (A Reese Witherspoon Book Club Pick)

"Absolutely charming."--Woman's Day

"A warm and refreshing look at cultural identity, unexpected romance, and unbreakable family bonds."--Kirkus

"Lalli's debut is a delightful, multicultural romantic comedy full of humorous banter and loads of life lessons about family, happiness, love, honesty, and acceptance."--Booklist (starred review)

"A knockout romantic comedy debut."--Washington Independent Review of Books
Berkley, 9780593100936, 352pp.
Publication Date: February 16, 2021
About the Author
Sonya Lalli is a romance and women's fiction author of Punjabi and Bengali heritage. Her books have been featured in Entertainment Weekly, NPR, Washington Post, Glamour and more. She lives in Vancouver with her husband.