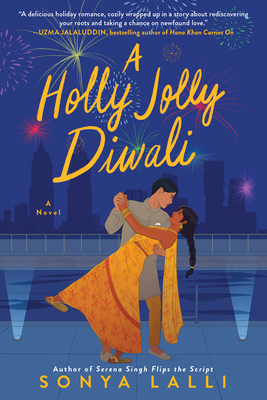 A Holly Jolly Diwali
Paperback

* Individual store prices may vary.
Other Editions of This Title:
Digital Audiobook (10/4/2021)
Description
"Lalli's prose is deft, her characters are delightful and her book is the just-right holiday romance."--USA Today

One type-A data analyst discovers her free-spirited side on an impulsive journey from bustling Mumbai to the gorgeous beaches of Goa and finds love waiting for her on Christmas morning.

Twenty-nine-year-old Niki Randhawa has always made practical decisions. Despite her love for music and art, she became an analyst for the stability. She's always stuck close to home, in case her family needed her. And she's always dated guys that seem good on paper, rather than the ones who give her butterflies. When she's laid off, Niki realizes that practical hasn't exactly paid off for her. So for the first time ever, she throws caution to the wind and books a last-minute flight for her friend Diya's wedding.

Niki arrives in India just in time to celebrate Diwali, the festival of lights, where she meets London musician Sameer Mukherji. Maybe it's the splendor of Mumbai or the magic of the holiday season, but Niki is immediately drawn to Sam. At the wedding, the champagne flows and their flirtatious banter makes it clear that the attraction is mutual.

When Niki and Sam join Diya, her husband and their friends on a group honeymoon, their connection grows deeper. Free-spirited Sam helps Niki get in touch with her passionate and creative side, and with her Indian roots. When she gets a new job offer back home, Niki must decide what she wants out of the next chapter of her life—to cling to the straight and narrow like always, or to take a leap of faith and live the kind of bold life the old Niki never would have dreamed of.
Praise For A Holly Jolly Diwali…
"A sweeping global romance that epically showcases India's festival of lights."--Entertainment Weekly

"Author Lalli's prose is deft, her characters are delightful and her book is the just-right holiday romance."--USA Today

"A delicious holiday romance, cozily wrapped up in a story about rediscovering your roots and taking a chance on newfound love. Niki's decision to attend her friend's wedding in India provides a compelling exploration of family, reinvention, South Asian culture, and newfound love. What a fun read!"--Uzma Jalaluddin, bestselling author of Hana Khan Carries On

"Funny and heartwarming, with lush descriptions of Indian beach resorts and chaotic city streets, Lalli's latest multicultural romance is extremely satisfying; her characters are refreshingly relatable. Highly recommended for fans of Sonali Dev and Sophie Kinsella."--Booklist (starred)

Praise for Sonya Lalli

"Sonya Lalli offers up a tale of familial pressures, cultural traditions, and self-discovery, that is equal turns heartbreaking and hilarious...Lalli tears down stereotypes with humor and warmth."--Entertainment Weekly

"An engaging love story that delivers on the promise of true love forever."--NPR

"A light-hearted yet perfectly-complicated read with several strong characters. It had many relatable laugh-out-loud moments, many cultural eye-roll and deep sigh moments, and many wholesome I-need-to-call-my-best-friend moments."--Brown Girl Magazine

"Sonya Lalli's savvy novel puts relationships in all of their forms--family, friends, and romance--on even footing as a young woman works to find happiness."--Shelf Awareness

"Sonya Lalli's charming novel explores how our relationships define us. Through honesty, humor, and vulnerability, Serena Singh reminds us that new, fulfilling connections are possible at any age. This equal parts relatable and entertaining story is a delight from start to finish!"—Saumya Dave

"Heartfelt and forthright, Lalli's culturally rich work of women's fiction is exceptional."—Booklist (starred)

"From yoga studios to finding oneself in trips abroad to online dating, Lalli gives readers a wonderful novel about love and belonging and meaning of happiness and home."--Soniah Kamal, award-winning author of Unmarriageable: Pride and Prejudice in Pakistan

"Anu's struggle to find herself is wrought with obstacles and sometimes frustrating, but the resolution of her story is both satisfying and realistic. A moving look at one woman's journey between her family and her desire for independence."--Kirkus

"Lalli's sharp-eyed tale of cross-cultural dating, family heartbreak, the strictures of culture, and the exuberance of love is both universal and timeless."--Publishers Weekly (starred review)

"Bright and vivid, and fresh and funny--I was utterly charmed by this insight into Raina's struggle to be the perfect Indian daughter. A delightful debut."--Veronica Henry, author of How to Find Love in a Bookshop

"A riotous odyssey into the pressures of cross-cultural modern dating that will chime with every 20-something singleton"--ELLE (UK)

"A funny and moving exploration of modern love."--Balli Kaur Jaswal, author of Erotic Stories for Punjabi Widows (A Reese Witherspoon Book Club Pick)

"Absolutely charming."--Woman's Day

"A warm and refreshing look at cultural identity, unexpected romance, and unbreakable family bonds."--Kirkus

"Lalli's debut is a delightful, multicultural romantic comedy full of humorous banter and loads of life lessons about family, happiness, love, honesty, and acceptance."--Booklist (starred review)

"A knockout romantic comedy debut."--Washington Independent Review of Books
Berkley, 9780593100950, 336pp.
Publication Date: October 5, 2021
About the Author
Sonya Lalli is a romance and women's fiction author of Punjabi and Bengali heritage. Her books have been featured in Entertainment Weekly, NPR, Washington Post, Glamour and more. She lives in Vancouver with her husband.