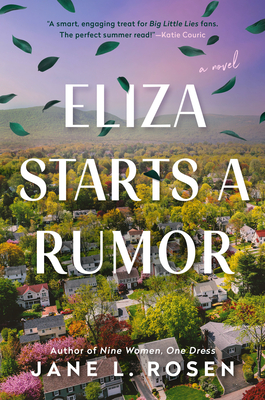 Eliza Starts a Rumor
Hardcover

* Individual store prices may vary.
Other Editions of This Title:
Paperback (4/6/2021)
Library Binding, Large Print (11/25/2020)
Description
The author of Nine Women, One Dress delivers a charming, unforgettable novel about four women, one little lie, and the big repercussions that unite them all. 

It wasn't supposed to happen this way. When Eliza Hunt created The Hudson Valley Ladies' Bulletin Board fifteen years ago she was happily entrenched in her picture-perfect suburban life with her husband and twin preschoolers. Now, with an empty nest and a crippling case of agoraphobia, the once-fun hobby has become her lifeline. So when a rival parenting forum threatens the site's existence, she doesn't think twice before fabricating a salacious rumor to spark things up a bit.   

It doesn't take long before that spark becomes a flame.  

Across town, new mom and site devotee Olivia York is thrown into a tailspin by what she reads on the Bulletin Board. Allison Le is making cyber friends with a woman who isn't quite who she says she is. And Amanda Cole, Eliza's childhood friend, may just hold the key to unearthing why Eliza can't step out of her front door. 

In all this chaos, one thing is for sure…Hudson Valley will never be the same. 

Funny, romantic, raw, and hopeful, this is a story about being a woman and of the healing power of sisterhood.
Praise For Eliza Starts a Rumor…
"A smart, engaging treat for Big Little Lies fans. The perfect summer read!"—Katie Couric

"A funny, poignant, very topical romp through some real life issues humans deal with every day. In every town. Throw this one in your summer beach bag, you'll devour it in short order."—Lee Woodruff, journalist and New York Times bestselling author of Those We Love Most

"Jane L. Rosen is a sparkling, original voice. With hilarity and heart, she takes us into the intersecting lives of Eliza, Alison, Amanda, Jackie and Olivia in the picturesque Hudson Valley where life is anything but perfect. Secrets are revealed, grudges form, forgiveness is found, men come and go but through it all, divine friendship endures in this glorious read. A book club pick for sure, a must read for you! Spread this Rumor and fast!"—Adriana Trigiani, bestselling author of Tony's Wife

"A compelling examination of the shared female experience. I couldn't put it down."—Jo Piazza, New York Times bestselling author of Charlotte Walsh Likes to Win

"Exquisitely written, compulsively readable, and brimming with charm, Eliza Starts a Rumor is everything I look for in a book. Jane L. Rosen has a forever fan in me."—Emily Henry, New York Times bestselling author of Beach Read

"Warm and funny and utterly of this moment, Eliza Starts a Rumor delivers a heroine we can all relate to. The magic of Jane L. Rosen's novels is that they reveal the cracks in women's facades just enough to let their true strength shine through. I loved it."—Jamie Brenner, bestselling author of Summer Longing

"A swift, satisfying page-turner that deftly employs a rumor to underscore the redemptive power of the truth. Rosen writes vibrant characters with her trademark humor and compassion. A perfect summer read."—Steven Rowley, author of The Editor

"Jane L. Rosen has done it again. She has created intriguing, likable characters and woven them into a story that will keep you guessing until the very end. Bravo!"—Laurie Gelman, author of Class Mom

"Perfect for fans of Katherine Center."—Louise Miller, author of The Late Bloomers' Club and The City Baker's Guide to Country Living

"This fresh and funny book balances an array of tough topics with humor and a cast of relatable characters."—Booklist

Berkley, 9780593102084, 320pp.
Publication Date: June 23, 2020
About the Author
Jane L. Rosen is an author and screenwriter whose critically acclaimed first novel, Nine Women, One Dress, has been translated into ten languages. She lives in New York City and Fire Island with her husband and three daughters.