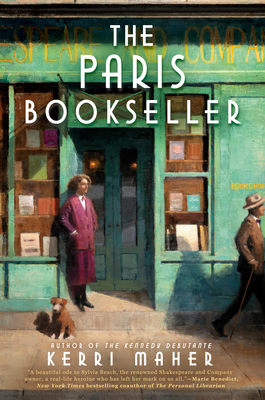 The Paris Bookseller
Hardcover

* Individual store prices may vary.
Description
The dramatic story of how a humble bookseller fought against incredible odds to bring one of the most important books of the 20th century to the world in this new novel from the author of The Girl in White Gloves.
 
When bookish young American Sylvia Beach opens Shakespeare and Company on a quiet street in Paris in 1919, she has no idea that she and her new bookstore will change the course of literature itself.
 
Shakespeare and Company is more than a bookstore and lending library: Many of the prominent writers of the Lost Generation, like Ernest Hemingway, consider it a second home. It's where some of the most important literary friendships of the twentieth century are forged—none more so than the one between Irish writer James Joyce and Sylvia herself. When Joyce's controversial novel Ulysses is banned, Beach takes a massive risk and publishes it under the auspices of Shakespeare and Company.
 
But the success and notoriety of publishing the most infamous and influential book of the century comes with steep costs. The future of her beloved store itself is threatened when Ulysses' success brings other publishers to woo Joyce away. Her most cherished relationships are put to the test as Paris is plunged deeper into the Depression and many expatriate friends return to America. As she faces painful personal and financial crises, Sylvia—a woman who has made it her mission to honor the life-changing impact of books—must decide what Shakespeare and Company truly means to her.
Praise For The Paris Bookseller…
"If you ever dreamed you could transport yourself to Paris in the twenties, to Sylvia Beach's infamous bookstore where Joyce, Hemingway, and Pound wandered the aisles, this story's for you. Maher's magical touch brings to life a woman whose struggles resonate in today's world, while also examining the intricacies of friendship, fortitude, and the love of the written word."
—Fiona Davis, New York Times bestselling author of The Lions of Fifth Avenue

"The Paris Bookseller is a novel I long to live in, a vivid evocation of the famous female-owned Parisian bookshop Shakespeare and Company which acted as haven and home to the literati of pre-WWII Europe. Heroine and shop owner Sylvia Beach shepherds seemingly all of the great writers of the 20th century with an appealing blend of warmth, wit, frustration, and understanding. Kerri Maher writes a love letter to books, bookstores, and booklovers everywhere."
—Kate Quinn, New York Times bestselling author of The Rose Code

"A story about Paris and bookshops was bound to find a place in my heart but this one has the pièce de résistance: the character of Sylvia Beach. I was completely enthralled by Beach's life and her tenacity in founding the first English-launguage bookshop in Paris, while also publishing James Joyce's epic but controversial Ulysses. With an abundance of delightful cameos from all of your favourite literary heroes as well as a fascinating rendering of Paris's glory days during the 1920s and 30s, this novel will transport you as only the best historical fiction can."
—Natasha Lester, New York Times bestselling author of The Paris Secret

"In her latest, Maher throws open a window to 1920s Paris and the Lost Generation, dropping readers into the fascinating true story of one woman's fight to save a masterpiece. Maher weaves a tale that is atmospheric, heartfelt, and brimming with life, leaving no doubt a novel is a living, breathing thing."
—Michelle Gable, New York Times bestselling author of A Paris Apartment and The Bookseller's Secret

"Dazzling like Paris, rich and immersive like the work it celebrates, and bursting with heart and passion like every great bookstore, The Paris Bookseller is a dream for book lovers from start to finish."
—Steven Rowley, Bestselling author of The Editor and The Guncle

"Kerri Maher vividly transports us back in time to the establishment of the world's most famous and beloved bookstore, Shakespeare and Company. Its founder, Sylvia Beach is brilliantly portrayed as is her fight to publish one of the greatest novels ever written. Filled with such literary luminaries as James Joyce, Ernest Hemingway and F. Scott Fitzgerald, The Paris Bookseller is a bibliophile's dream come true."
—Renée Rosen, USA Today bestselling author of The Social Graces

"If you've ever gotten lost in the narrow, deliciously overcrowded aisles of Shakespeare and Company, or you just want to imagine you have, this is the novel for you. Kerri Maher brings to life the fascinating history of Shakespeare and Company and its founder, Sylvia Beach, whose vision and drive led her to create not only a world-famous bookstore, but to defy the censors and publish the first edition of Joyce's Ulysses. Intelligent, fierce, and filled with reverence for a fascinating epoch in literary history, The Paris Bookseller is a delight for readers and writers."
—Whitney Scharer, Author of The Age of Light

"The Paris Bookseller is at once a moving love letter to 1920s Paris, an insight into The Lost Generation, and an ode to a woman's fight for freedom. It brings to life the all-consuming relationship between a bookseller and a work of art in such a compelling way that I couldn't stop turning the pages, and I closed the book yearning for a place like Shakespeare and Company. A sparkling read."
—Evie Dunmore, USA Today bestselling author of Bringing Down the Duke
 
"The Paris Bookseller is a wonderful tribute to the visionary woman who fought for freedom of speech and changed the landscape of literature forever. By bringing a memorable cast of quirky and charming artistic giants to life, Kerri Maher deftly creates an intimate look at the story behind Shakespeare and Company, one of the most beloved landmarks for readers everywhere. I was captivated by this fascinating story!"
—Elise Hooper, Author of Fast Girls
 
"A love letter to the extraordinary people who made interwar Paris the place to be for book lovers. With distinctive prose and honesty, Kerri brings to life the glory days of Paris's most unforgettable bookstore, illuminating a world where leading literary lights await us on every page — and spotlighting the woman who united them all, Miss Sylvia Beach."
—Bryn Turnbull, Author The Woman Before Wallis

"The unexpected bonus in this mesmerizing novel is the saga of Sylvia Beach's friendship with James Joyce and her decision to publish Ulysses when publishers showed no interest, a difficult decision made even more difficult by Joyce himself. The Paris Bookseller drops you in the middle of Paris and delicious, intimate encounters with literary greats and soon-to-be-greats who frequented Shakespeare and Company in the years between the World Wars."
—Janie Chang, Author of Dragon Springs Road and The Library of Legends

"Kerri Maher's The Paris Bookseller tells the captivating story of Sylvia Beach, her famed bookstore Shakespeare and Company, and the tremendous role both played in the artistic landscape of interwar Paris. Here literary giants are brought to vivid life in the aisles of a charming Parisian bookshop, and we see not only their humanity, but also their courage in forging new paths in a changing world. Inspiring, fascinating, and delightful, this story will resonate with readers long after the final page."
—Kristin Beck, Author of Courage, My Love

"Absorbing, intricate, and beautifully told, The Paris Bookseller is the unforgettable true story of Sylvia Beach, a champion of modern literature who made enormous sacrifices in the struggle to publish James Joyce's classic novel, Ulysses, while also establishing Shakespeare and Company, a bookstore that became the Parisian home for literary luminaries of her day. With all the color and verve of post WWI Paris and the deep love of literature that pervades every page, The Paris Bookseller is a novel for book lovers to treasure."
—Christine Wells, author of Sisters of the Resistance

"The Paris Bookseller lulls you into an interwar Parisian dream where love—be it romantic, friendly, or even for a book—can be found on a quirky little street in the 6th. Kerri Maher's pen skillfully imagines the life of American expat Sylvia Beach and her bookstore Shakespeare and Company in the 1920s and 1930s. This book is a charming escape into the real life literary paradise that was once known as Odeonia."
—Kaia Alderson, author of Sisters in Arms

"With a cast of characters that span the Lost Generations' literary pantheon, The Paris Bookseller offers up both a sweeping story of artistic creativity in the face of censorship as well as an intimate portrait of one woman's struggle to remain true to herself. Maher's lush writing and rich historical detail will have you thinking about Sylvia and her bookshop long after you've turned the final page."
—Alex Rickloff, Author of The Way to London

"The stunning and very human story of a beloved icon....Full of nuance and poignancy—this novel is gorgeous."
—Allison Pataki, New York Times bestselling author of The Queen's Fortune, on The Girl in White Gloves

"[A] fascinating, deeply researched novel of the extraordinary Grace Kelly...establishes Maher as a true force in biographical fiction."
—Beatriz Williams, New York Times bestselling author of The Golden Hour, on The Girl in White Gloves
 
"A captivating look behind the scenes at the life of the iconic Grace Kelly...as she searches for authenticity in a world clamoring instead for a picture-perfect princess."
—Marie Benedict, New York Times bestselling author of The Only Woman in the Room, on The Girl in White Gloves
 
"Daring and deep. Maher successfully lifts the curtain of mystery that surrounded a princess and a movie star, revealing a headstrong, complex woman with a riveting story to tell."
—Fiona Davis, National bestselling author of The Chelsea Girls, on The Girl in White Gloves
 
"In The Girl in White Gloves, Kerri Maher beautifully envisions the reality of this fairy-tale life. This deeply researched novel is perfect for fans of Grace Kelly, royal-watchers, and fans of biographical fiction alike."
—PopSugar

"In this charming, picturesque novel, readers are swept away…this story is a glimpse into the dazzling life of a classic and beloved star."
—Woman's World, on The Girl in White Gloves

"Maher's bio-fic feels as if it was written by Kelly herself. The novel spins a fascinating version of the Philly native's life, from princess of Hollywood to Princess of Monaco."
—Philadelphia Magazine, on The Girl in White Gloves

"A riveting reimagining of a true tale of forbidden love."
—People, on The Kennedy Debutante

"Maher's debut stars a debutante to root for in this moving coming-of-age tale."
—Kate Quinn, New York Times bestselling author of The Alice Network and The Huntress, on The Kennedy Debutante

"Maher beautifully mixes the red-blooded American iconography of the Kennedys with the delicious and Downton Abbey-esque grandeur of Britain's upper crusts…[Kick] proves a poignant and captivating subject, and her story will make your heart lurch in the best possible ways."
—Allison Pataki, New York Times bestselling author of The Accidental Empress, on The Kennedy Debutante

"A vivid and engrossing portrayal of the fascinating life of Kathleen "Kick" Kennedy. Maher offers a dazzling glimpse of London society filled with a rich, nuanced, and infamous cast of characters alongside a poignant depiction of the emotional cost of war. A stunning debut!"
—Chanel Cleeton, New York Times bestselling author of Next Year in Havana, a Reese Witherspoon Book Club Pick
 
"Kerri Maher has crafted a compelling, insightful look into the complexities of the Kennedy era and one of its most fascinating daughters. Expertly researched, this is a remarkable debut."
—Susan Meissner, Bestselling author of As Bright as Heaven, on The Kennedy Debutante

"You will be swept up, first and foremost, by its vivid, captivating heroine. Kick Kennedy was naive and privileged, to be sure, but in Maher's masterful portrait, she is also a bold young woman living at a precarious moment in history, eager to make her mark on the world as fearlessly as she will follow her heart."
—Julia Glass, Author of A House Among the Trees and the National Book Award–winning Three Junes, on The Kennedy Debutante
Berkley, 9780593102183, 336pp.
Publication Date: January 11, 2022
About the Author
Kerri Maher is the author of The Girl in White Gloves, The Kennedy Debutante, and, under the name Kerri Majors, This Is Not a Writing Manual: Notes for the Young Writer in the Real World. She holds an MFA from Columbia University and was a writing professor for many years. She now writes full-time and lives with her daughter and dog in a leafy suburb west of Boston, Massachusetts.