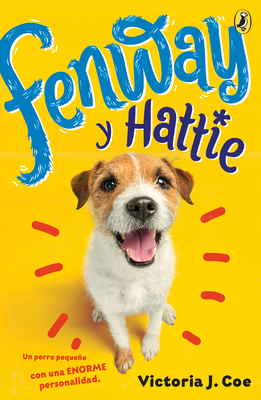 Fenway y Hattie (Paperback)
Puffin Books, 9780593110058, 176pp.
Publication Date: December 31, 2019
* Individual store prices may vary.
Description
The 2017 Global Read Aloud and One School, One Book favorite about a little dog with a big personality is now in Spanish!

Fenway is an excitable and endlessly energetic Jack Russell terrier. He lives in the city with Food Lady, Fetch Man, and--of course--his beloved short human and best-friend-in-the-world, Hattie. But when his family moves to the suburbs, Fenway faces a world of changes. He's pretty pleased with the huge Dog Park behind his new home, but he's not so happy about the Evil Squirrels that taunt him from the trees, the super-slippery Wicked Floor in the Eating Room, and the changes that seem to have come over Hattie lately. She seems more interested in her new short human friend, Angel, and learning to play baseball than him! His friends in the Dog Park next door say Hattie is outgrowing him, but that can't be right. And he's going to prove it!
Get a dog's-eye view of the world in this heartwarming, enthusiastic "tail" about two best friends.
About the Author
Victoria J. Coe grew up in the seaside community of Duxbury, Massachusetts and went on to live in New York and San Francisco, as well as large and small towns on both coasts. She now lives with her family on the outskirts of Boston, where she and her dog are always on the lookout for delivery trucks. And squirrels.