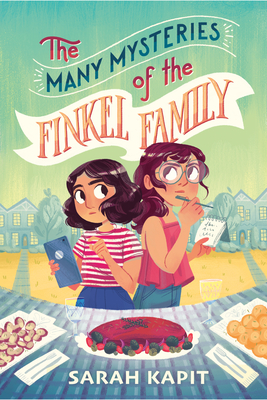 The Many Mysteries of the Finkel Family
Hardcover

* Individual store prices may vary.
Description
Fans of the Penderwicks and the Vanderbeekers, meet the Finkel family in this middle grade novel about two autistic sisters, their detective agency, and life's most consequential mysteries.

When twelve-year-old Lara Finkel starts her very own detective agency, FIASCCO (Finkel Investigation Agency Solving Consequential Crimes Only), she does not want her sister, Caroline, involved. She and Caroline don't have to do everything together! But Caroline won't give up. When she brings Lara the firm's first mystery--why did Dad burn the brisket he was making for Shabbat dinner?--Lara relents, and the mysteries start piling up.

But soon, Lara and Caroline's partnership starts to unravel. Caroline normally uses her tablet to talk, but now she's mostly using it to text a new friend. Lara can't figure out what the two of them are up to, but it can't be good. And Caroline doesn't like Lara's snooping--she's supposed to be solving other people's mysteries, not spying on Caroline! As FIASCCO and the Finkel family mysteries spin out of control, can Caroline and Lara find a way to be friends again?
Dial Books, 9780593112298, 288pp.
Publication Date: March 23, 2021
About the Author
Sarah Kapit lives in Bellevue, Washington, with her husband and their goofy orange cat. She earned a PhD in history from the University of California, Los Angeles, and she's always happy to talk about the history of women, medicine, and any other history geek topic. She has a longstanding involvement in the disability rights and neurodiversity movements, and serves as chairperson of the Association for Autistic Community. Her first novel, Get a Grip, Vivy Cohen!, comes out in February 2020.