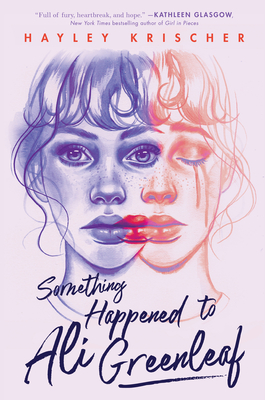 Something Happened to Ali Greenleaf (Hardcover)
Razorbill, 9780593114117, 352pp.
Publication Date: October 6, 2020
* Individual store prices may vary.
Description
Perfect for fans of Rory Power and Laurie Halse Anderson, this sharp, emotional debut follows two girls as they navigate tumultuous relationships, the effects of trauma, and what empowerment means to them.

Ali Greenleaf and Blythe Jensen couldn't be more different. Ali is sweet, bitingly funny, and just a little naive. Blythe is beautiful, terrifying, and the most popular girl in school. They've never even talked to each other, until a party when Ali decides she'll finally make her move on Sean Nessel, her longtime crush, and the soccer team's superstar. But Sean pushes Ali farther than she wants to go. When she resists--he rapes her.

Blythe sees Ali when she runs from the party, everyone sees her. And Blythe knows something happened with Sean, she knows how he treats girls. Even so, she's his best friend, his confidant. When he begs her to help him, she can't resist.

So Blythe befriends Ali in her attempt to make things right with Sean, bringing Ali into a circle of ruthless popular girls, and sharing her own dark secrets. Despite the betrayal at the heart of their relationship, they see each other, in a way no one ever has before.

In her searing, empowering debut novel, Hayley Krischer tells the story of what happened that night, and how it shaped Ali and Blythe forever. Both girls are survivors in their own ways, and while their experiences are different, and their friendship might not be built to last, it's one that helps each of them find a way forward on their own terms.
About the Author
Hayley Krischer is a writer and journalist. She is a regular contributor to The New York Times, where she covers women, teenage girls, celebrities, and cultural trends. Her work has also appeared in Marie Claire, The Atlantic, The New York Times Magazine, and more. She lives in Glen Ridge, New Jersey, with her husband, two kids, one dog, and three cats.
Praise For Something Happened to Ali Greenleaf…
"Necessary and timely, Something Happened to Ali Greenleaf takes us on a journey that is at once heartbreaking and heart-healing, as Hayley Krischer's unique, refreshing voice skillfully navigates the realities of sexual assault with care, insight, and authenticity. Full of truth, hope, and empowerment, this story is one you'll be thinking about long after you've finished." —Amber Smith, New York Times bestselling author of The Way I Used to Be