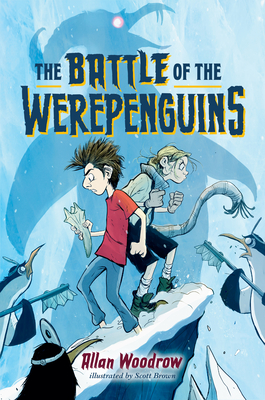 The Battle of the Werepenguins
Hardcover

* Individual store prices may vary.
Description
In the series Chris Grabenstein called "hysterically hilarious," the saga about the evil werepenguins of Brugaria comes to a stunning, action-packed conclusion!

When Bolt, Annika, and Blackburn are given another cryptic clue by Omneseus the Seer, they know the time has come to defeat the baddest Werepenguin, "the Stranger," and free the world's penguins from his evil reign. Only a very special tooth can bring the Stranger down, but of course, procuring this precious item is no easy task, and it doesn't help that Bolt can't stop hearing the Stranger in his head, trying to coax him to the dark side. When Bolt stumbles into a weremole burrow and meets Grom, a human boy with a penguin birthmark who's desperate to be bitten, he starts to question whether a werepenguin can be anything but a terrible monster. Or if one born out of love might be the key to penguin salvation. As Bolt's werepenguin strengths grow more powerful, the ultimate war between good and evil looms closer. But no one can guess what's about to go down. And when an unexpected foe returns, the battle of the werepenguins IS ON.
Viking Books for Young Readers, 9780593114261, 400pp.
Publication Date: August 17, 2021
About the Author
Allan Woodrow is the author of many books including The Pet War, Class Dismissed, Unschooled, Field Tripped, and now, inspired by Dracula, old werewolf movies, Young Frankenstein, and an odd affection for fish sticks, The Curse of the Werepenguin. When Allan isn't writing, or noshing on breading-coated seafood, he's often presenting to schools, libraries, and conferences. You can learn more about Allan at allanwoodrow.com.

Scott has produced work for television commercials, magazines, toys and comics. He spends his free time at his drafting board working on creations of his own. Originally from the seaport of Gloucester, Massachusetts, Scott currently resides on the southwest gulf coast of Florida (he can't stand living too far from the ocean) with his wife, two daughters, and a rather affable pug named Linus Van Pelt.