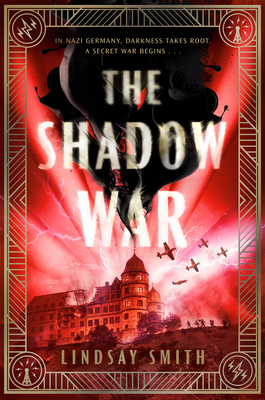 The Shadow War (Hardcover)
Philomel Books, 9780593116470, 416pp.
Publication Date: October 13, 2020
* Individual store prices may vary.
Description
Inglourious Basterds meets Stranger Things in this dark and thrilling tale of power, shadow, and revenge set during World War II.

World War II is raging, and five teens are looking to make a mark. Daniel and Rebeka seek revenge against the Nazis who slaughtered their family; Simone is determined to fight back against the oppressors who ruined her life and corrupted her girlfriend; Phillip aims to prove that he's better than his worst mistakes; and Liam is searching for a way to control the portal to the shadow world he's uncovered, and the monsters that live within it--before the Nazi regime can do the same. When the five meet, and begrudgingly team up, in the forests of Germany, none of them knows what their future might hold.

As they race against time, war, and enemies from both this world and another, Liam, Daniel, Rebeka, Phillip, and Simone know that all they can count on is their own determination and will to survive. With their world turned upside down, and the shadow realm looming ominously large--and threateningly close--the course of history and the very fate of humanity rest in their hands. Still, the most important question remains: Will they be able to save it?
About the Author
Lindsay Smith (lindsaysmith.net) is the author of Sekret and other novels for young adults. She writes for Serial Box's Marvel's Black Widow, Orphan Black: The Next Chapter, and The Witch Who Came in from the Cold. Her comics and short stories have appeared on Tor.com and in the anthologies Shout Out! an LGBTQ YA Anthology, A Tyranny of Petticoats, Toil & Trouble, and That Way Madness Lies. She lives in Washington, DC, with her husband and dog, where she works in cybersecurity. You can follow Lindsay Smith on Twitter and Instagram @LindsaySmithDC.