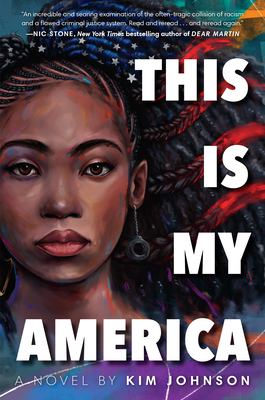 This Is My America
Hardcover

* Individual store prices may vary.
Other Editions of This Title:
Digital Audiobook (7/27/2020)
Paperback (5/17/2022)
Library Binding, Large Print (11/10/2021)
Library Binding (7/28/2020)
Description
"Incredible and searing." --Nic Stone, #1 New York Times bestselling author of Dear Martin

The Hate U Give meets Just Mercy in this unflinching yet uplifting first novel that explores the racist injustices in the American justice system.

Every week, seventeen-year-old Tracy Beaumont writes letters to Innocence X, asking the organization to help her father, an innocent Black man on death row. After seven years, Tracy is running out of time--her dad has only 267 days left. Then the unthinkable happens. The police arrive in the night, and Tracy's older brother, Jamal, goes from being a bright, promising track star to a "thug" on the run, accused of killing a white girl. Determined to save her brother, Tracy investigates what really happened between Jamal and Angela down at the Pike. But will Tracy and her family survive the uncovering of the skeletons of their Texas town's racist history that still haunt the present?

Fans of Nic Stone, Tiffany D. Jackson, and Jason Reynolds won't want to miss this provocative and gripping debut.
Praise For This Is My America…
An NPR Best Book of the Year

"An incredible and searing examination of the often-tragic collision of racism and a flawed criminal justice system. Read and reread . . . and reread again." —Nic Stone, #1 New York Times bestselling author of Dear Martin

"This Is My America promises a powerful story about racial injustice, featuring stunning prose reminiscent of Nic Stone and Angie Thomas." —Paste Magazine

"Harrowing and worthwhile; a call-to-action from the anti-racist insights of a generation of black activists." —Kirkus Reviews, starred review

"Activist Johnson's powerful debut is a timely testimony that echoes the social realities behind today's #BlackLivesMatter protests." —Publishers Weekly, starred review

"This strong debut will strike home with socially conscious readers." —Booklist 

"A strong debut. Will appeal to readers of Angie Thomas and fans of criminal justice podcasts like Serial and In the Dark." —SLJ

"This debut YA novel is an incisive condemnation of the racist criminal justice system, mass incarceration and capital punishment. . . . A necessary add to all shelves, especially those focused on anti-racism and #BlackLivesMatter." —Shelf Awareness
Random House Books for Young Readers, 9780593118764, 416pp.
Publication Date: July 28, 2020
About the Author
KIM JOHNSON held leadership positions in social justice organizations as a teen. She's now a college administrator who maintains civic engagement throughout the community while also mentoring Black student activists and leaders. This Is My America is her debut novel. It explores racial injustice against innocent Black men who are criminally sentenced and the families left behind to pick up the pieces. She holds degrees from the University of Oregon and the University of Maryland, College Park. Kim lives her best life in Oregon with her husband and two kids. Find her at KCJOHNSONWRITES.COM and follow her on Twitter and Instagram @kcjohnsonwrites.
1. What does the title mean to you? Complete this sentence: My America is…
2. When the sheriff refers to Jamal as "boy," Tracy reflects, "The word boy keeps running in my head. A bitter taste flushes in my mouth, the way that word drawls out like just another slur in coded language" (p. 70). What are the connotations of the word "boy"? What does Tracy mean by 'coded language"?
3. Compare the experiences of Jackson Ridges, Daddy Greg, and Tracy's father. How do their experiences living under the prison-industrial complex affect them and their families?
4. After Angela's murder, the school brings in grief counselors (p. 109). Compare public and private mourning in this book. Who is most likely to be publicly mourned, and why?
5. Reflect on the chapter title "Guilty . . . Until Proven Innocent." Discuss if the presumption of innocent until proven guilty applies equally across race and class. In what ways do Black men experience interactions with the police that might differ by race and gender?
6. How do characters in the book cope with their trauma?
7. What motivates characters to solve the mystery? Discuss Tracy's process for gathering evidence. Why is it risky? Why is it necessary?
8. Why does Johnson choose to omit Jamal's version of events from the story for most of the narrative?
9. Why does Richard Brighton yell "gun!"? (p. 360) Who had the benefit of the doubt in this scene? In what ways might the response have been different if Jamal and Angela switched roles in the story?
10. How do the characters differ in the ways they "work for justice"?
11. Consider the role of media in the book. How is it helpful or harmful? Whose interests does the media serve?
12. Tracy quotes Dr. King in one of her letters to Innocence X. "The arc of the moral universe is long, but it bends towards justice." Do you agree with Dr. King's vision? Is Johnson's ending hopeful?
13. What is Johnson's commentary on racism?