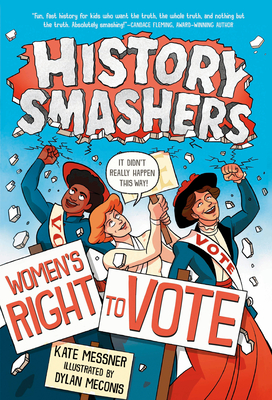 History Smashers (Paperback)
Women's Right to Vote
Random House Books for Young Readers, 9780593120347, 224pp.
Publication Date: July 7, 2020
Other Editions of This Title:
Library Binding (7/7/2020)
* Individual store prices may vary.
Description
Myths! Lies! Secrets! Smash the stories behind famous moments in history and expose the hidden truth. Perfect for fans of I Survived and Nathan Hale's Hazardous Tales.

In 1920, Susan B. Anthony passed a law that gave voting rights to women in the United States. RIGHT?

WRONG! Susan B. Anthony wasn't even alive when the Nineteeth Amendment was ratified. Plus, it takes a lot more than one person to amend the constitution.

Did you know that when women's rights activists picketed President Wilson to get his support for voting rights, some men beat them up, tore down their banners, and stole from them? And then it was the women who got arrested! No joke.

Through illustrations, graphic panels, photographs, sidebars, and more, acclaimed author Kate Messner smashes history by exploring the little-known details behind the fight for women's suffrage.

Don't miss History Smashers: The Mayflower!
About the Author
KATE MESSNER lives on Lake Champlain with her family. Her books have been New York Times Notable, Junior Library Guild, IndieBound, and Bank Street Best Books selections. Her novel The Brilliant Fall of Gianna Z. won the E.B. White Read Aloud Medal, and her science picture books have been finalists for the American Academy for the Advancement of Sciences/Subaru SB&F prize for excellence in science writing. Before becoming a full-time writer, Kate was a TV news reporter as well as an educator who spent fifteen years teaching middle school English.
Praise For History Smashers: Women's Right to Vote…
"Kate Messner serves up fun, fast history for kids who want the truth, the whole truth, and nothing but the truth. Absolutely smashing!" —Candace Fleming, award-wining author

"Informative and fun, eye-opening and entertaining. I wish I could have read History Smashers when I was in elementary school. I would have devoured them and developed a big appetite for even more of this sort of truth-telling." --Chris Barton, award-winning author