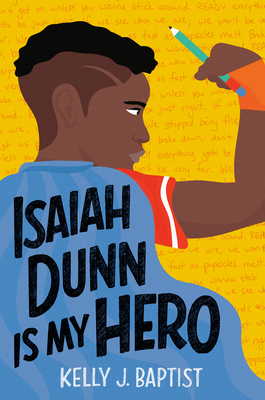 Isaiah Dunn Is My Hero
Paperback

* Individual store prices may vary.
Description
A coming-of-age tale about a boy who proves that with superhero courage--and a few great sidekicks--you can take on even the toughest of odds. Adapted from a story that first appeared in Flying Lessons & Other Stories and perfect for fans of The Parker Inheritance by Varian Johnson.

Isaiah is now the big man of the house. But it's a lot harder than his dad made it look. His little sister, Charlie, asks too many questions, and Mama's gone totally silent.

Good thing Isaiah can count on his best friend, Sneaky, who always has a scheme for getting around the rules. Plus, his classmate Angel has a few good ideas of her own--once she stops hassling Isaiah.

And when things get really tough, there's Daddy's journal, filled with stories about the amazing Isaiah Dunn, a superhero who gets his powers from beans and rice. Isaiah wishes his dad's tales were real. He could use those powers right about now!

Kelly J. Baptist's debut novel explores the indomitable spirit of a ten-year-old boy and the superhero strength it takes to grow up.
Praise For Isaiah Dunn Is My Hero…
A Bank Street Best Children's Book of the Year!

"An inventive and heartfelt debut novel."  —The New York Times

"An uplifting, affirming story for every collection." —Booklist, starred review

"Isaiah's optimism, drive, and loyalty to friends and family make him a hero to cheer for and lend a feeling of hope to this exploration of difficult topics." —Publishers Weekly, starred review

"In this moving tale of life, loss, and the love of words, Isaiah learns that perseverance and vulnerability are real superpowers and that family and community are the real wind beneath a superhero's cape." —The Horn Book

"An accessible story about a child facing loss and home instability. Isaiah is a likable character; readers will identify with his struggle to rise above his family's housing issues to define himself." —School Library Journal

"Baptist presents the direness of abject poverty with exquisite empathy. She provides Isaiah with a supportive community that helps as his family's situation fluctuates, giving readers who also experience housing insecurity hope but no promises." —Kirkus Reviews

"A compassionate eye-opener for kids not yet ready for Abbott's The Great Jeff." —The Bulletin
Yearling, 9780593121399, 208pp.
Publication Date: June 1, 2021
About the Author
Kelly J. Baptist won the Ezra Jack Keats/Kerlan Memorial Fellowship for her YA novel-in-progress, Young. While visiting the Kerlan Collection, Kelly had the privilege of studying the dialogue techniques of the great Walter Dean Myers. Fast-forward a few years, and Kelly was fortunate enough to meet Myers at a literary event in Florida. A native of southwest Michigan, Kelly enjoys life with her husband and five children, who give her plenty of inspiration for writing. Though her busy family life often results in having to type with one hand, Kelly is committed to using the written word to inspire and transform lives. Find her online at kellyiswrite.com.