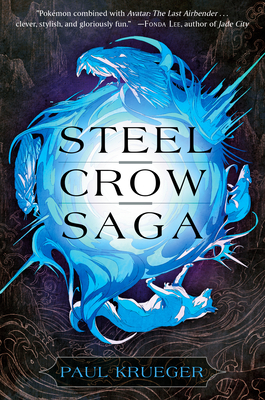 Steel Crow Saga (Hardcover)
Del Rey, 9780593128220, 528pp.
Publication Date: September 24, 2019
Other Editions of This Title:
Paperback (5/5/2020)
* Individual store prices may vary.
Description
Four destinies collide in a unique fantasy world of war and wonders, where empire is won with enchanted steel and magical animal companions fight alongside their masters in battle.

"Pokémon combined with Avatar: The Last Airbender . . . clever, stylish, and gloriously fun."—Fonda Lee, author of Jade City

NAMED ONE OF THE BEST BOOKS OF THE YEAR BY NPR • Tordotcom • Kirkus Reviews 

A soldier with a curse
Tala lost her family to the empress's army and has spent her life avenging them in battle. But the empress's crimes don't haunt her half as much as the crimes Tala has committed against the laws of magic . . . and against her own flesh and blood. 

A prince with a debt
Jimuro has inherited the ashes of an empire. Now that the revolution has brought down his kingdom, he must depend on Tala to bring him home safe. But it was his army who murdered her family. Now Tala will be his redemption—or his downfall. 

A detective with a grudge
Xiulan is an eccentric, pipe-smoking detective who can solve any mystery—but the biggest mystery of all is her true identity. She's a princess in disguise, and she plans to secure her throne by presenting her father with the ultimate prize: the world's most wanted prince.

A thief with a broken heart
Lee is a small-time criminal who lives by only one law: Leave them before they leave you. But when Princess Xiulan asks her to be her partner in crime—and offers her a magical animal companion as a reward—she can't say no, and she soon finds she doesn't want to leave the princess behind.

This band of rogues and royals should all be enemies, but they unite for a common purpose: to defeat an unstoppable killer who defies the laws of magic. In this battle, they will forge unexpected bonds of friendship and love that will change their lives—and begin to change the world.

Advance praise for Steel Crow Saga

"With fierce women, ferocious creatures, and a sophisticated twist on Pokémon meets Avatar: The Last Airbender, Steel Crow Saga is the fantasy epic you didn't know you needed, creating a rich new mythology and characters so real you can smell their pipe smoke and adobo."—Delilah S. Dawson, New York Times bestselling author of Star Wars: Phasma

"A heady look at postcolonial emotions, Asian cultures, and anime influences . . . a well-built magical world of warring factions."—Library Journal (starred review)

About the Author
Paul Krueger is a Filipino-American author. His first novel was the urban fantasy Last Call at the Nightshade Lounge. A lapsed Chicagoan, he may now be found literally herding cats in Los Angeles.
Praise For Steel Crow Saga…
"It's only Paul Krueger's second book and already he's writing fantasy like a master. Steel Crow Saga is fun, funny, thrilling, heartbreaking, and, above all else, something only Krueger could've written." —Chuck Wendig, New York Times bestselling author of Wanderers
 
"Inventive, action-packed, and set in an Asian-inspired world that feels both fresh and familiar: This is a book I've always wanted but never had until now." —S. Jae-Jones, New York Times bestselling author of Wintersong and Shadowsong

"You're going to love cheering for these characters as they fight for honor, love, family, and country. This world of steel and souls completely transported me. It's a hexbolt to the heart."—Kevin Hearne, New York Times bestselling author of A Plague of Giants and The Iron Druid Chronicles
 
"A rollicking adventure that wears its heart on its sleeve, and a joyful ode to its anime influences."—Emily Skrutskie, author of Hullmetal Girls
 
"An incredible voice, an amazing conflict, and a hot mess of emotions . . . Krueger has taken one earth-shattering step and a thousand stories will grow in his footprint."—Sam Sykes, author of Seven Blades in Black

"With a well-realized world and strong characters, many of whom are queer, Krueger's novel will feel as fast-paced and exciting as its animated influences and leave the reader longing for more. Highly recommended for any fantasy fan."
—Booklist (starred review)

"A post-colonial fantasy draws on Japanese, Chinese, Korean, and Filipino cultures for a multinational tale of political intrigue. . . . This Asian-influenced sociopolitical drama explores the complications that ensue after the war, when no one's hands are clean. Characters face the consequences of the choices they made during the conflict and consider whether it's possible to rise above deeply ingrained prejudices and forge alliances with former enemies. Such grave matters are leavened by amusing banter, solid action, and two charming nascent romances of opposites. As tasty as the mushroom adobo that appears in the book both as food and metaphor."
—Kirkus Reviews (starred review) 
 
"Starts with a bang and never slows down . . . Think Pokémon meets The Golden Compass, with plenty of original and frightening twists along the way. . . . Krueger deftly gives each character their own point of view without losing sight of the novel's central theme: We're stronger together than we are alone."
—BookPage