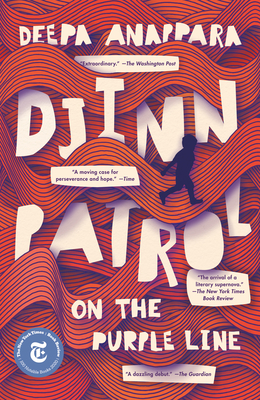 Djinn Patrol on the Purple Line
A Novel
Paperback

* Individual store prices may vary.
Other Editions of This Title:
Digital Audiobook (4/6/2020)
Digital Audiobook (2/3/2020)
Paperback, Korean (11/19/2021)
Paperback, Large Print (2/4/2020)
Hardcover (2/4/2020)
Description
Discover the "extraordinary" (The Washington Post) debut novel that "announces the arrival of a literary supernova" (The New York Times Book Review),"a drama of childhood that is as wild as it is intimate" (Chigozie Obioma).
 
WINNER OF THE EDGAR® AWARD • LONGLISTED FOR THE WOMEN'S PRIZE • NAMED ONE OF THE BEST BOOKS OF THE YEAR BY The New York Times Book Review • Time • The Washington Post • NPR • The Guardian • Library Journal
 
In a sprawling Indian city, a boy ventures into its most dangerous corners to find his missing classmate. . . .

Through market lanes crammed with too many people, dogs, and rickshaws, past stalls that smell of cardamom and sizzling oil, below a smoggy sky that doesn't let through a single blade of sunlight, and all the way at the end of the Purple metro line lies a jumble of tin-roofed homes where nine-year-old Jai lives with his family. From his doorway, he can spot the glittering lights of the city's fancy high-rises, and though his mother works as a maid in one, to him they seem a thousand miles away. Djinn Patrol on the Purple Line plunges readers deep into this neighborhood to trace the unfolding of a tragedy through the eyes of a child as he has his first perilous collisions with an unjust and complicated wider world.

Jai drools outside sweet shops, watches too many reality police shows, and considers himself to be smarter than his friends Pari (though she gets the best grades) and Faiz (though Faiz has an actual job). When a classmate goes missing, Jai decides to use the crime-solving skills he has picked up from TV to find him. He asks Pari and Faiz to be his assistants, and together they draw up lists of people to interview and places to visit.

But what begins as a game turns sinister as other children start disappearing from their neighborhood. Jai, Pari, and Faiz have to confront terrified parents, an indifferent police force, and rumors of soul-snatching djinns. As the disappearances edge ever closer to home, the lives of Jai and his friends will never be the same again.

Drawing on real incidents and a spate of disappearances in metropolitan India, Djinn Patrol on the Purple Line is extraordinarily moving, flawlessly imagined, and a triumph of suspense. It captures the fierce warmth, resilience, and bravery that can emerge in times of trouble and carries the reader headlong into a community that, once encountered, is impossible to forget.
Praise For Djinn Patrol on the Purple Line: A Novel…
"Warning: If you begin reading the book in the morning, don't expect to get anything done the rest of the day. . . . In Jai, Anappara has created a boy vivid in his humanity, one whose voice somersaults on the page. . . . Her storytelling genius, it might be assumed, must be rooted in her reporter's eye for detail. But that handy formula misses the heat and mystery of what Anappara creates."—The New York Times Book Review

"[Jai's] remarkable voice retains a stubborn lightness, a will to believe in the possibility of deliverance in this fallen world."—The Washington Post

"A brilliant debut."—Ian McEwan

"Storytelling at its best—not just sympathetic, vivid, and beautifully detailed, but completely assured and deft . . . We care about these characters from the first page and our concern for them is richly repaid."—Anne Enright, Man Booker Prize–winning author of The Gathering

"A stunningly original tale . . . I stayed up late every night until I finished, reluctant to part from Deepa Anappara's heart-stealing characters."—Etaf Rum, New York Times bestselling author of A Woman Is No Man

"[An] entrancing novel . . . full of humor, warmth, and heartbreak . . . Anappara paints all of her characters, even the lost ones, with deep empathy, and her prose is winningly exuberant. . . . Engaging characters, bright wit, and compelling storytelling make a tale that's bleak at its core profoundly moving."—Kirkus Reviews (starred review)

"A model of verisimilitude . . . [Jai] comes to life on the page to live on in readers' memories."—Booklist

"[Anappara's] bright, propulsive prose . . . only accentuates the seriousness of her subject: the disappearance of children from villages in India, a real-life issue give intimate treatment here."—Library Journal

"Djinn Patrol on the Purple Line is a moving and confident novel about the preciousness of life. The storytelling is distinctive and immersive."—Nikesh Shukla, editor of The Good Immigrant

"Deepa Anappara is a writer of considerable talent. This is a wonderful, energetic book filled with humour and pathos. Charming, sensitive and deeply moving."—Nathan Filer, Costa Book Award­–winning author of The Shock of the Fall

"The children at the heart of this story will stay with you long after you turn the last page . . . A wonderful debut."—Christie Watson, bestselling author of The Language of Kindness

"A magnificent achievement: the endeavours of the Djinn Patrol offer us a captivating world of wit, warmth and heartbreak, beautifully crafted through a child's unique perspective."—Mahesh Rao, author of Polite Society

"Extraordinarily good, deeply moving and thought provoking with brilliant characterization . . . A very important book."—Harriet Tyce, author of Blood Orange

"A profoundly emphatic work of creative genius that will stay with you forever."—Sonia Faleiro, author of Beautiful Thing

"A richly textured rendition of a world little seen in Indian literature . . . There is no desire to smooth and tidy in fiction what is untidy in life, but instead there is a payoff for the reader in a story that is as quietly troubling as it is convincing."—Mridula Koshy, author of If It Is Sweet
Random House Trade Paperbacks, 9780593129289, 384pp.
Publication Date: May 11, 2021
About the Author
Deepa Anappara grew up in Kerala, southern India, and worked as a journalist in cities including Mumbai and Delhi. Her reports on the impact of poverty and religious violence on the education of children won a Developing Asia Journalism Award, an Every Human has Rights Media Award, and a Sanskriti-Prabha Dutt Fellowship in Journalism. A portion of her debut novel, Djinn Patrol on the Purple Line, won the Lucy Cavendish College Fiction Prize, the Deborah Rogers Foundation Writers Award, and the Bridport/Peggy Chapman-Andrews Award. She has an M.A. in Creative Writing from the University of East Anglia,  where she is currently studying for a Ph.D. on a CHASE doctoral fellowship.