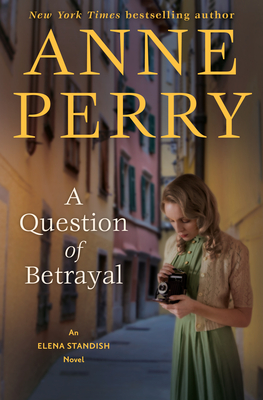 A Question of Betrayal
An Elena Standish Novel
Hardcover

* Individual store prices may vary.
Other Editions of This Title:
Paperback, Large Print (9/29/2020)
Description
On her first mission for MI6, the daring young photographer at the heart of this thrilling new mystery series by bestselling author Anne Perry travels to Mussolini's Italy to rescue the lover who betrayed her.

Britain's secret intelligence service, MI6, has lost contact with its informant in northern Italy, just as important information about the future plans of Austria and Nazi Germany is coming to light. And young Elena Standish, to her surprise, is the only person who can recognize MI6's man—because he is her former lover. Aiden Strother betrayed Elana six years ago, throwing shame on her entire family. Now, with so much to prove, Elena heads to Trieste to track down Aiden and find out what happened to his handler, who has mysteriously cut off contact with Britain.

As Elena gets word of a secret group working to put Austria in the hands of Germany, her older sister, Margot, is in Berlin to watch a childhood friend get married—to a member of the Gestapo. Margot and Elena's grandfather, the former head of MI6, is none too happy about the sisters' travels at this tumultuous time, especially when a violent event at home reminds him that even Britain is growing dangerous. As his own investigation collides with his granddaughter's, what's at stake on the continent becomes increasingly frightening—and personal.

Against the backdrop of a rapidly changing Europe, New York Times bestselling author Anne Perry crafts a novel full of suspense, political intrigue, and the struggle between love and loyalty to country.
Praise For A Question of Betrayal: An Elena Standish Novel…
"[An] excellent sequel . . . Perry expertly blends character development with plot surprises. This prolific author shows no sign of losing steam."—Publishers Weekly (starred review)­­­­­

Praise for Death in Focus, the first Elena Standish novel
 
"Readers who love historical mysteries know that some of the most dramatic stories are set in the interim between the two world wars, when both the victors and the vanquished felt uneasy about their provisional hold on peace. Anne Perry stakes a strong claim to that unstable terrain in Death in Focus, the first book in a new series that opens in 1933 as Elena Standish, a resourceful photographer, is caught up in the world of international intrigue."—The New York Times Book Review
 
"Death in Focus [is] reminiscent of works by Eric Ambler and Graham Greene. Cameo appearances by historical figures including Winston Churchill and Joseph Goebbels enhance this thrilling work whose heroine proves fully up to . . . hair-raising challenges. . . . Perry conjures the mixed emotions and misplaced optimism of a period when many Establishment figures were desperate to avoid another world war."—The Wall Street Journal
 
"Perry has found the perfect time period to showcase a family's impassioned defense of democracy and social justice in the face of rising totalitarianism. Obvious comparisons to Charles Todd's Bess Crawford and Jacqueline Winspear's Maisie Dobbs are warranted, but this novel also hearkens back to Helen MacInnes's classic spy thrillers and Mary Stewart's romantic suspense novels. At turns heartbreaking and action-packed, this gripping and superbly written story proves Perry still has what it takes."—Library Journal (starred review)
 
"Another Anne Perry mystery series? Yes and, oh my yes. . . . Perry is a master of the British historical novel, this time leaving the Victorian era behind and delving into a new, but volatile century. . . . Her finesse for suspense . . . works well with her new character and setting. Elena Standish . . . promises to be a heroine of the first order."—New York Journal of Books
 
"Elena's many narrow escapes and Perry's immersive re-creation of Nazi-era Europe will keep readers enthralled by this series debut. The numerous characters working behind the scenes both for and against Elena . . . are well drawn, but it is the smart, gritty heroine herself who will ensure that readers eagerly anticipate the next in the series."—Booklist
Ballantine Books, 9780593129555, 304pp.
Publication Date: September 8, 2020
About the Author
Anne Perry is the New York Times bestselling author of two acclaimed series set in Victorian England: the William Monk novels and the Charlotte and Thomas Pitt novels. She is also the author of a series featuring Thomas and Charlotte Pitt's son, Daniel, including Triple Jeopardy and One Fatal Flaw; the new Elena Standish series, beginning with Death in Focus; five World War I novels; eighteen holiday novels, most recently A Christmas Resolution; and a historical novel, The Sheen on the Silk, set in the Ottoman Empire. Anne Perry lives in Los Angeles.