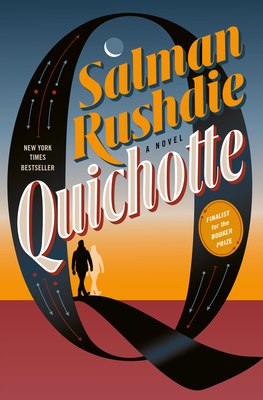 Quichotte
A Novel
Hardcover

* Individual store prices may vary.
Other Editions of This Title:
Digital Audiobook (9/2/2019)
Paperback (5/26/2020)
CD-Audio (9/3/2019)
Description
NEW YORK TIMES BESTSELLER • An epic Don Quixote for the modern age, "a brilliant, funny, world-encompassing wonder" (Time) from internationally bestselling author Salman Rushdie
 
SHORTLISTED FOR THE MAN BOOKER PRIZE • "Lovely, unsentimental, heart-affirming . . . a remembrance of what holds our human lives in some equilibrium—a way of feeling and a way of telling. Love and language."—Jeanette Winterson, The New York Times Book Review

NAMED ONE OF THE BEST BOOKS OF THE YEAR BY TIME AND NPR

Inspired by the Cervantes classic, Sam DuChamp, mediocre writer of spy thrillers, creates Quichotte, a courtly, addled salesman obsessed with television who falls in impossible love with a TV star. Together with his (imaginary) son Sancho, Quichotte sets off on a picaresque quest across America to prove worthy of her hand, gallantly braving the tragicomic perils of an age where "Anything-Can-Happen." Meanwhile, his creator, in a midlife crisis, has equally urgent challenges of his own.

Just as Cervantes wrote Don Quixote to satirize the culture of his time, Rushdie takes the reader on a wild ride through a country on the verge of moral and spiritual collapse. And with the kind of storytelling magic that is the hallmark of Rushdie's work, the fully realized lives of DuChamp and Quichotte intertwine in a profoundly human quest for love and a wickedly entertaining portrait of an age in which fact is so often indiscernible from fiction.

Praise for Quichotte

"Brilliant . . . a perfect fit for a moment of transcontinental derangement."—Financial Times

"Quichotte is one of the cleverest, most enjoyable metafictional capers this side of postmodernism. . . . The narration is fleet of foot, always one step ahead of the reader—somewhere between a pinball machine and a three-dimensional game of snakes and ladders. . . . This novel can fly, it can float, it's anecdotal, effervescent, charming, and a jolly good story to boot."—The Sunday Times

"Quichotte [is] an updating of Cervantes's story that proves to be an equally complicated literary encounter, jumbling together a chivalric quest, a satire on Trump's America and a whole lot of postmodern playfulness in a novel that is as sharp as a flick-knife and as clever as a barrel of monkeys. . . . This is a novel that feeds the heart while it fills the mind."—The Times (UK)
Praise For Quichotte: A Novel…
"Rushdie weaves together all of his subjects, sharply observed, with extraordinary elegance and wit. . . . Cervantes's hero, who is eternally modern perhaps because he is essentially anti-contemporary, couldn't be a more inspired transplant into the mad reality of the present day, which Rushdie sends up in terms both universal and highly specific, tragic and hilarious, strange but hauntingly familiar. . . . At least here's something worth reading as civilization crumbles around us, before we succumb to our fates. Right?"—Entertainment Weekly

"Quichotte is a novel that attempts to reflect back to us the total, crumbling insanity of living in a world unmoored from reality — that shows what happens when lies become as good as facts. . . . And if Quichotte drives you nuts, that's fine. It's meant to. It's layered in such a way that you will lose yourself in the shifting reality of it."—NPR

"Quichotte, Rushdie's Trump-era reworking of Cervantes's Don Quixote, is a frantically inventive take on 'the Age of Anything-Can-Happen' we've endured these last few years. It's a concoction of narratives within narratives that blends the latest news headlines with apocalyptic flights of fancy. . . . Rushdie doesn't offer much hope for our dispiriting times. But in a frayed and feverish way, he captures their flavor exactly."—The Boston Globe

"Salman Rushdie's Quichotte is a behemoth of a novel, and with reason. A postmodern dystopian tale, it tackles everything from global warming to the rise of white supremacism to the opioid crisis—which is to say, most of the ills of contemporary society. . . . There's much that feels absorbing and true in Rushdie's latest work. . . . The way Rushdie handles racial animus, too, is as incisive and complex as in his earlier fiction."—The Christian Science Monitor

"A fantastical dream within a dream . . . a brilliant, funny, world-encompassing wonder . . . As [Rushdie] weaves the journeys of the two men nearer and nearer, sweeping up a full accounting of all the tragicomic horrors of modern American life in the process, these energies begin to collapse beautifully inward, like a dying star. His readers realize that they would happily follow Rushdie to the end of the world."—Time

"[A] modern Don Quixote . . . Rushdie has created something that feels wholly original even if you've never heard of the hopelessly romantic Spanish knight-errant who sees danger in windmills. . . . Lucky for us, there are true storytellers and Rushdie is near the top of that list. If you haven't read him before, this is a good book to start with—it's fabulist and funny while revealing an awful lot about the world we live in today."—Associated Press

"Rushdie's Booker-longlisted fourteenth novel is certainly the work of a frisky imagination. . . . You can't help being charmed by Rushdie's largesse."—The Guardian

"Hilarious by all accounts."—Literary Hub

"[Quichotte] is Don Quixote for our time, a smart satire of every aspect of the contemporary culture. Witty, profound, tender, this love story shows a fiction master at his brilliant best."—The Millions

"Rushdie's novel is many things beyond just a Don Quixote retelling. It's a satire on our contemporary fake-news, post-truth, Trumpian cultural moment, where the concept of reality itself is coming apart. It's a sci-fi novel, a spy novel, a road trip novel, a work of magical realism. It's a climate change parable, and an immigrant story in an era of anti-immigration feeling. It's a love story that turns into a family drama. . . . Characters, narratives and worlds collide and come apart in spectacular fashion, while Rushdie maintains an exhilarating control over it all."—The Independent
Random House, 9780593132982, 416pp.
Publication Date: September 3, 2019
About the Author
Salman Rushdie is the author of thirteen previous novels—Grimus, Midnight's Children (for which he won the Booker Prize and the Best of the Booker), Shame, The Satanic Verses, Haroun and the Sea of Stories, The Moor's Last Sigh, The Ground Beneath Her Feet, Fury, Shalimar the Clown, The Enchantress of Florence, Luka and the Fire of Life, Two Years Eight Months and Twenty-Eight Nights, and The Golden House—and one collection of short stories: East, West. He has also published four works of nonfiction—Joseph Anton, The Jaguar Smile, Imaginary Homelands, and Step Across This Line—and coedited two anthologies, Mirrorwork and Best American Short Stories 2008. He is a member of the American Academy of Arts and Letters and a Distinguished Writer in Residence at New York University. A former president of PEN American Center, Rushdie was knighted in 2007 for services to literature.
or
Not Currently Available for Direct Purchase