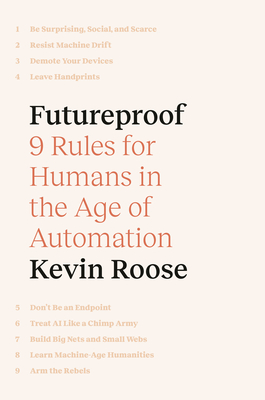 Futureproof
9 Rules for Humans in the Age of Automation
Hardcover

* Individual store prices may vary.
Other Editions of This Title:
Digital Audiobook, Spanish, Castilian (11/17/2021)
Digital Audiobook (3/8/2021)
Paperback (2/8/2022)
Description
"A concise, insightful and sophisticated guide to maintaining humane values in an age of new machines."—The New York Times Book Review
 
"While we need to rewrite the rules of the twenty-first-century economy, Kevin's book is a great look at how people can do this on a personal level to always put humanity first."—Andrew Yang

You are being automated.
 
After decades of hype and sci-fi fantasies, artificial intelligence is leaping out of research labs and into the center of our lives. Automation doesn't just threaten our jobs. It shapes our entire human experience, with AI and algorithms influencing the TV shows we watch, the music we listen to, the beliefs we hold, and the relationships we form.
 
And while the age-old debate over whether automation will destroy jobs rages on, an even more important question is being ignored:
 
How can we be happy, successful humans in a world that is increasingly built by and for machines?
 
In Futureproof: 9 Rules for Humans in the Age of Automation, New York Times technology columnist Kevin Roose lays out a hopeful, pragmatic vision for how we can thrive in the age of AI and automation. He shares the secrets of people and organizations that have survived previous waves of technological change, and explains what skills are necessary to stay ahead of today's intelligent machines, with lessons like
 
• Be surprising, social, and scarce.
• Resist machine drift.
• Leave handprints.
• Demote your devices.
• Treat AI like a chimp army.
 
Roose rejects the conventional wisdom that in order to succeed in the AI age, we have to become more like machines ourselves—hyper-efficient, data-driven workhorses. Instead, he says, we should focus on being more human, and doing the kinds of creative, inspiring, and meaningful things even the most advanced robots can't do.
Praise For Futureproof: 9 Rules for Humans in the Age of Automation…
"Engaging . . . Roose delves into this crisis with an accessible touch that nicely explains how AI is infiltrating every part of our society and workforce."—The Times

"Artificial intelligence—and robots themselves—can be terrifying, but Kevin Roose provides a clear, compelling strategy for surviving the next wave of technology with our jobs—and souls—intact. Whether you're an optimist or a pessimist about the future, Futureproof is the survival guide you need."—Charles Duhigg, author of The Power of Habit

"While I think that Skynet is still going to send the Terminator back to try to kill humanity someday, it's worth your time and attention—if that is still a thing in the addled Internet age—to read Kevin Roose's bracing book now. Why? Because it's a primer on the future and how to deal with the incoming today, from AI to automation to robotics and more, by using the tools of creativity and just being human. Whether the digital threat comes from a cybernetic organism from 2459 arriving in a big ball of lightning or from that innocent-looking mobile supercomputer in your hand, I do know that you need to prepare for the next tech age. And there's no better way to do it than to futureproof yourself by letting Roose show you how."—Kara Swisher, host of Sway and Pivot, New York Times contributing opinion writer
Random House, 9780593133347, 256pp.
Publication Date: March 9, 2021
About the Author
Kevin Roose is a technology columnist for The New York Times. He is the host of the Rabbit Hole podcast and a regular guest on The Daily. He writes and speaks frequently about topics including automation and AI, social media, disinformation and cybersecurity, and digital wellness. Previously, he was a writer at New York magazine and the co–executive producer of Real Future, a documentary TV series about technology. He is the New York Times bestselling author of two previous books, Young Money and The Unlikely Disciple. He lives in Oakland, California.
or
Not Currently Available for Direct Purchase