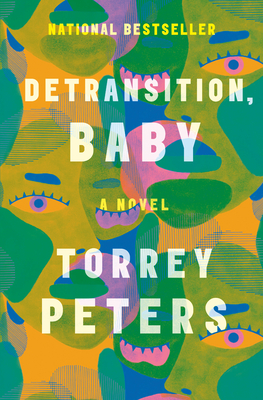 Detransition, Baby
A Novel
Hardcover

* Individual store prices may vary.
Description
"An unforgettable portrait of three women, trans and cis, who wrestle with questions of motherhood and family making . . . Detransition, Baby might destroy your book club, but in a good way."—Andrea Lawlor, author of Paul Takes the Form of a Mortal Girl
 
"A tale of love, loss, and self-discovery as singular as it is universal, and all the sweeter for it."—Entertainment Weekly
 
Roxane Gay's Audacious Book Club Pick • A Marie Claire Book Club Pick •  Named One of the Most Anticipated Books of the Year by O: The Oprah Magazine • Vulture • Marie Claire • Cosmo • Refinery29 • Bustle • The Millions • Electric Lit • Autostraddle • Time • CNN • Daily Kos • Hello Giggles • SheReads • Hey Alma • LitHub

Reese almost had it all: a loving relationship with Amy, an apartment in New York City, a job she didn't hate. She had scraped together what previous generations of trans women could only dream of: a life of mundane, bourgeois comforts. The only thing missing was a child. But then her girlfriend, Amy, detransitioned and became Ames, and everything fell apart. Now Reese is caught in a self-destructive pattern: avoiding her loneliness by sleeping with married men.

Ames isn't happy either. He thought detransitioning to live as a man would make life easier, but that decision cost him his relationship with Reese—and losing her meant losing his only family. Even though their romance is over, he longs to find a way back to her. When Ames's boss and lover, Katrina, reveals that she's pregnant with his baby—and that she's not sure whether she wants to keep it—Ames wonders if this is the chance he's been waiting for. Could the three of them form some kind of unconventional family—and raise the baby together?

This provocative debut is about what happens at the emotional, messy, vulnerable corners of womanhood that platitudes and good intentions can't reach. Torrey Peters brilliantly and fearlessly navigates the most dangerous taboos around gender, sex, and relationships, gifting us a thrillingly original, witty, and deeply moving novel.
Praise For Detransition, Baby: A Novel…
"This emotionally devastating, culturally specific, endlessly intelligent novel is . . . really, really funny."—Austostraddle

"Peters's soap opera-meets-modern-cultural-analysis is witty, emotional, and eye-opening."—People

"'Whip-smart' is just one of the many flattering adjectives and fawning superlatives people are going to overuse for this wise book by a glamorous, fascinating woman, and who can blame them? Its incisive exploration of chasers, divorce, trauma, queer parenting, and detransition itself is going to play a role in defining the literature of 2021 and beyond."—The Millions

"Detransition, Baby's warmth and wit feel both familiar and utterly new: a tale of love, loss, and self-discovery as singular as it is universal, and all the sweeter for it."—Entertainment Weekly

"This conversation-shifting, taboo-busting novel . . . should be on your reading list. It's an exuberant novel of ideas, desire and life's messy ironies."—Evening Standard
 
"Irresistible . . . Witty, elegant and rigorously plotted. . . Although it renders the specificity of trans community and subjectivity in vivid, electric prose, its real appeal is much wider. Detransition, Baby insists on the psychic and social commonalities of cis and trans experience."—The Guardian

"For Peters, there's no safe space from which to judge the foibles of your fellow flawed and screwed-up strivers. . . . [Her characters] can't be slotted into a typical happy ever after nor into its opposite. They make their lives from the bits of gender and love and culture they've been given, and there's no place to stand outside that messy process."—Los Angeles Times

"I love Detransition, Baby for its wit, its irreverence. And I love it even more for its reverence—its reverence for the quest for womanhood, motherhood, selfhood. Torrey Peters evokes these characters with such fullness and compassion that they felt like dear friends to me. This is an important book, and I couldn't put it down."—Helen Phillips, author of The Need

"Detransition, Baby updates and transcends (trans-scends!) the Sex and the City model, while fully delivering its many satisfactions! What an exciting time we are living in, to see our beloved literary forms expanded by so many new perspectives! . . . A noteworthy advance in the history of the novel!"—Elif Batuman, bestselling author of The Idiot

"This book. This book. Torrey Peters just took everything that couldn't be done and did it. Out of the vibrant particulars of trans experience, Detransition, Baby renews a fundamental novelistic ambition: to peel back the skin of social life and illuminate the captivating details of desire and family underneath. Plenty of books are good; this book is alive." —Jordy Rosenberg, author of Confessions of the Fox

"Smart, funny, and bighearted. . . . Trans women will be matching their experiences against Reese's, but so will cis women—and so will anyone with an interest in the human condition."—Kirkus (starred review)

"A world so lovable and complex, it's hard to let go."—Publishers Weekly

"Detransition, Baby is, simply put, fantastic. But somehow even the most complimentary adjectives feel insufficient to describe Torrey Peters' first novel. . . . Devastating, hilarious, touching, timely . . . this is an acutely intelligent story about womanhood, parenthood and all the possibilities that lie within."—Bookpage (starred review)
One World, 9780593133378, 352pp.
Publication Date: January 12, 2021
About the Author
Torrey Peters is the author of the novellas Infect Your Friends and Loved Ones and The Masker, which are available for free on her website. She holds an MFA from the University of Iowa and an MA in Comparative Literature from Dartmouth. She grew up in Chicago and now lives in Brooklyn.