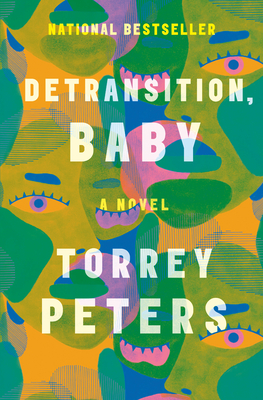 Detransition, Baby
A Novel
Hardcover

* Individual store prices may vary.
Description
NEW YORK TIMES EDITORS' CHOICE • "An unforgettable portrait of three women, trans and cis, who wrestle with questions of motherhood and family making . . . Detransition, Baby might destroy your book club, but in a good way."—Andrea Lawlor, author of Paul Takes the Form of a Mortal Girl
 
"A tale of love, loss, and self-discovery as singular as it is universal, and all the sweeter for it."—Entertainment Weekly
 
Longlisted for the Women's Prize • Roxane Gay's Audacious Book Club Pick • A Marie Claire Book Club Pick 

Reese almost had it all: a loving relationship with Amy, an apartment in New York City, a job she didn't hate. She had scraped together what previous generations of trans women could only dream of: a life of mundane, bourgeois comforts. The only thing missing was a child. But then her girlfriend, Amy, detransitioned and became Ames, and everything fell apart. Now Reese is caught in a self-destructive pattern: avoiding her loneliness by sleeping with married men.

Ames isn't happy either. He thought detransitioning to live as a man would make life easier, but that decision cost him his relationship with Reese—and losing her meant losing his only family. Even though their romance is over, he longs to find a way back to her. When Ames's boss and lover, Katrina, reveals that she's pregnant with his baby—and that she's not sure whether she wants to keep it—Ames wonders if this is the chance he's been waiting for. Could the three of them form some kind of unconventional family—and raise the baby together?

This provocative debut is about what happens at the emotional, messy, vulnerable corners of womanhood that platitudes and good intentions can't reach. Torrey Peters brilliantly and fearlessly navigates the most dangerous taboos around gender, sex, and relationships, gifting us a thrillingly original, witty, and deeply moving novel.
Praise For Detransition, Baby: A Novel…
"Detransition, Baby is so good I want to scream."—Carmen Maria Machado

"This book is exhilaratingly good."—Jia Tolentino

"If I had the ability to momentarily wipe my memory, I'd use it to reread Detransition, Baby for the first time."—Vogue

"[Peters] confronts the unruliness of our desires, and our vitality as we struggle within their limits."—The New Yorker

"[An] electrifying debut . . .  a deeply searching novel that resists easy answers."—Esquire

"This is true. It's the smartest novel I've read in ages. I wish I could figure out how it manages to be utterly savage & lacerating while also conveying endlessly expanding compassion. It's kind of a miracle."—Garth Greenwell

"Dynamic and vibrant, Detransition, Baby is a fiercely confident novel."—O: The Oprah Magazine

"Funny and gossipy and insightful and cutting and absolutely delicious, all while tackling issues from a lens that has been missing from the literary world for way too long."—Refinery29

"A huge, funny, heartbreaking romp of a book."—Observer

"Ambitious, funny, and alive . . . Peters centers trans women's voices, and explores, with wit and compassion, the complexities and truths of their lives."—The Rumpus

"[An] electrifying debut . . .  In this compassionate, gut-punching story, Peters leans all the way into the tragicomedy of how families and identities are formed, making for a deeply searching novel that resists easy answers."—Esquire

"This emotionally devastating, culturally specific, endlessly intelligent novel is . . . really, really funny."—Austostraddle

"Detransition, Baby arrived with a tremendous weight of expectations on it. It lives up to them… a terrific read, one that looks at the trans experience in modern America unflinchingly."—Vox
 
". . . Devastating, hilarious, touching, timely . . . this is an acutely intelligent story about womanhood, parenthood and all the possibilities that lie within."—BookPage (starred review)

"'Whip-smart' is just one of the many flattering adjectives and fawning superlatives people are going to overuse for this wise book by a glamorous, fascinating woman, and who can blame them? Its incisive exploration of chasers, divorce, trauma, queer parenting, and detransition itself is going to play a role in defining the literature of 2021 and beyond."—The Millions

"Peters's soap opera-meets-modern-cultural-analysis is witty, emotional, and eye-opening."—People

"Irresistible . . . Witty, elegant and rigorously plotted."—The Guardian

"This conversation-shifting, taboo-busting novel . . . should be on your reading list. It's an exuberant novel of ideas, desire and life's messy ironies."—Evening Standard

"Smart, funny, and bighearted. . . . Trans women will be matching their experiences against Reese's, but so will cis women—and so will anyone with an interest in the human condition."—Kirkus Reviews (starred review)

"I love Detransition, Baby for its wit, its irreverence. And I love it even more for its reverence—its reverence for the quest for womanhood, motherhood, selfhood. This is an important book, and I couldn't put it down."—Helen Phillips, author of The Need

"Writing with alarming insight, Torrey Peters captures the grandiose, heartfelt and sometimes mangled aspirations of queer and trans people facing an unprecedented array of personal choice."—Chris Kraus, author of I Love Dick
One World, 9780593133378, 352pp.
Publication Date: January 12, 2021
About the Author
Torrey Peters is the author of the novellas Infect Your Friends and Loved Ones and The Masker, which are available for free on her website. She holds an MFA from the University of Iowa and an MA in Comparative Literature from Dartmouth. She grew up in Chicago and now lives in Brooklyn.