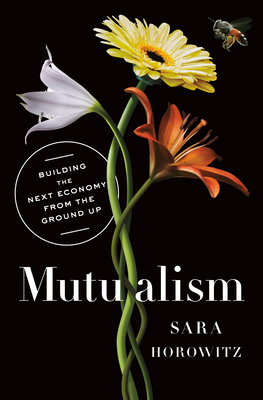 Mutualism
Building the Next Economy from the Ground Up
Hardcover

* Individual store prices may vary.
Other Editions of This Title:
Digital Audiobook (2/15/2021)
Description
A profound look at the crisis of work and the collapse of the safety net, and a vision for a better way forward, rooted in America's cooperative spirit, from the founder of the Freelancers Union 
 
"Read this essential book to see how we can and must build the future."—Reid Hoffman, co-founder of Linkedin
 
Mutualism: It's not capitalism and it's not socialism. It's the future. 

The twentieth century changed every facet of life for American workers: how much they could expect to earn and what they had the right to demand. But by 2027, a majority of Americans—from low-wage service workers to white-collar professionals—won't be traditional employees. Benefits like paid sick leave, pensions, 401(k)s, disability insurance, and health care will be nearly extinct. To meet the needs of this new generation of workers, the government has done almost nothing. 
 
In this book, labor lawyer, former chair of the board of the New York Federal Reserve, and MacArthur "genius" Sara Horowitz brings us a solution to the current crisis of work that's rooted in the best of American traditions, which she calls mutualism. Horowitz shows how the future of our economic safety net rests on this approach and demonstrates how mutualist organizations have helped us solve common problems in the past and are now quietly driving rural and urban economies alike all over the world, inspired not by for-profit corporations but by labor unions and trade associations, religious organizations and mutual aid societies, and vital social movements from women's suffrage to civil rights. 
 
Mutualism is for anyone who feels that the system is not working for them, and is looking for a new way to build collaboratively, create the new American social contract, and prosper in the twenty-first century.
Praise For Mutualism: Building the Next Economy from the Ground Up…
"Horowitz gives us the model to build our next progressive institutions. Her vision provides a path forward to build the next safety net that will meet the needs of all workers in the next economy—an economy that is already here!"—Randi Weingarten, president of the American Federation of Teachers

"Horowitz, who had the brilliant idea of founding a union for freelancers, explains in this thoughtful book how in an age of huge economic turbulence, mutualism will play a major role in building a fairer nation for every American worker."—Steven Greenhouse, author of Beaten Down, Worked Up: The Past, Present, and Future of American Labor

"In describing a mutualist sector, Horowitz draws on the collective economic development strategies used by cooperative, union, mutual, and faith-based movements. I'm particularly pleased that she includes the critical bridging roles A. Philip Randolph and Bayard Rustin played in connecting these movements during the civil rights era. This book provides wonderful insights for what to do now."—Jessica Gordon-Nembhard, PhD, economist, John Jay College, CUNY 

"Horowitz offers readers an entirely new way to think about our needs as workers and citizens and about the institutions we might build to meet those needs. Here is the guidebook to a language and tradition that America must rediscover in order to thrive in the twenty-first century."—Oren Cass, director of American Compass and author of The Once and Future Worker: A Vision for the Renewal of Work in America 

"In this powerful, deeply encouraging book, Sara Horowitz argues that while neither markets nor governments have been able to reduce inequality or increase inclusion, we have a third option: mutualism—or the creation of organizations that combine commitment to the public good with the ability to sustain themselves economically."—Rebecca Henderson, economist, Harvard University 
Random House, 9780593133521, 272pp.
Publication Date: February 16, 2021
About the Author
Sara Horowitz is the founder of the Freelancers Union and the Freelancers Insurance Company. Formerly chair of the Board New York Federal Reserve, Horowitz is a recipient of the MacArthur Fellowship and has been featured on NPR and in The New York Times, The Wall Street Journal, and The Atlantic, among other publications. A lifelong mutualist, she lives in Brooklyn, New York, with her husband and daughter.