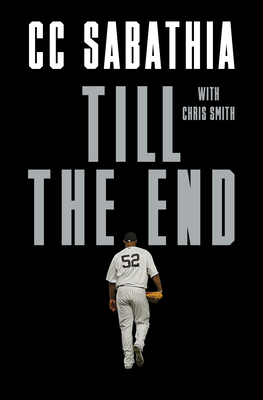 Till the End
Hardcover

* Individual store prices may vary.
Other Editions of This Title:
Paperback, Large Print (7/20/2021)
Description
NATIONAL BESTSELLER • A raw, compelling memoir of baseball, family, fame, addiction, and recovery, by one of the most beloved baseball players of his generation

"Beautifully rendered . . . Readers and fans will be rooting for him to enter the Hall of Fame and rooting even harder for him to stay sober."—The Wall Street Journal

How does it feel to be born with enormous gifts, in a life shadowed by tragedy? What does it mean when the gift that opens the world for us is not enough to stop us from losing the things we love? And what new gifts do we find in that loss? 

Baseball had been CC Sabathia's life since he was a kid in gritty, baseball-obsessed Vallejo, California. He was a star by the time he was a preteen and a professional athlete when he was still a teenager. Everything he knew about how to be a person—an adult, a husband and father, a leader—he learned in rhythm with the baseball season, the every-fifth-day high-intensity spotlight of a starting pitcher, all while dealing with one of the sport's most turbulent eras: racism in a sport with diminishing Black presence; the era of performance-enhancing drugs; and the increasing tension between high-value contracts and sports owners who moved players around like game pieces. But his biggest struggle was with his own body and mind: Buoyed his whole life by talent and a fiery competitive spirit, CC found himself dealing with the steady and eventually alarming breakdown of his own body and his growing addiction in a world that encouraged and enabled it.

Till the End is the thrilling memoir of one of the most beloved players in the game, a veteran star of the sport's marquee team during its latest championship era. It's also a book about baseball—about the ins and outs of its most important and technical position and its evolution in this volatile era. But woven within it is the moving, universal story of resilience and mortality and discovering what matters.
Praise For Till the End…
"Beautifully rendered . . . Till the End is more than an account of alcoholism. It has plenty of stirring baseball moments, from Yankee Stadium going silent when Derek Jeter shattered his ankle in a playoff game to C.C. recording his 3,000th strikeout (one of three lefties ever to reach that mark). . . . The author's candor humanizes the game. . . . Readers and fans will be rooting for him to enter the Hall of Fame and rooting even harder for him to stay sober."—The Wall Street Journal

"Former All-Star Yankees pitcher Sabathia brings the heat in his unsparing debut about overcoming his years long battle with alcoholism. . . . Despite his professional successes—from getting signed to the Cleveland Indians in 2001 as the youngest player 'in the entire American League' to joining the New York Yankees in 2008 and winning the World Series—he got into drunken street brawls and even crashed a car into a tree. In 2015, he checked himself into rehab and went public with his addiction on Good Morning America. 'The love that came back was a revelation,' he recalls. 'I was free.' Those in search of inspiration need look no further."—Publishers Weekly

"One of the best pitchers of his generation—and often the only Black man on his team—shares an extraordinary life in baseball. . . . In 2001, after three seasons in the minor leagues, Sabathia became the youngest player in MLB (age 20). His career took off from there, and in 2008, he signed with the New York Yankees for seven years and $161 million, at the time the largest contract ever for a pitcher. With the help of Vanity Fair contributor Smith, Sabathia tells the entertaining story of his 19 seasons on and off the field. . . . This book represents an excellent launching point for Jay-Z's new imprint, Roc Lit 101. Everything about Sabathia is larger than life, yet he tells his story with honesty and humility."—Kirkus Reviews (starred review)
Roc Lit 101, 9780593133750, 288pp.
Publication Date: July 6, 2021
About the Author
CC Sabathia played nineteen seasons of Major League Baseball. He was a Rookie of the Year, Cy Young Award winner, World Series champion, and six-time All-Star.
 
Chris Smith writes about politics, sports, and entertainment for Vanity Fair. He lives with his wife, son, and daughter in Brooklyn.