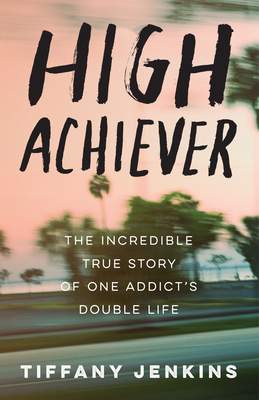 High Achiever
The Incredible True Story of One Addict's Double Life
Paperback

* Individual store prices may vary.
Description
NATIONAL BESTSELLER • An up-close portrait of the mind of an addict and a life unraveled by narcotics—a memoir of captivating urgency and surprising humor that puts a human face on the opioid crisis.
 
"Raw, brutal, and shocking. Move over, Orange Is the New Black."—Amy Dresner, author of My Fair Junkie

When word got out that Tiffany Jenkins was withdrawing from opiates on the floor of a jail cell, people in her town were shocked. Not because of the twenty felonies she'd committed, or the nature of her crimes, or even that she'd been captain of the high school cheerleading squad just a few years earlier, but because her boyfriend was a Deputy Sherriff, and his friends—their friends—were the ones who'd arrested her.
 
A raw and twisty page-turning memoir that reads like fiction, High Achiever spans Tiffany's life as an active opioid addict, her 120 days in a Florida jail where every officer despised what she'd done to their brother in blue, and her eventual recovery. With heart-racing urgency and unflinching honesty, Jenkins takes you inside the grips of addiction and the desperate decisions it breeds. She is a born storyteller who lived an incredible story, from blackmail by an ex-boyfriend to a soul-shattering deal with a drug dealer, and her telling brims with suspense and unexpected wit. But the true surprise is her path to recovery. Tiffany breaks through the stigma and silence to offer hope and inspiration to anyone battling the disease—whether it's a loved one or themselves.
Praise For High Achiever: The Incredible True Story of One Addict's Double Life…
"Raw, brutal and shocking. Move over, Orange Is the New Black. There's a new bitch in town." —Amy Dresner, author of My Fair Junkie

"A great read for fans of Orange is the New Black, this national bestseller provides a shocking and propulsive look into the life of an addict. . . . Jenkins breaks down the stigma around drug addiction and recovery in her first book, giving readers a story that is both joyous and heartbreaking."—BookBub
Harmony, 9780593135938, 384pp.
Publication Date: June 18, 2019
About the Author
Tiffany Jenkins (maiden name Johnson) writes about motherhood, addiction, marriage, and life on her blog, Juggling the Jenkins, where she has acquired a huge social media following. She uses her platform to help and inspire others who are struggling with motherhood, mental health, addiction, and those who just need a good laugh. She speaks frequently about addiction and recovery. She lives with her husband and three children in Sarasota, Florida.
1. Discuss the way Tiffany chooses to tell her story: the reader is immediately thrust into prison, and introduced to her as an inmate before they are introduced to her as a person. What do you think about the chronology of the book?
2. Tiffany weaves humor into the memoir's narrative. Which of her actions and thoughts were most surprising to you? How does her sense of humor impact your reaction to the scenes? Do you feel the humor or sarcasm take away from her experience, or do you think they make it more accessible?
3. Tiffany structures her story so that many of the chapters end in a shocking reveal. Did you find this to be an effective strategy for drawing readers in? What was the most shocking or surprising moment of her story for you?
4. In Chapter 18, Tiffany reveals her experience in solitary confinement. Based on what you have read or seen on television regarding solitary confinement, do you find her experience shocking? Are you surprised by the kindness the guard extends to her?
5. Many people consider addiction to be a family disease. Discuss how Tiffany's drug addiction – and recovery – impacts her closest relationships. How are different family members and loved ones affected?
6. Further to the above, discuss the differences between Tiffany's relationships while abusing drugs versus while sober in prison. She mentions that Sarah, who she met in prison, was one of her first true friends. Discuss her friendship with Kayla. What differences do you see between the women?
7. In Chapter 38, Dr. Peters questions the reality of Tiffany's story. Did you ever feel that she wasn't being completely honest? Or did you find her to be a reliable narrator? Discuss how your reactions to her story shifted over the course of the book.
8. If you were making a movie of this book, would you keep the same structure and flashback technique? What moments would you highlight? What relationships would you focus on?
9. The book ends with Tiffany sharing her story with a group of recovering addicts, many whose stories are much like her own. What do you think about her second chance at life, and how she has chosen to share her message? If you got the chance to ask Tiffany one question, what would it be?
10. Are there any parts of Tiffany's life, like her family or her relationship with Eliot, which you would have liked to hear more about? Why do you think she chose to focus specifically on her time in prison and the months leading up to her arrest?
11. Did you find the story impactful? How does Tiffany change the way you think about your own life story? Compare this book to other memoirs your group has read. Is it similar to any of them? Did you like it more or less than other books you've discussed?
12. Did Tiffany's story about the tumultuous nature of addiction change any preconceptions that you might have had about drug abuse or the opioid crisis in the U.S.? Do you feel more empathetic or more distanced from those in similar situations to Tiffany's after reading her story?